The Book of Genesis Illustrated by R. Crumb (Hardcover)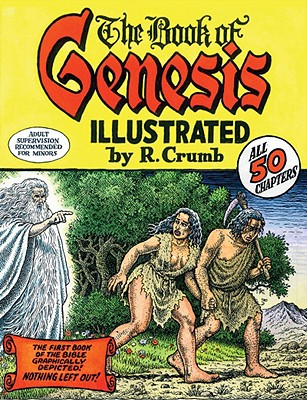 $500.00
Temporarily Unavailable
Description
---
A signed and numbered limited edition, slipcased and with a signed print: from the Creation to the death of Joseph, here is the Book of Genesis, revealingly illustrated as never before.
This eagerly awaited graphic work retells the first book of the Bible in a profoundly honest way. Peeling away the theological and scholarly interpretations that have often obscured its most dramatic stories, R. Crumb—using the actual text word for word—has imagined the Bible as it really was. Now, readers of every persuasion—Crumb fans, comic book lovers, history buffs, and believers—can gain astonishing new insights from these harrowing, visceral, and even juicy stories. Crumb's
The Book of Genesis
reintroduces readers to Adam and Eve's Eden, Noah's Ark, Sodom and Gomorrah, and the Pharaoh's Egypt. Using clues from the text, Crumb fleshes out the parade of biblical originals: from the sensitive dreamer Joseph to the crafty Jacob, to the still-fetching Sarah, to God Himself. The result, four years in the making, is a tapestry of extraordinary detail, the finest work of Crumb's legendary career.
This special signed and numbered limited edition is slipcased and includes a signed print.
About the Author
---
Born in Philadelphia, R. Crumb is the author of numerous comic works and one of the pioneers of underground comics and arguably one of the most famous cartoonists in history. His books include The Book of Genesis Illustrated by R. Crumb, and many more. He lives in the south of France with his wife, the artist Aline Kominsky-Crumb.