Stay True: A Memoir (Hardcover)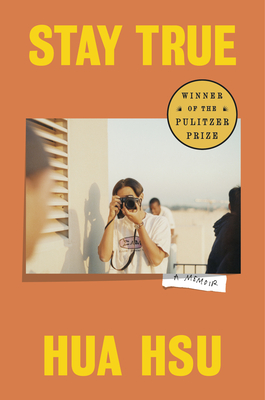 Description
---
PULITZER PRIZE WINNER • NEW YORK TIMES BESTSELLER • A gripping memoir on friendship, grief, the search for self, and the solace that can be found through art, by the New Yorker staff writer Hua Hsu

"This book is exquisite and excruciating and I will be thinking about it for years and years to come." —Rachel Kushner, New York Times bestselling author of The Flamethrowers and The Mars Room

In the eyes of eighteen-year-old Hua Hsu, the problem with Ken—with his passion for Dave Matthews, Abercrombie & Fitch, and his fraternity—is that he is exactly like everyone else. Ken, whose Japanese American family has been in the United States for generations, is mainstream; for Hua, the son of Taiwanese immigrants, who makes 'zines and haunts Bay Area record shops, Ken represents all that he defines himself in opposition to. The only thing Hua and Ken have in common is that, however they engage with it, American culture doesn't seem to have a place for either of them.

But despite his first impressions, Hua and Ken become friends, a friendship built on late-night conversations over cigarettes, long drives along the California coast, and the successes and humiliations of everyday college life. And then violently, senselessly, Ken is gone, killed in a carjacking, not even three years after the day they first meet.

Determined to hold on to all that was left of one of his closest friends—his memories—Hua turned to writing. Stay True is the book he's been working on ever since. A coming-of-age story that details both the ordinary and extraordinary, Stay True is a bracing memoir about growing up, and about moving through the world in search of meaning and belonging.
About the Author
---
HUA HSU is a staff writer at The New Yorker and a professor of Literature at Bard College. Hsu serves on the executive board of the Asian American Writers' Workshop. He was formerly a fellow at the New America Foundation and the Dorothy and Lewis B. Cullman Center at the New York Public Library. He lives in Brooklyn, New York with his family.
Praise For…
---
WINNER OF THE 2023 PULITZER PRIZE IN MEMOIR • NATIONAL BOOK CRITICS CIRCLE AWARD WINNER • A NEW YORK TIMES TOP TEN BOOK OF THE YEAR • ANDREW CARNEGIE MEDAL FOR EXCELLENCE NOMINEE • WINNER OF THE CHINESE AMERICAN LIBRARIANS ASSOCIATION'S BEST BOOK AWARD FOR ADULT NONFICTION

A NEW YORK TIMES BESTSELLER

A Best Book of the Year: The New York Times, The Washington Post, The New Yorker, TIME, The Atlantic, Vogue, Vanity Fair, Kirkus, Publishers Weekly, NPR, The Boston Globe, Pitchfork, Rolling Stone, The Millions, BookPage, Lit Hub, Reader's Digest, Vulture, Goop

"An elegant and poignant coming of age account that considers intense, youthful friendships but also random violence that can suddenly and permanently alter the presumed logic of our personal narratives." —2023 Pulitzer Prize Committee

"Quietly wrenching. . . To say that this book is about grief or coming-of-age doesn't quite do it justice; nor is it mainly about being Asian American, even though there are glimmers of that too. . . This is a memoir that gathers power through accretion — all those moments and gestures that constitute experience, the bits and pieces that coalesce into a life. . . Hsu is a subtle writer, not a showy one; the joy of Stay True sneaks up on you, and the wry jokes are threaded seamlessly throughout." —The New York Times

"[Hsu] is that rare thing: a chronicler and critic who [engages] fully, emotionally as well as intellectually, with every subject. . . In Stay True Hsu makes us see how his and Ken's and their friends' stories are tossed on the sea of history, how identity takes shape from a thousand factors, how personalities flow into one another, how chance and destiny can be hard to tell apart." —Lucy Sante, The New York Review of Books

"An evolutionary step for Asian American literature." —New York Magazine

"[A] luminous and tender-hearted story. . . Stay True is a nuanced and beautiful evocation of young adulthood in all its sloppy, exuberant glory." —The Wall Street Journal

"[Hsu writes] with devastating emotional precision, questioning the possibility of meaning in tragedy and the value of the stories we tell while attempting to find it. [Stay True] is a thoughtful, affecting book. . . For all the soul-searching, therapeutic work and years of rumination imprinted on Stay True, it's the ache of a friendship lost but honored that will linger for readers. Though Hsu claims, self-deprecatingly, that the term 'good friend … only occasionally applies to me,' the lasting effect of Stay True is that of an extraordinary, devotional act of friendship." —The Washington Post

"A beautiful memoir [that] goes deep into the heart of friendships." —The Financial Times

"Not since Ann Patchett wrote about her friend Lucy Grealy in Truth and Beauty has there been such an achingly tender book about a platonic friendship." —The Los Angeles Times

"[Stay True] is funny and wise, an elegiac work of self-forgiveness. What a gift it is, Hsu concludes, to remember the people you loved, and who loved you, while you were busy becoming yourself." —The Atlantic

"This fleet-footed memoir tracks a complicated and bittersweet portrait of Asian-American life with great verve and heart. . . Hsu pays poignant tribute to friendship and grief." —The Boston Globe

"Stay True is as affecting as a great pop song." —Jenn Pelly, Pitchfork

"Easily one of the most inventive memoirs to come out in years, Stay True is both deeply personal while also leaving room for its readers to reflect on their own life stories and the nostalgia we all carry with us. . . Hsu uses his keen memory and command of cultural touchpoints to craft something indelible here—a portrait of two unlikely friends that might very well epitomize a generation." —Isaac Fitzgerald, The Today Show

"[Hsu has] crafted a transformative addition to the Asian American canon and to the critical conception of what a memoir is capable of. . . For all the deep labor of reflection in Hsu's book, his memoir is about the harder work of moving forward, missing pieces in hand." —Keetje Kuipers, National Book Critics Circle

"Hua Hsu's astonishing new memoir. . .explores the faultiness of memory and how grief can reorient a friend group. But more singularly, Stay True is about the beautiful, unpredictable alchemy of how friendship—particularly male friendship—forms in the first place." —GQ
 
"I've never read so perfect a description of collegiate friendship as the scenes in Stay True in which Hsu recalls the long days and nights spent with his friends. . . [Stay True] is about grief [but also] it is an exploration of what friendship means, and how it can mean different things from relationship to relationship." —Slate

"Easily one of the best nonfiction books about friendship ever, right up there with Patti Smith's Just Kids." —The Atlantic, "Six Memoirs That Go Beyond Memories"
 
"[Stay True] elevates the entire [memoir] genre with a kind of athletic ease. . . I'm always obsessed with how tightly engineered Hsu's writing is—as elegant and seamless as the rivets of a submarine—and it's nothing short of delightful to see his prose deployed in such a personal investigation on the pains of being pure at heart." —Vanity Fair

"Hua Hsu offers, with seeming effortless grace and lucidity. . .a map to his soul's becoming. He shows how he constructed an armor against the injustices of the world, one made only of porousness and transparency, the only armor worth donning. This kind and degree of sharing is a rare gift." —Jonathan Lethem, National Book Critics Circle Award-winning author of Motherless Brooklyn

"Deep feelings coursed through me as I read Hua Hsu's story: Grief, nostalgia, pity, terror, mercy…Stay True is a crucial, sense-making, healing book." —Maxine Hong Kingston, author of The Woman Warrior

"At once a coming-of-age memoir, a devastating elegy for a departed friend, and a mixtape of all the music and other shards of culture and experience that coalesce into an identity, Stay True is wildly original. Hua Hsu writes with such grace and wry humor about so many things: friendship and loss, being young, the joys of hanging out, the pleasures and comforts of inconsequential passions. A glorious, unforgettable book." —Patrick Radden Keefe, winner of the National Book Critics Circle Award and New York Times bestselling author of Say Nothing and Empire of Pain

"I was softly heartbroken by Stay True, which is an elegy not just for a friend but for so much else that feels lost and irreplaceable—a time of tender idleness and unmediated presence, a way that it was once possible to be young. The things that make Hua Hsu's writing so singular—his searching grace, his rigorous sensitivity, his ability to make a living world out of the seemingly liminal—crystallize in this once-in-a-lifetime book." —Jia Tolentino, New York Times bestselling author of Trick Mirror

"'I was a storyteller with a plot twist guaranteed to astound and destroy,' Hua Hsu says of himself, in a tone that is slightly ironic. And yet what he has achieved in Stay True is exactly that: to astound and destroy his reader. This book is exquisite and excruciating and I will be thinking about it for years and years to come." —Rachel Kushner, two-time National Book Award finalist and New York Times bestselling author of The Flamethrowers and The Mars Room

"A moving portrait of friends, death, doubt, and everything in between. . . Hsu writes with tenderness but scorching precision. . . Genuinely one of the most moving portraits of friendship to have come out in recent years." —The Nation

"A coming-of-age story, perhaps unlike any other I've come across from an Asian American writer. . . Undeniably fun, a testament to the feverish joy only young people can find in shooting the shit. While it hits at several themes—the Asian American experience, trauma, and the funny mechanics of memory—Stay True is perfumed with a distinct promise throughout, the glow that comes with knowing that you've met your tribe." —Mother Jones

"New Yorker staff writer Hsu braids music, art, and philosophy in his extraordinary debut. . .Hsu parses the grief of losing his friend and eloquently captures the power of friendship and unanswerable questions spurred in the wake of senseless violence. The result is at once a lucid snapshot of life in the nineties, an incredible story of reckoning, and a moving elegy to a fallen friend." —Publishers Weekly *starred review*

"Masterfully structured and exquisitely written. Hsu's voice shimmers with tenderness and vulnerability as he meticulously reconstructs his memories of a nurturing, compassionate friendship. The protagonists' Asian American identities are nuanced, never serving as the defining element of the story, and the author creates a cast of gorgeously balanced characters. A stunning, intricate memoir about friendship, grief, and memory." —Kirkus Reviews *starred review*

"Perhaps one of the best-ever books about friendship. . . Tenderhearted." —Reader's Digest

"Hsu's. . .posture of knowingness and absolute innocence—shattered when his friend is killed—make for a poignant tale of love and loss." —People

"Stay True feels like one of those books that is the sum total of a writer's life in thinking, craft, and curiosity, made felt at last, so that when the sentences come, they come with a deliberate, patient, and precise force. Hsu takes on the central theme of a friend's violent loss and casts from that void a story that, somehow, despite the hurt and confusion, embraces the world around it with a steady and capacious centrifugal force. This is the endeavor of writing at its most open, meticulous, forgiving and tender—which is to say, this is writing at its best." —Ocean Vuong, New York Times bestselling author of On Earth We're Briefly Gorgeous

Stay True is a book whose subtlety renders its emotional wallop all the more powerful."  —Literary Hub, "Our 38 Favorite Books of 2022"

"In every luminously rereadable, every-way-wending sentence, [Hsu's] writing astonishes. On the shaky formation of the self, it is unself-conscious; on the incredible youthful desire to make oneself known, it is knowing. Exploring identity, authenticity, and nostalgia as concepts and as feelings, this is an absolute stunner." —Booklist *starred review*

"In his moving memoir Stay True. . .the New Yorker staff writer Hua Hsu portrays, and in one section addresses, a companion from his youth who has stayed with him in absentia." —Claire Messud, Harper's

"Lovely, low-key. . . A moving portrait of a persona undone by tragedy." —Vogue.com, "The Best Books To Read This Fall"

Stay True is a book whose subtlety renders its emotional wallop all the more powerful." –Lit Hub

"Affecting. . . Sincere, funny, wistful—the phrase 'stay true' reflects the tone of the book and also its goal: to honestly remember a lost friend." —The A.V. Club

"At its core, Stay True is a memoir of a friendship—of any friendship: what we learn from others, what we give in exchange, and how it gives shape to the story we tell ourselves of ourselves." —Electric Lit

"[A] gentle, tragic memoir. . . So many of Hsu's descriptions are made poignant by their photographic quality." —Columbia Journal of Literary Criticism

"Gut-wrenching and beautifully written, Stay True is an unforgettable story about grief, identity, and the indelible mark a friendship can leave on our lives." —Real Simple

"The New Yorker staff writer has achieved near rock-star status with his '90s coming-of-age memoir. . . [A] gorgeous, gut-wrenching story of a young friendship that ended tragically." —The Hollywood Reporter

"In this elegant, open-hearted elegy for his fallen friend, Hsu does the labor of love, of taking time to recall and make record of the quotidian detail of another man's life. In this way, he reveals for us all how aesthetics are products of both relationships and of terrible loss. The river of this memoir is quiet and deep, unassuming, it enters the reader and changes us with its capacity for connection." —Sarah Schulman, author of Let the Record Show

"Hua Hsu's Stay True is a rich, intelligent, and beautifully crafted portrait of just about everything that matters in life. Here is friendship, art, and family cast against a distinctly American backdrop of migration in language so precise and subtle that you might not even notice how it breaks and mends your heart." —Dinaw Mengestu, author of All Our Names

"In crafting Stay True, Hua Hsu has opted to trust the consequential size of memories shared with Ken over what we readers feel we are owed. The result is one of the finest memoirs I've ever read." —Kiese Laymon, New York Times bestselling author of Heavy