Things That Happened Before the Earthquake: A Novel (Hardcover)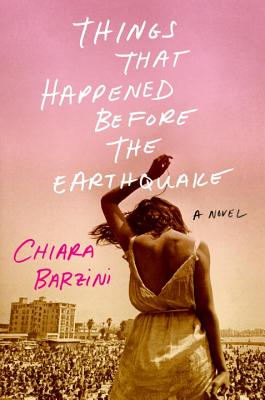 $29.65
Temporarily Unavailable
Description
---
Welcome to LA? Nineties' Hollywood gets an Italian makeover in this poignant and ruefully funny coming-of-age novel featuring a teenage girl who's on shaky ground—in more ways than one.

Mere weeks after the 1992 riots that laid waste to Los Angeles, Eugenia, a typical Italian teenager, is rudely yanked from her privileged Roman milieu by her hippie-ish filmmaker parents and transplanted to the strange suburban world of the San Fernando Valley. With only the Virgin Mary to call on for guidance as her parents struggle to make it big, Hollywood fashion, she must navigate her huge new public high school, complete with Crips and Bloods and Persian gang members, and a car-based environment of 99-cent stores and obscure fast-food franchises and all-night raves. She forges friendships with Henry, who runs his mother's movie memorabilia store, and the bewitching Deva, who introduces her to the alternate cultural universe that is Topanga Canyon. And then the 1994 earthquake rocks the foundations not only of Eugenia's home but of the future she'd been imagining for herself.
About the Author
---
CHIARA BARZINI is an Italian screen and fiction writer. She has lived and studied in the United States where she collaborated with Italian Vanity Fair, GQ, XL Repubblica, Rolling Stone Italy, Flair, and Marie Claire while publishing essays in American magazines such as the Village Voice, Harper's, Vogue, Interview Magazine, Vice, and Rolling Stone. Her fiction has appeared in BOMB Magazine, The Coffin Factory, Noon, The NY Tyrant, Vice, and Dazed & Confused. She is the author of the story collection Sister Stop Breathing(Calamari Press, 2012) and has written a variety screenplays for both television and film. Her most recent film work, Arianna, the coming of age story of an intersex adolescent, won numerous awards at the Venice Film Festival and was nominated for Best Screenplay at the Italian Golden Globes, 2016.
Praise For…
---
"An Italian teenage girl shows up in 1990s Southern California in this culturally astute, strong-voiced novel. Barzini, truly a writer to watch, positions herself astride both American and Sicilian cultures, and packs this visceral book with strong sensations from both. The novel and its heroine, Eugenia, are deeply seductive."
—New York Times

"Chiara Barzini writes with a voice that is both tense and open. The effect is surprising, subversive, and singular."
—Jhumpa Lahiri, Pulitzer Prize winning author of Interpreter of Maladies

"Chiara Barzini has pulled off that most dazzling balancing act: combining a deliciously entertaining plot with effortlessly elegant prose. She has an extraordinarily keen eye for cultural nuance. Through her alter-ego Eugenia we come to discover a California as wildly foreign to us as it is to her. A brilliant, sexy, and unexpected take on the immigrant bildungsroman."
—Taiye Selasi, author of Ghana Must Go
 
"Chiara Barzini has written a wild first novel, full of sex, violence, and desperate prayers to the Virgin Mary. This is a brutal and bizarre coming of age story aptly set in one of America's many crises."
—Catherine Lacey, author of Nobody is Ever Missing

"Chiara Barzini has the heart and the capacity to tell a story that is bright on the surface and profound on the inside."
—Francesca Marciano, author of The Other Language

"Tectonic plates collide in this book: a girl lands on this continent with both feet planted in a pair of Reebok Pumps and the bared Italian bust and out-thrust tongue meet the buttoned-up American mind head-on. Our author shows us that there's an America that's bigger than the narrow confines this young Italian, our protagonist, confronts at her Los Angeles high school—and she discovers it in the body, in the spirit and in our land itself. Zany, rambunctious and deftly told, in this coming-of-age story the heroine is the earthquake." 
—Atticus Lish, author of Preparation for the Next Life
 
"There are sex and drugs aplenty but also sweet, tender moments of first love and self-acceptance. Los Angeles is dirtily yet lovingly depicted… Barzini's is an impressive debut with a distinct point of view."
—Booklist

"If you're an Elena Ferrante fan, tuck into Things That Happened Before the Earthquake, a coming-of-age novel. Eugenia, a Roman teenager, is plucked from her home by her filmmaker parents; they head for Los Angeles and the lights of Hollywood, just weeks after the 1992 riots. As an expat myself, I can't wait to immerse myself in a raw, sensuous tale of two cities. Barzini is a filmmaker, so I know this book will take a cinematic view of the sexy, dirty business of becoming an adult."
- Estelle Tang, ELLE.com Culture Editor