Dept. of Speculation (Hardcover)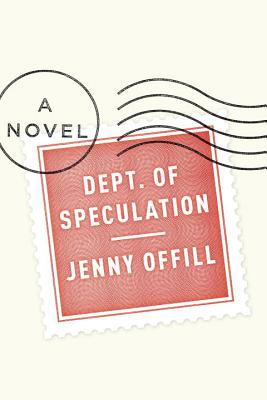 Not available to order
Hard to Find. Not available to order.
February 2014 Indie Next List
---
"I found myself gasping at the sheer beauty and conciseness of Offill's sentences in this portrait of a marriage. Dept. of Speculation can be devoured quickly, or readers can linger in it over many sittings. Covering the topics of love, loneliness, grief, joy, fidelity, beauty, depression, mania, motherhood, and writing, the shifting points of view are subtle yet profound, and despite the darkness and sadness of the story, when I closed the book I was left more alert and attentive, and feeling more alive. Highly recommended!"
— Janet Geddis, Avid Bookshop, Athens, GA
Description
---
Dept. of Speculation is a portrait of a marriage. It is also a beguiling rumination on the mysteries of intimacy, trust, faith, knowledge, and the condition of universal shipwreck that unites us all.
Jenny Offill's heroine, referred to in these pages as simply the wife, once exchanged love letters with her husband postmarked Dept. of Speculation, their code name for all the uncertainty that inheres in life and in the strangely fluid confines of a long relationship. As they confront an array of common catastrophes a colicky baby, a faltering marriage, stalled ambitions the wife analyzes her predicament, invoking everything from Keats and Kafka to the thought experiments of the Stoics to the lessons of doomed Russian cosmonauts. She muses on the consuming, capacious experience of maternal love, and the near total destruction of the self that ensues from it as she confronts the friction between domestic life and the seductions and demands of art.
With cool precision, in language that shimmers with rage and wit and fierce longing, Jenny Offill has crafted an exquisitely suspenseful love story that has the velocity of a train hurtling through the night at top speed. Exceptionally lean and compact, Dept. of Speculation is a novel to be devoured in a single sitting, though its bracing emotional insights and piercing meditations on despair and love will linger long after the last page.
About the Author
---
Jenny Offill is the author of the novel "Last Things, "which was chosen as a Notable Book of the Year by" The New York Times "and was a finalist for the L.A." "Times First Book Award. She is the coeditor, with" "Elissa Schappell, of two anthologies of essays, "The Friend Who Got Away "and "Money Changes Everything. "Her children s books include "17 Things I m Not Allowed to Do Anymore, 11 Experiments That Failed, "and "Sparky. "She teaches in the writing programs" "at Queens University, Brooklyn College, and" "Columbia University."
Praise For…
---
"A novel that's wonderfully hard to encapsulate, because it faces in many directions at the same time, and glitters with different emotional colors. If it is a distressed account of a marriage in distress, it is also a poem in praise of the married state. If it brutally tears apart the boredom and frustrations of parenthood, it also solidly inhabits the joys and consolations of having a child. If it laments the work not done, the books not written, the aspirations unfulfilled, it also represents work well done, a book written, the fruit of aspiration . . . It is often extremely funny, and often painful; earnestly direct but glancingly ironic, even whimsical . . . Offill's narrator is curious, witty, intellectual, literary, insomniac, and rawly honest both about others and about herself. She is invigorating company, but won't go out of her way to make herself charming or genial. She is thin-skinned, fatigued, and full of embattled chagrin. In short, she is alive . . . Reminiscent at times of Lydia Davis's short texts . . . Its depth and intensity make a stealthy purchase on the reader . . . Offill's brief book eschews obvious grandeur. It does not broadcast its accomplishments for the cosmos but tracks the personal and domestic and local, a harrowed inner space. It concentrates its mass acutely, with exquisite and painful precision."
            —James Wood, The New Yorker 

"Slender, quietly smashing . . . The story shifts and skitters, spare but intricate as filigree, short bursts of observation and memory—comic, startling, searing—floating in white space . . . Offill has tapped a vein directly into the experience of this marriage, this little family, this subsuming of self, and we mainline it right along with her . . . A book so radiant, so sparkling with sunlight and sorrow, that it almost makes a person gasp."
            —Boston Globe 
 
"Breathtaking . . . Reminiscent of Renata Adler's Speedboat but with a less bitter edge . . . Dept. of Speculation charts the course of a marriage through curious, often shimmering fragments of prose . . . Moves quickly, but it is also joyously demanding because you will want to keep trying to understand the why of each fragment and how it fits with the others . . . Offill is a smart writer with a canny sense of pacing . . . She deftly moves the novel forward with elegant shifts of point of view."
            —The New York Times Book Review
 
"Riveting . . . Unsentimental . . . Combines eclectic minutia with a laser-like narrative of a family on the edge of dissolution . . . Paragraphs shatter, surreal details rise up and into the narrative . . . A jewel of a book, a novel as funny, honest, and beguiling as any I have read."
            —Los Angeles Times 

"Offill's unnamed heroine . . . has a lot in common with the narrators of [Renata Adler's] Speedboat and [Elizabeth Hardwick's] Sleepless Nights: she is observant and literary minded, given to seeing the odd connections (or lack of connections) among the things that make up her day-to-day life and the more subterranean thoughts that jitter around in her head. She also has a lot in common with Joan Didion's heroines . . . A genuinely moving story of love lost and perhaps, provisionally, recovered."
            —Michiko Kakutani, The New York Times

"Absorbing and highly readable . . . Offill has successfully met the challenge she seems to have given herself: write only what needs to be written, and nothing more. No excess, no flab. And do it in a series of bulletins, fortune-cookie commentary, mordant observations, lyrical phrasing. And through these often disparate and disconnected means, tell the story of the fragile nature of anyone's domestic life . . . Intriguing, beautifully written, sly, and often profound."
            —Meg Wolitzer, NPR

"Introspective and resonant . . . Brave . . . Offill uses her novel to explore the question of how to be an artist as well as a wife and mother, when these states can feel impossibly contradictory . . . She's willing to put it all on the page, the mundane alongside the profound, revealing that they're not quite as different as we might have thought."
            —San Francisco Chronicle

"Audacious . . . Hilarious . . . Dept. of Speculation reveals a raw marital reality that continues to be expunged from the pervasive narrative of marriage . . . Offill moves quickly and poetically over deeply introspective questions about long-term partnerships, parenthood, and aging . . . From deep within the interiors of a fictional marriage, Offill has crafted an account of matrimony and motherhood that breaks free of the all-too-limiting traditional stories of wives and mothers. There is a complexity to the central partnership; Offill folds cynicism into genuine moments of love. It may be difficult to truly know what happens between two people, but Offill gets alarmingly close."
            —The Atlantic

"Dept. of Speculation is a riposte to the notion that domestic fiction is humdrum and unambitious. From the point of view of an unnamed American woman, it gives us the hurrahs and boos of daily life, of marriage and of parenthood, with exceptional originality, intensity, and sweetness . . . A shattered novel that stabs and sparkles at the same time. It is the kind of book that you will be quoting over and over to friends who don't quite understand, until they give in and read it too."         
            —The Guardian 

"Dept. of Speculation is a startling feat of storytelling—an intense and witty meditation on motherhood, infidelity, and identity, each line a dazzling, perfectly chiseled arrowhead aimed at your heart."
            —Vanity Fair
 
"Offill somehow manages to pack the sprawling story of an ordinary marriage, both the good bits and the bad, into a small, poetic book. Rendered entirely in a series of staccato vignettes, Dept. of Speculation is told from the point of view of the bookish, funny wife . . . Yes, there's joylessness here, but there's also real joy. Grade: A-."
            —Entertainment Weekly 

"Quirky, endearing, affecting and deep. And did I mention funny? Dept. of Speculation spends its days and nights perfectly navigating that Lilliputian line between comedy and tragedy. More quilt than book, it is a pastiche of small pieces . . . A reader is rapidly drawn to its one-paragraph vignettes, sayings and poems, its quick literary references and quotes . . . We are captivated. We cannot help ourselves. We laugh, we clap, we cry with the wife. We find, in Dept. of Speculation, moments that take our breath away. And we recognize parts of ourselves in its pages."
            —The Buffalo News

"Hilarious, poignant . . . So beautifully written that it begs multiple reads . . . Soul-bearing fiction at its best . . . Dept. of Speculation doesn't just resign itself to the disappointment of failed dreams that crop up in middle age. Instead, endurance to the end of a crisis generates wisdom, hope, and, perhaps, even art." 
            —Pittsburgh Post-Gazette 

"Jenny Offill's mini marvel of a novel, about an urban marriage in crisis, unfolds in tart, tiny chapters suffused with pithy philosophical musings, scientific tidbits, and poetic sayings that collectively guide a brainy, beleaguered couple through the tricky emotional terrain of their once wondrous, now wobbly union."
            —Elle
 
"A book of constant surprise . . . It's impossible to keep from returning to sections to savor them . . . It's impossible to put the book down . . . The complex brilliance of Offill is very difficult to write about. There are adjectives like funny, unsettling, daring, poetic, poignant, and insightful to describe the power of her tiny book. They aren't enough. They simply are not."
            —Anniston Star

"Piercingly honest . . . A series of wry vignettes that deepen movingly."
            —Vogue
    
"Winsome . . . Wry . . . Lovely . . . Offill is a poetic, piercing writer."
            —USA Today 

"Marvelously huge in insight and honesty. Rich with humor, and deep with despair, Dept. of Speculation paints a masterful portrait of the nuts and the bolts and the warts and the silky splendor that defines commitment—the commitment to live in close quarters with other humans . . . A quick, beautiful read that will draw out joy just as quickly as sadness, and may even cause one to pause and then wonder, and then to finally embrace both the misery and the magic of marriage."
            —New York Journal of Books

"Very beautiful and funny and wise . . . Manages to hop elegantly from Kafka to Eliot, from Frederick Cook to Russian astronauts."
            —The Barnes & Noble Review

"Clever, subtle, and rife with strokes of beauty, this book is both readable in a single sitting and far ranging in the emotions it raises . . . Offill has equal parts cleverness and erudition, but it's her language and eye for detail that make this a must-read."
            —Publishers Weekly (starred review)

"A magnetic novel about a marriage of giddy bliss and stratospheric anxiety, bedrock alliance and wrenching tectonic shifts . . . So precisely articulate that [Offill's] perfect, simple sentences vibrate like violin strings. And she is mordantly funny, a wry taxonomist of emotions and relationships . . . She has sliced life thin enough for a microscope and magnified it until it fills the mind's eye and the heart."
            —Booklist

"Exquisitely honed and vibrant . . . The reader easily identifies with [the narrator's] struggles and frustrations . . . An enlightened choice for a reading group."
            —Library Journal

"If Rainer Maria Rilke had written a novel, it might look something like this . . . Lyrical . . . Philosophically rich . . . Moments of literary experimentation worthy of Virginia Woolf."
            —Kirkus 

"Jenny Offill's Dept. of Speculation resembles no book I've read before. If I tell you that it's funny, and moving, and true; that it's as compact and mysterious as a neutron; that it tells a profound story of love and parenthood while invoking (among others) Keats, Kafka, Einstein, Russian cosmonauts, and advice for the housewife of 1896, will you please simply believe me, and read it?"
            —Michael Cunningham
 
 "Dept. of Speculation is gorgeous, funny, a profound and profoundly moving work of art. Jenny Offill is a master of form and feeling, and she gets life on the page in new, startling ways."
            —Sam Lipsyte
 
"A heartbreaking and exceptional book by a writer who doesn't settle for less—I've been longing for a new novel from Jenny Offill since her stunning Last Things, and it was worth every bit of the wait. Sad, funny, philosophical, at once deeply poetic and deeply engaging, this is a brilliant, soulful elegy to the hardships and joys of married life."
            —Lydia Millet

"Dept. of Speculation is a deep, funny, and beautifully written novel. It is a moving and intelligent story of a specific marriage, but it is also very much about how it feels to be alive right now. Jenny Offill perfectly captures the absurdities and ironies of our moment."
            —Dana Spiotta
 
Coverage from NPR