After Nature (Paperback)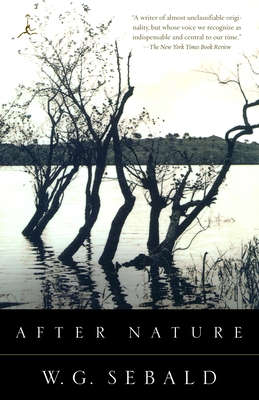 Description
---
After Nature, W. G. Sebald's first literary work, now translated into English by Michael Hamburger, explores the lives of three men connected by their restless questioning of humankind's place in the natural world. From the efforts of each, "an order arises, in places beautiful and comforting, though more cruel, too, than the previous state of ignorance." The first figure is the great German Re-naissance painter Matthias Grünewald. The second is the Enlightenment botanist-explorer Georg Steller, who accompanied Bering to the Arctic. The third is the author himself, who describes his wanderings among landscapes scarred by the wrecked certainties of previous ages.

After Nature introduces many of the themes that W. G. Sebald explored in his subsequent books. A haunting vision of the waxing and waning tides of birth and devastation that lie behind and before us, it confirms the author's position as one of the most profound and original writers of our time.
About the Author
---
W. G. Sebald was born in Wertach im Allgäu, Germany, in 1944. He studied German language and literature in Freiburg, Switzerland, and Manchester. He taught at the University of East Anglia in Norwich, England, for thirty years, becoming professor of European literature in 1987, and from 1989 to 1994 was the first director of the British Centre for Literary Translation. His previously translated books—The Rings of Saturn, The Emigrants, Vertigo, and Austerlitz—have won a number of international awards, including the National Book Critics Circle Award, the Los Angeles Times Book Award, the Berlin Literature Prize, and the Literatur Nord Prize. He died in December 2001.
Praise For…
---
"A writer of almost unclassifiable originality, but whose voice we recognize as indispensable and central to our time." —The New York Times Book Review

"The language of After Nature, as conveyed in Michael Hamburger's flawlessly clear translation, is classically lucid. . . . It is [Sebald's] ability to enter diverse inner landscapes, and evoke, with an impartial empathy, entire geographies of experience, that gives [his] writing . . . its gravitas and its somber beauty." —The New York Times Book Review

"Accessible and moving . . . a wonderful introduction to this compelling and impressive writer, even for those who insist they do not like or understand poetry." —USA Today

"Here, we find the contours or outlines of his singular vision, the interconnecting, often uninterpreted threads of association that constitute a life, and meditations on his great themes of exile, memory, and loss." —The Washington Post

"The verse retains the Sebaldian virtues of rhetorical elegance and clarity, and sits well in English, as indeed does virtually every word he wrote. . . . [After Nature] is a work of great power and seriousness, fully worthy to stand beside the prose works of Sebald's last decade." —The New York Review of Books