Cult Classic: A Novel (Hardcover)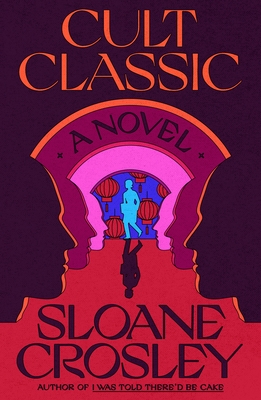 $27.00
Temporarily Unavailable
Description
---
Hilariously insightful and delightfully suspenseful, Cult Classic is an original: a masterfully crafted tale of love, memory, morality, and mind control, as well as a fresh foray into the philosophy of romance.

A BEST BOOK OF THE YEAR at the Washington Post, the BBC, Esquire, Harper's Bazaar, and more!

One night in New York City's Chinatown, a woman is at a work reunion dinner with former colleagues when she excuses herself to buy a pack of cigarettes. On her way back, she runs into a former boyfriend. And then another. And . . . another. Nothing is quite what it seems as the city becomes awash with ghosts of heartbreaks past.

What would normally pass for coincidence becomes something far stranger as the recently engaged Lola must contend not only with the viability of her current relationship but with the fact that both her best friend and her former boss, a magazine editor turned mystical guru, might have an unhealthy investment in the outcome. Memories of the past swirl and converge in ways both comic and eerie, as Lola is forced to decide if she will surrender herself to the conspiring of one very contemporary cult.

Is it possible to have a happy ending in an age when the past is ever at your fingertips and sanity is for sale? With her gimlet eye, Sloane Crosley spins a wry literary fantasy that is equal parts page-turner and poignant portrayal of alienation.
About the Author
---
Sloane Crosley is the author of the novels Cult Classic and The Clasp and three essay collections: Look Alive Out There and the New York Times-bestsellers I Was Told There'd Be Cake and How Did You Get This Number.
Praise For…
---
"Crosley turns her satirical eye toward love in a time of searchable options, of data trails, of Instagram-enforced remembering, of an always-present past…The cultlike quality of companies offering camaraderie in lieu of livable wages is an ideal subject for Crosley, who skewers the setup but regards those who fall for it warmly."
—Maddie Crum, The Washington Post

"[A] sidesplitting novel that serves both as a critique of surveillance capitalism and a redemptive (yet grounded) love story."
—Emma Levy, The Seattle Times

"A new Sloane Crosley is always a good opportunity to plant yourself on the nearest upholstered object with a book and not get up for several hours. Cult Classic is the second novel from the celebrated humorist, whose essay collections are required reading for smart people who also identify as fun."
—Jenny Singer, Glamour

"I was hooked from the first chapter. Cult Classic is easily the funniest fiction I've read this year. Crosley brings the same offbeat humor she utilized to acclaim in her nonfiction to this novel that defies easy categorization. Riotously funny, suspenseful, weird, and insightful, it's a unicorn of a book that's a perfect summer read if you're looking for something that'll make you laugh while keeping you on your toes."
—David Vogel, Buzzfeed News

"Cult Classic is an inventive, fantastical comic novel with decidedly modern preoccupations, among them wellness, social media and hipster-cool… As ever, Crosley is reliably funny as well as winningly piquant with her characters' observations."
—Shelf Awareness

"[Cult Classic] combines Sloane Crosley's signature humor with a provocative core, and a surprising mashup of genre elements . . . Deliciously satisfying."
—Jordan Snowden, Apartment Therapy

"Cult Classic is a spirited, sometimes delightfully mean-spirited, occasionally weird trip
through urban life and love in the 21st century."
—Carolyn Kellogg, The Boston Globe

"Like your favorite rom-com meets Eternal Sunshine of the Spotless Mind . . . Crosley casts a spell with lightning wit, devilish dialogue, and walloping truths about how little reason there is to anything resembling love."
—Booklist

"Crosley is nothing if not ambitious here, interrogating contemporary wellness culture and the very nature of love as [her narrator] confronts a gauntlet of ghosts from her romantic past . . . It's Crosley's analytical acumen and gift for the striking metaphor that really gives the book life. Thoughtfully and humanely acerbic."
—Kirkus Reviews, starred review

"Did the comic romantic thriller exist before Sloane Crosley, or has she invented it? Either way, Cult Classic is a classic. Funny, suspenseful, unputdownable, here is one of America's wittiest writers at her best. A pleasure on every page."
—Andrew Sean Greer, author of Less

"The witty, improbably propulsive rom-com you didn't know you were waiting for - and just the sparkling, slightly sinister love letter to New York City that New York City deserves. An effervescent delight."
—Elif Batuman, author of Either/Or

"Cult Classic makes an uproarious time of romantic carnage. Crosley captures the brutal mirror of past love, the slow creep of ambivalence into dread, and the sense that a detour can easily become a life."
—Raven Leilani, author of Luster

"Cult Classic is aimed with deadly accuracy at those unfortunate enough to have dated only during the twenty-first century. It's witty—of course, because Sloane Crosley wrote it—and razor sharp, and very clever, ditto, but it's more romantic and redemptive than one had any right to expect. It also contains one-liners destined to appear on T-shirts and coffee mugs. It's so good. I couldn't stop reading it."
—Nick Hornby, author of High Fidelity

"I love a secret society, and I love a wry narrator alive to the mysteries and absurdities of the world. Cult Classic has both, taking us on a journey that, even as it unspools into comic mayhem, only becomes more real. Here is a book that is unbelievably smart on modern love and startup mystics alike, and a Manhattan that feels accurate down to the molecule. Sloane Crosley can do it all."
—Robin Sloan, author of Mr. Penumbra's 24-Hour Bookstore and Sourdough