LaserWriter II: A Novel (Hardcover)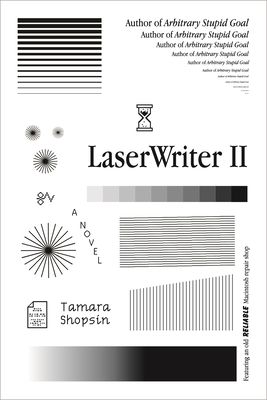 $26.00

ON HAND in at least ONE of our stores. Click through or call for up-to-the-minute availability.
Description
---
From the incomparable New York Times and New Yorker illustrator Tamara Shopsin, a debut novel about a NYC printer repair technician who comes of age alongside the Apple computer—featuring original artistic designs by the author.
About the Author
---
Tamara Shopsin is an illustrator, graphic designer, writer, part-time cook, and a co-owner of the New York City eatery Shopsin's. She is the author of Mumbai New York Scranton, What Is This?, and Arbitrary Stupid Goal; and coauthor, with Jason Fulford, of the books This Equals That and Offline Activities.
Praise For…
---
"It's a crisp redraw of a time when Apple Computer was the rebellious choice, poor rebels could afford to live in the Big Apple and — in more ways than one — people found themselves offline."
—J.D. BIERSDORFER, The New York Times Book Review

"A charming elegy to a less disposable culture and an enchanted workplace predicated on caring for machines and people."
—HELLER MCALPIN, NPR

"LaserWriter II is an ode to a bygone era, but it's also a reminder of what it can look like to care for the devices with which we spend our days."
—EVE SNEIDER, WIRED


"Part roman à clef, part social history, part service manual, part parable, and, consistently, a transportive, joyous read . . . [Shopsin's] narration is sharp and incisive, snarky yet kind . . . By far the most interesting characters are the anthropomorphized machine parts, which form a kind of impassioned Greek chorus throughout the novel. These critical components within broken machines have emotions and sex lives, ponder the meanings of existence, and are among the most enjoyable elements in the novel. It's like watching the Jurassic Park movies, when, by the end credits, you're rooting for the dinosaurs."
—STANLEY MOSS, BOMB

"At turns wistful and playful, a novel of appreciation for computers' dust and guts. Like its heroine, LaserWriter II is charming, inventive, and weirdly magnetic."
—ANNA WIENER, author of Uncanny Valley

"Tamara Shopsin's love for idiosyncratic New York City's institutions is as shimmery as the Empire State Building, as confident as a jaywalker, and as timeless as a bottle of Coca-Cola. I loved this precise and funny novel about a corner of local history that will delight anyone who touches a computer on a daily basis."
—EMMA STRAUB, author of All Adults Here

"Reading Tamara Shopsin is like smelling freshly cut grass. The writing is snappy and strange and funny and full of a misanthropic humanism. It makes you feel happy to be a mess and alive."
—MAIRA KALMAN

"It's easy to forget when Apple was the underdog, full of scrap and funk, giving cold tech an oddball humanity. It's easy to forget all the oddball humans it drew together in places like Tekserve on 23rd St, the Old Reliable Macintosh Shop, and how unpolished, un-gleaming, un-fancy it was—along with New York City itself, one million years ago in the year 1999. But Tamara Shopsin doesn't forget easily. As deft, funny, and thoughtful a fiction writer as she is a memoirist, Shopsin, somehow makes a page turner out of a trip into the works of a broken laser printer, into a past when broken computers—and people—were a little less disposable."
—JOHN HODGMAN

"Early 1990s Mac computing" sounds niche, and maybe it is, but what a niche: packed full of interesting people who stumbled together across the bridge between the analog and the digital. If that holds any resonance for you at all, you will love, love, LOVE Tamara Shopsin's new novel. Beautifully written and nerdily precise, LaserWriter II reveals the things we didn't know then; it enlivened my own memories, gave them new context and richness. This is a really special book."
—ROBIN SLOAN, author of Mr. Penumbra's 24-Hour-Bookstore

"[An] unconventional and captivating debut novel . . . This singular project brilliantly captures the spirit of individuality, innovation, and change."
—PUBLISHERS WEEKLY (starred review)

"Shopsin makes her fiction debut with a delightfully wry tale . . . the novel bounces through the history of digital technology, the fey atmosphere of geekdom, and Claire's shrewd, serene observations. Fresh and charmingly quirky."
—KIRKUS REVIEWS

"Look, you either love the idea of a coming of age novel set in Tekserve (written by an honest-to-goodness ex-Tek), or you have no idea what I'm talking about and also probably don't need eye cream yet. Either way, Tamara Shopsin is always worth a read."
—LIT HUB