A Sense of Where You Are: Bill Bradley at Princeton (Paperback)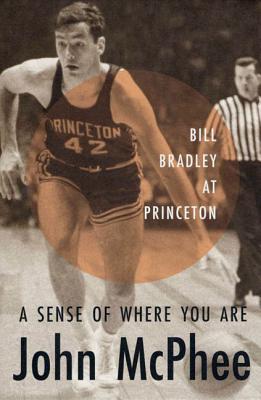 List Price: $17.00
Our Price: $16.00
(Save: $1.00 6%)
ON HAND in at least ONE of our stores. Click through or call for up-to-the-minute availability.
Description
---
When John McPhee met Bill Bradley, both were at the beginning of their careers. A Sense of Where You Are, McPhee's first book, is about Bradley when he was the best basketball player Princeton had ever seen. McPhee delineates for the reader the training and techniques that made Bradley the extraordinary athlete he was, and this part of the book is a blueprint of superlative basketball. But athletic prowess alone would not explain Bradley's magnetism, which is in the quality of the man himself—his self-discipline, his rationality, and his sense of responsibility. Here is a portrait of Bradley as he was in college, before his time with the New York Knicks and his election to the U.S. Senate—a story that suggests the abundant beginnings of his professional careers in sport and politics.
About the Author
---
John McPhee was born in Princeton, New Jersey, and was educated at Princeton University and Cambridge University. His writing career began at Time magazine and led to his long association with The New Yorker, where he has been a staff writer since 1965. Also in 1965, he published his first book, A Sense of Where You Are, with Farrar, Straus and Giroux, and in the years since, he has written over 30 books, including Oranges (1967), Coming into the Country (1977), The Control of Nature (1989), The Founding Fish (2002), Uncommon Carriers (2007), and Silk Parachute (2011). Encounters with the Archdruid (1972) and The Curve of Binding Energy (1974) were nominated for National Book Awards in the category of science. McPhee received the Award in Literature from the Academy of Arts and Letters in 1977. In 1999, he was awarded the Pulitzer Prize for Annals of the Former World. He lives in Princeton, New Jersey.
Praise For…
---
"Immensely well-written, inspiring without being preachy, and contains as well the clearest analyses of Bradley's moves, fakes, and shots that have appeared in print." —Rex Lardner, The New York Times Book Review