You Are Having a Good Time: Stories (Paperback)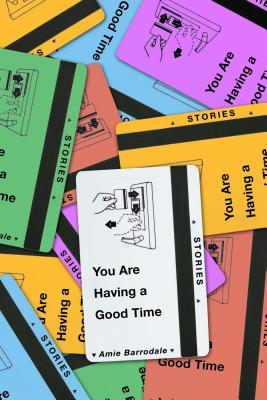 $19.80
Temporarily Unavailable
Description
---
Named A Best Book of 2016 by Wall Street Journal, Vulture, Refinery29, Financial Times, and The Guardian

In You Are Having a Good Time, Amie Barrodale's collection of highly compressed and charged tales, the veneer of normality is stripped from her characters' lives to reveal the seething and contradictory desires that fuel them. In "Animals," an up-and-coming starlet harbors a complicated attraction toward her abusive director. In "Frank Advice for Fat Women," an ethically compromised psychiatrist is drawn into the middle of a dysfunctional mother-daughter relationship. And in "The Imp," a supernatural possession ruins a man's relationship with his pregnant wife.

Barrodale's protagonists drink too much, say the wrong things, want the wrong people. They're hounded by longings (and sometimes ghosts) to the point where they are forced to confront the illusions they cling to. They're brought to life in stories that don't behave as you expect stories to behave. Barrodale's startlingly funny and original fictions get under your skin and make you reconsider the fragile compromises that underpin our daily lives.
About the Author
---
Amie Barrodale's stories and essays have appeared in The Paris Review, Harper's Magazine, VICE, McSweeney's, and other publications. In 2012 she was awarded The Paris Review's Plimpton Prize for Fiction for her story "William Wei." She is a former staff writer for The Onion and is currently the fiction editor at VICE.
Praise For…
---
"Stark and cutting . . . The book's power comes from Barrodale's ability to distort and project the familiar into something new, like a visual artist playing with shadows cast on a gallery wall." —Nicholas Mancusi, The New York Times Book Review

"Each of the 10 stories in Barrodale's collection is a gem: elegant, subversive, and surprising. Barrodale depicts an impressive breadth of settings and characters. At the heart of each story is a tenuous relationship: in one, an actress explores her attraction to an abusive director; in another, a psychologist navigates a mother-daughter relationship; in a third, a man who eats the same meal every night pursues a mysterious woman." —Travel and Leisure

"These short tales from Vice fiction editor Amie Barrodale focus on precarious relationships: moments with psychiatrists, actresses, and misfits—people who make us nervous. For fans of Lydia Davis and David Foster Wallace, her debut is incisive, risky, and a little irreverent, and a real writer's book." —Elle

"There is a fascinating grotesqueness here, from the mean, broken, oblivious characters to the funny, ugly scenarios they're placed into. Even the structures of the stories are disconcerting: They always open so deep midscene — so breathlessly ready to go, so breathlessly already going — it's disorienting, like a film that starts with a character in midfall off a cliff. But the grotesqueness is also cut with moments of beauty, moments when we zoom in to the gold-and-white luminosity of a hand-thrown clay bowl or a psychiatrist treating his patient's expensive boots with Vaseline or a wife's way of telling her husband he has a sharp nail ('There's a wolverine') and searching for it with her tongue. The result is somewhere at the intersection of discomfort and pleasure. So is the world of You Are Having a Good Time beautiful with grotesque details, or grotesque with a little bit of beauty? The answer seems to be, 'Yes.'" —Carmen Maria Machado, NPR.org

"Stunning . . . It is Barrodale's extraordinary gift to get so right in tone and voice characters who never get it right. Many writers can hold up a polished mirror in front of a reader and ask, Look familiar? Barrodale brilliantly manages the far trickier task of holding up a broken mirror and allowing us to find ourselves in the shards . . . Self-consciousness might be Barrodale's theme, but the writing itself is wily, razor sharp, at times hilarious, and occasionally feels like the fast rip of a Band-Aid. One story, 'Catholic,' about a young woman stumbling through a hazy romantic relationship, is an instant classic. As it turns out, the collection's title is a promise." —Christopher Bollen, Interview Magazine

"'Tis the season for debut short-story collections written by women. I recently finished a galley of Amie Barrodale's You Are Having a Good Time. Just when the detriment of modern technology to contemporary relationships began to feel like a tired subject, Barrodale hit me with a totally bizarre new take. An unorthodox therapist, a mysterious woman named Koko, and an aggressive tailor are just a few of the characters who make this one of the strangest, most colorful, and ultimately unforgettable books I've recently read." —The Nation

"It's almost uncivilized how precisely Barrodale renders life as a banal grotesquerie in which you have the wherewithal to decide nothing . . . Barrodale elevates anecdotes into art . . . [She] is preternaturally imaginative." —Kaitlin Phillips, Bookforum

"Wily and pleasingly claustrophobic." —O Magazine

"The 10 stories in Barrodale's stellar debut collection explore the complications of modern relationships. Rejecting uniformity, the collection spans a variety of geographies, life stages, and experiences . . . Barrodale is comfortable working in an impressive range of styles, and will surely pick up a number of admirers with this standout debut." —Publishers Weekly (starred review)

"This unusual, sometimes-unsettling debut story collection provides the reader with an unvarnished look into the inner lives of a mix of curious characters . . . You never know where [the stories] will take you or whether, at the end of the trip, your life won't feel at least a little changed. An unrepentantly offbeat collection by an admirably free-spirited writer." —Kirkus Review

"[Barrodale's] writing is fierce, intimidating, and well worth our attention." —Jay Slayton-Joslin, Cultured Vultures

"Amie Barrodale's stories make me think of an updated John Cheever—that is to say she is witty, soulful, and sharp all at once. You Are Having a Good Time is delightful and touching." —Mary Gaitskill, author of The Mare

"These intensely sexy and intensely funny stories skitter along the edge of madness. Amie Barrodale is a Nathanael West, deeply concerned with morality and with pushing the edge of what makes a story a story." —Akhil Sharma, author of Family Life

"Amie Barrodale's stories are the stuff of David Lynchian eeriness riding just beneath the surface of everyday contemporary life." —James Franco