American Innovations: Stories (Hardcover)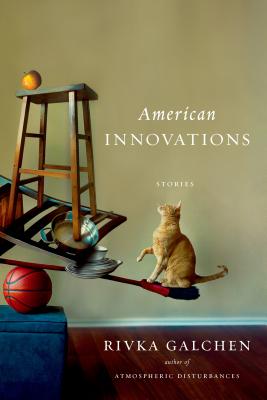 $25.20
Temporarily Unavailable
Description
---
A brilliant new collection of short stories from "the conspicuously talented" (Time) Rivka Galchen

In one of the intensely imaginative stories in Rivka's Galchen's American Innovations, a young woman's furniture walks out on her. In another, the narrator feels compelled to promise to deliver a takeout order that has incorrectly been phoned in to her. In a third, the petty details of a property transaction illuminate the complicated pains and loves of a family.
The tales in this groundbreaking collection are secretly in conversation with canonical stories, reimagined from the perspective of female characters. Just as Wallace Stevens's "Anecdote of the Jar" responds to John Keats's "Ode on a Grecian Urn," Galchen's "The Lost Order" covertly recapitulates James Thurber's "The Secret Life of Walter Mitty," while "The Region of Unlikeness" is a smoky and playful mirror to Jorge Luis Borges's "The Aleph." The title story, "American Innovations," revisits Nikolai Gogol's "The Nose."
By turns realistic, fantastical, witty, and lyrical, these marvelously uneasy stories are deeply emotional and written in exuberant, pitch-perfect prose. Whether exploring the tensions in a mother-daughter relationship or the finer points of time travel, Galchen is a writer like none other today.
About the Author
---
Rivka Galchen received her MD from the Mount Sinai School of Medicine, having spent a year in South America working on public health issues. Galchen completed her MFA at Columbia University, where she was a Robert Bingham Fellow. Her essay on the Many Worlds Interpretation of quantum mechanics was published in The Believer, and she is the recipient of a 2006 Rona Jaffe Foundation Writers' Award. Galchen lives in New York City. She is the author of the novel Atmospheric Disturbances.
Praise For…
---
"[Galchen's] writing is skillful, imaginative, often funny…[T]he symmetries, repetitions and recurrences do not irritate but instead illuminate the presence of a singular, readily identifiable voice whose signature obsessions and tendencies recur no matter what story she tells. Like Hemingway writing about fishing. Or Scorsese mythologizing lowlifes. Or Bob Dylan releasing an album's worth of cover versions and calling it "Self-Portrait." In that grand tradition of American innovators, perhaps Ms. Galchen's greatest artistic creation is herself." —Adam Langer, The New York Times
"To read Rivka Galchen is to enter a wonderland where the bizarre and the mundane march in unlikely lockstep… [the reader] is left feeling oddly exhilarated after these disjointed adventures." —Michael Lindgren, Washington Post
"Rivka Galchen's second book--a series of playful, irreverent short stories--showcases her surrealist imagination, while also riffing on canonical tales." —Wall Street Journal
"[A] bold, inventive and smart young writer." —New York Times Book Review
"Spectral, demanding stories from a brilliant young writer." —Elle Magazine
"Many of the tales in Galchen's thrilling collection are reimaginings of classic metaphysical short stories…But Galchen's stories … are told from the perspective of modern women, who, while not always reliable narrators, are keenly attuned to the small ironies and psychological perversities of everyday life." —The New Yorker, Page Turner
"[A] thoroughly Galchean concoction – funny, intellectual, and playfully dark. …Her debut collection of stories [is] frightfully superb…" —Zsuzsi Gartner, The Globe and Mail
"There is something tantalizingly beautiful about Galchen's evocation of lived experience and entire lives, really, through physical things that are, of themselves, utterly mundane and inconsequential... Reading these stories, one experiences a kind of slippage into an otherworldly space -- where people travel through time and encounter the dead and watch their belongings un-belong themselves. It's the kind of space that great literature makes possible by creating -- through this kind of intensely real imagery and dialogue -- a world unto itself." —Shoshana Olidort, Jewish Daily Forward
"The stories in American Innovations proceed through indirection, association, and surprise, making a world in which daily life becomes a dream of life. Their narrators go in search of emotional resolution, but instead find that the furniture is getting up and leaving the house. Galchen's stories can read almost as meditations on themselves, and their gift to the reader is the sudden and pleasurable awareness of the things we understand the least--the deaths of parents, breakdowns in love, and the hopeful pursuit of joy." —Donald Antrim, author of The Verificationist
"I am always declaiming to whoever will listen that Rivka Galchen is one of the best things going. She writes for the joy of it and so artfully, and conforms to no one else's standards. Joy and artfulness: why are these so rare? But they are. Galchen is a stand-alone talent." —Rachel Kushner, author of The Flamethrowers
"Rivka Galchen writes about the strangeness of being alive--not that anyone has any other state to compare being alive to, which doesn't make it any less strange. She writes with intelligence, wit, and great originality. These stories are amazing." —Roz Chast
"Rivka Galchen is like the pinball wizard of American letters, with a narrative voice that can ricochet from wonder to terror to hilarity in the breadth of a breath. These ten stories of profound loss and profound joy give the Kantian sublime a Key Lime twist, and reveal what happily haunted space cadets we all are in the echo chamber of our 'ordinary' American lives. You'll feel compelled to read Galchen's sentences to strangers on buses. The delicacy and brilliance of what she is doing doesn't yet have a name." —Karen Russell
"American Innovations marks a sharp step forward for American short stories . . . Galchen writes with a glorious and gentle lyricism, her sentences clear and sharp in their tracings of the world's complexity. Her stories shine a light on hidden thoughts and desires, offering up unimagined possibilites for grace as her characters spin through their quiet lives." —Jonathan Shia, The Last Magazine
"Each story offers a fortified shot of literary enrichment, a dose of characters and genres and settings we didn't even know we needed, but that now feels vital and enlivening. [American Innovations is] a master class in cohesion--and restraint." —Hillary Kelly, The New Republic
"Protagonists' curious circumstances create happy head-scratching." —Time Out New York
"Galchen has mastered a tone of deadpan eccentricity, in which characters can reveal the deepest truths about themselves." —Adam Kirsch, Tablet
"Galchen's stories feel remarkably believable, despite their suggestion of alternate worlds and lives. This is a collection to read and keep on the bookshelf. It will stand the test of time." —Kirkus (starred review)
"With her second book, Galchen continues to secure a place for herself among today's great prose stylists." —Publishers Weekly (starred review)
"[F]or readers who appreciate the absurd, her stories are exercises of uncommon poetry….The stories are odd and unsettling but burst with brilliant moments of dialogue and observation." —Booklist
"Galchen is skilled at obscuring the tension of a story. With humor and linguistic sleight of hand, Galchen, like life, dazzles us into forgetting certain inevitabilities. Galchen's finest writing occurs when her characters dangerously dip below their own surfaces and finally acknowledge something." —Bookforum
"The problem with the stories in this clever, urbane, and sometimes surreal collection from the author of the breakout novel Atmospheric Disturbances is that there are only ten of them." —Library Journal
Coverage from NPR