In Hoffa's Shadow: A Stepfather, a Disappearance in Detroit, and My Search for the Truth (Hardcover)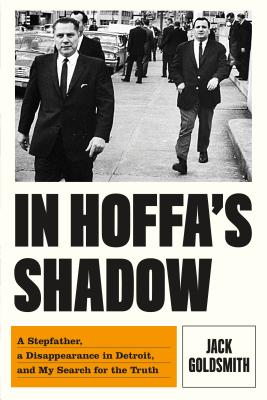 $28.00
On Our Shelves Now. Call store for up-to-the-minute availability.
Description
---
The untold story of Charles "Chuckie" O'Brien, Jimmy Hoffa's right-hand man and suspected killer, told by O'Brien's distinguished stepson.
As a young man, Jack Goldsmith revered his stepfather, longtime Jimmy Hoffa associate Chuckie O'Brien. But as he grew older and pursued a career in law and government, he came to doubt and distance himself from the man long suspected by the FBI of perpetrating Hoffa's disappearance on behalf of the mob. It was only years later, when Goldsmith was serving as assistant attorney general in the George W. Bush administration and questioning its misuse of surveillance and other powers, that he began to reconsider his stepfather, and to understand Hoffa's true legacy.
In Hoffa's Shadow tells the moving story of how Goldsmith reunited with the stepfather he'd disowned and then set out to unravel one of the twentieth century's most persistent mysteries and Chuckie's role in it. Along the way, Goldsmith explores Hoffa's rise and fall and why the golden age of blue-collar America came to an end, while also casting new light on the century-old surveillance state, the architects of Hoffa's disappearance, and the heartrending complexities of love and loyalty.
About the Author
---
Jack Goldsmith is the Henry L. Shattuck Professor of Law at Harvard University. From October 2003 to June 2004 he was assistant attorney general, Office of Legal Counsel. He lives in Newton, Massachusetts.
Praise For…
---
"In Hoffa's Shadow is compulsively readable, deeply affecting, and truly groundbreaking in its re-examination of the Hoffa case . . . a reckoning . . . and also a meticulous reconstruction of 'the greatest mystery in American history . . . a monumental achievement.'" —James Rosen, The Wall Street Journal
"It's fair to say that the last thing the world was itching for in 2019 was another speculative account of Hoffa's final days. Which is precisely why Jack Goldsmith's gripping hybrid of personal memoir and forensic procedural lands with the force of a sucker punch. More than just another writer chewing over the same old facts and hypotheses, Goldsmith turns out to have a uniquely intimate connection to the case that gooses him along on his hunt for the truth . . . In one of the book's most chilling sections, Goldsmith recalls being 13 and reading in Newsweek that the man he called "Dad" was being described as a "ne'er-do-well union operative" who the F.B.I. claimed drove Hoffa to a house in Detroit where the former union leader was garroted in a basement . . . [Goldsmith's] narrative is bolstered by the rare perspective of O'Brien — someone who was not only on the inside, but who also walked into many rooms during his life expecting to find a plastic tarp on the carpet . . . the most addictive chapter comes after the story is over, in an appendix where Goldsmith reconstructs the timelines of Hoffa and O'Brien on July 30, 1975, in granular, minute-by-minute detail . . . a meditation on the complicated and occasionally bittersweet love between fathers and sons. It turns out that sometimes the search for truth can be its own reward." —Chris Nashawaty, The New York Times Book Review
"The unlikeliest riveting read of the year . . . [Goldsmith is] always worth reading on any topic on which he opines. But I wasn't prepared to be transfixed by a D.C. "backstory" unlike any out there . . . this is a National Book Award nominee waiting to happen. And though Hoffa did not go gently into the night, his abrupt and final exit is as dark as any tragedy . . . It's hard to overstate how unlikely this story is, and similarly difficult to overestimate my certainty that readers from all backgrounds and across entire political and economic spectra won't be able to put it down." —Hugh Hewitt, The Washington Post
"So much has been written about Jimmy Hoffa, the former Teamster boss who vanished from a Detroit suburb in 1975, but a new book about him still contains surprises — not least because of who wrote it . . . In Hoffa's Shadow is several books in one — an attempt to piece together the enduring mystery of Hoffa's disappearance, a glancing history of the labor movement, a reflection on the government's surveillance powers and, underpinning it all, a memoir of Goldsmith's relationship with his stepfather [Chuckie O'Brien] . . . The book's pacing is steady and unrelenting, as Goldsmith toggles between his own careful narrative voice and Chuckie's off-the-cuff wiseguy vernacular. Goldsmith is sober, strait-laced, punctilious; Chuckie sounds like he's telling it like it is, except when he's not, which is often — a trick he learned out of professional necessity . . . In Hoffa's Shadow covers a lot of ground, but I was most struck by the frankness with which a buttoned-up Goldsmith writes about his stepfather, and how Goldsmith's firsthand experiences have apparently encouraged him to question some of the surveillance powers that other law-and-order conservatives have traditionally taken for granted." —Jennifer Szalai, The New York Times Book Review
"Goldsmith has produced a wonderful book about the complicated relationship between a deeply flawed stepfather [Chuckie O'Brien] and the adopted son he loved deeply and forgave unconditionally for casting him aside . . . Goldsmith doesn't excuse O'Brien's misdeeds. But he comes to view his stepfather's experience as a target of then-Attorney General Robert F. Kennedy through the prism of his own experiences reviewing the legality of new surveillance powers granted after the 9/11 attacks." —Seth Stern, The Christian Science Monitor
"This is an incredible story, plainly rebutting the clear understanding of many that Charles O'Brien drove Jimmy Hoffa to his death, and offering a profoundly beautiful recognition of the nature of paternal love. This book will make you weep, repeatedly, for the injustice, and for the love." —Lawrence Lessig, professor at Harvard Law School and author of They Don't Represent Us and Republic, Lost
"In Hoffa's Shadow is a masterpiece and a page-turner—I couldn't put it down. Brilliant, suspenseful, and deeply moving, it offers a personal view of one of the greatest unsolved crimes in American history. At the same time, it offers startling insights into organized crime, the labor movement, and the surprising origins of today's surveillance state. Beautifully written and full of unexpected turns, this book is gripping and revelatory from start to finish." —Amy Chua, professor at Yale Law School and author of Battle Hymn of the Tiger Mother and Political Tribes: Group Instinct and the Fate of Nations
"A thrilling, unputdownable story that takes on big subjects—injustice, love, loss, truth, power, murder—and addresses them in sentences of beauty and clarity informed by deep thought and feeling. Goldsmith, one of the finest minds of his generation, has told an insane tale with a storyteller's flair. This is one of the best works of autobiography that I've read in a very, very long time." —Bill Buford, former fiction editor of The New Yorker and author of Heat and Among the Thugs
"I am one of the world's experts on the July 30, 1975, murder of Jimmy Hoffa. And, now, Jack Goldsmith—with his brilliant research and beautiful writing style—comes along and tells me a whole bunch of things I never knew about that day. Satisfying his curiosity about his stepfather's alleged role in the crime and through his own personal integrity, Goldsmith has advanced the state of evidence of this unsolved mystery, bringing us closer to a final resolution." —Dan E. Moldea, author of The Hoffa Wars
"Some people are born into stories and then live them out beyond anyone's wildest
imagination. That's what happened to Jack Goldsmith, one of the era's heroic jurists. His shadow life across fifty years with a mob-connected stepfather tells a larger and essential story about America.
"The century-long sweep of Goldsmith's narrative brilliantly wraps Jimmy Hoffa, Bobby Kennedy, and Bush and Cheney—as well as long-awaited revelations about what happened to the Teamster King, and themes of class, corruption, meritocratic mendacity, workin' man's blues, prosecutorial perfidy, and the Mob—around a heart-song saga of Chuckie and Jack, a dad and son who search for love across the divides that have riven American.
"This is an extraordinary, muscular adventure story about what's happened to our nation and what's possible for its future. A must-read." —Ron Suskind, author of Life, Animated and The One Percent Doctrine
Coverage from NPR