Business-to-Business Marketing: How to Understand and Succeed in Business Marketing in an Emerging Africa (Paperback)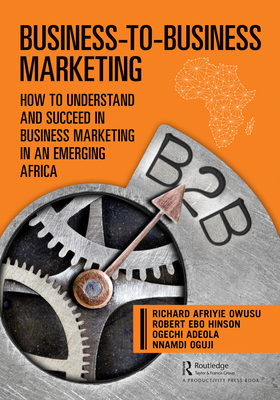 Description
---
Business-to-Business Marketing: An African Perspective: How to Understand and Succeed in Business Marketing in an Emerging Africa is a comprehensive application of the most current research results, concepts and frameworks to the African business-to-business (B-to-B) context. The chapters are designed to provide the reader with a thorough analysis of b-to-b. Important aspects like competitive strategy in B-to-B, marketing mix strategies, relationship management and collaboration, business services, big data analysis, and emerging issues in B-to-B are discussed with African examples and cases. As a result, the book is easy to read and pedagogical. It is suitable for courses at universities and other tertiary levels, undergraduate and graduate courses, MBA and professional B-to-B marketing programmes. Working managers will find it a useful reference for practical insights and as a useful resource to develop and implement successful strategies.
The Authors
Collectively the four authors have over 60 years of teaching and research in B-to-B marketing and management in and outside Africa. They have the managerial and consulting experience that has enabled them to combine theory with practice. Their experience and knowledge provide the needed background to uniquely integrate teaching and research with the realities of the African B-to-B market. Their command of and insight into the subject are unparalleled.
About the Author
---
Dr. Richard Afriyie Owusu is an Associate Professor of Marketing and International Business at the School of Business and Economics, Linnaeus University, Sweden. He is also the Research Leader of the Global Mind Knowledge Platform and a member of the Academic Council at Linnaeus University. During his academic career of over fifteen years, Professor Owusu has taught and researched, among others, business-to-business marketing; international business; business development, management and entrepreneurship in Africa, in universities in Europe, Africa, Australia, and U.S.A.He has published over thirty scientific articles and book chapters spanning international market entry strategies; acquisitions and joint ventures; international project business; business networks; and business in Africa. He has participated in several corporate projects such as Globalization of Finnish SMEs (GlobFinn); Brands, Innovation and Globalization of Finnish Companies (BIG). He contributed to the Ghana Export Strategy (2010-2015) while consulting for Omega Strategic Resources Limited. Currently, Professor Owusu is also a partner of Foresight Consulting, a consulting partnership dedicated to promoting successful business in Africa. Professor Robert E. Hinson is a marketing communications practitioner, turned scholar. He holds a DPhil in Marketing from the University of Ghana and a PhD in International Business from the Aalborg University Business School. In his marketing communications career (1998-2003), he managed advertising budgets for brands like Acer, Canon, LG, Microsoft, Mercedes Benz and, Peugeot. In 2004, Robert also worked as the Marketing Communications Advisor to Cal Bank IPO, a bank that eventually got listed on the Ghana Stock Exchange. There was an oversubscription of shares by over 250%, making it one of the most successful IPOs in Ghana to date. Since turning scholar in 2003, Robert has served as Rector of the Perez University College, Acting Director of Institutional Advancement at the University of Ghana, and twice as Head of the Department of Marketing of Entrepreneurship at the University of Ghana Business School. Professor Hinson is also an Extraordinary Professor at the North West Business School in South Africa. Robert is one of the leading marketing scholars in Africa and has served on notable local and international boards. In 2019, Prof Hinson was listed as one of the top 100 speakers in Ghana by the Speakers Bureau Africa (https: //speakersafrica.com/top100-3/).Dr. Ogechi Adeola is an Associate Professor of Marketing and Head of Department of Operations, Marketing and Information Systems at the Lagos Business School (LBS), Pan-Atlantic University, Nigeria. She commenced her career with Citibank Nigeria, spending about 14years in the Nigerian financial sector, before moving to academia. Professor Adeola holds a doctorate in Business Administration (DBA) from Alliance Manchester Business School, UK. She is a 2016 Visiting International Fellow, Open University Business School, UK; a 2017 Paul R. Lawrence Fellow, Chicago; guest lecturer at the University of Ghana Business School; Visiting Professor at the University of Professional Studies Accra (UPSA); and Associate Dean, University of the People, USA. Dr Adeola has published academic books and papers in top scholarly journals with her co-authored articles winning Best Paper Awards at international conferences in 2016-2019, consecutively. She is a Fellow of the Institute of Strategic Management, Nigeria and the National Institute of Marketing of Nigeria. Dr. Nnamdi Oguji is an experienced professional with over eight years' experience working for KONE as Business development expert and managing global supply chain projects for KONE Corporation Finland. In parallel, Nnamdi completed his PhD in Economics and Business Administration in 2015 from the University of Vaasa and continues his research in international business and supply chain and thematic areas within this field that integrate digitalization and big data.Over his eight years in KONE corporation, Nnamdi has helped KONE setup big data-based technologies in Finland and India and have leverage big data analytics for customer insights, offering development, pricing and competitive intelligence, supply chain excellence and driving sales and profitability. During this same, Nnamdi has taught in several universities in Finland as a guest lecturer on the application of big data in international business and supply chains. Nnamdi also has publications in several ABS ranked journals and his 2019 publication in the Baltic Journal of Management won the 2020 emerald literati award for Highly Commended papers.