Home Baked: My Mom, Marijuana, and the Stoning of San Francisco (Paperback)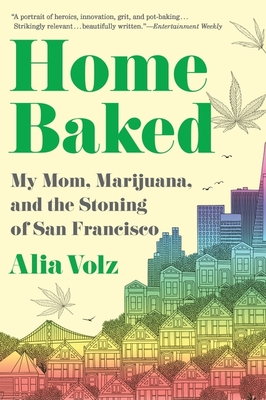 $16.99

ON HAND in at least ONE of our stores. Click through or call for up-to-the-minute availability.
Staff Reviews
---
"Alia Volz's parents are what you would call real hippies, not just the tie-dye and flowers-in-your-hair kind of hippies. Her father was a self-professed psychic, and her mother Meridy rarely made a decision large or small without consulting the I Ching. Meridy is the star of this show, an everywoman of the Summer of Love. A wide-eyed innocent from Wisconsin, she inherited a marijuana brownie business. Her charm, open heart, and natural business acumen turned a small time operation into a citywide force. Home Baked is a sweet and loving portrait both of Volz's parents and of San Francisco in the '70's. Her depiction of the pre-AIDS Castro captures a wondrous moment in time of love and freedom before it came crashing down." -KPR
Description
---
Winner of the California Bookseller Association's Golden Poppy Award for Nonfiction
Finalist for the National Book Critics Circle Award for Autobiography
A San Francisco Chronicle Bestseller

"A portrait of a heroics, innovation, grit, and pot-baking . . . strikingly relevant . . . beautifully written."
—Entertainment Weekly

"A raunchy and rollicking account of a vanished era told by someone who paid very close attention to her larger-than-life parents. I gobbled it up like an edible."
—Armistead Maupin

In the 1970s, when cannabis was as illicit as heroin, Alia Volz's mother ran Sticky Fingers Brownies, a pioneering underground bakery that delivered ten thousand marijuana edibles per month to a city in the throes of change—from the joyous upheavals of gay liberation to the tragedy of the Peoples Temple. Dressed in elaborate costumes, Alia's parents hid in plain sight, parading through the city's circus-like atmosphere with the goods tucked into her stroller. When HIV/AIDS swept San Francisco in the 1980s, Alia's mom turned from dealer into healer, providing soothing edibles to those fighting for their lives at the dawn of medical marijuana.

By turns heartbreaking, exhilarating, and laugh-out-loud funny, Home Baked celebrates an eccentric and remarkable extended family, taking us through love, loss, and finding home.

Now with extra material, including a reading group guide, author Q&A, and additional photos!
About the Author
---
ALIA VOLZ is the author of Home Baked: My Mom, Marijuana, and the Stoning of San Francisco, winner of the 2020 Golden Poppy Award for nonfiction from the California Independent Booksellers Alliance. Her work has appeared in The Best American Essays, The New York Times, Bon Appetit, Guernica, The Best Women's Travel Writing, and many other publications. She's received fellowships from MacDowell and Ucross. Her family story has been featured on Snap Judgment, Criminal and NPR's Fresh Air. She lives in San Francisco, CA.
Praise For…
---
Winner of the California Bookseller Association's Golden Poppy Award for Nonfiction Finalist for the National Book Critics Circle Award for Autobiography A San Francisco Chronicle Bestseller One of Entertainment Weekly's "Books to Read in April" One of Lambda Literary's "Most Anticipated LGBTQ Books of April 2020" One of Reader's Digest's "Best Reads From the 2020 Quarantine Book Club" One of She Reads' "Most Anticipated Memoirs of 2020" One of Alma's "Favorite Books for Spring 2020" Included on 7x7's "Spring Reading List: Books by Bay Area Authors" "The subtitle, 'My Mom, Marijuana, and the Stoning of San Francisco' tells you much of what you need to know in terms of content. But as a portrait of a heroics, innovation, grit, and pot-baking in an epidemic (in this case, the AIDS crisis), it's also strikingly relevant. And beautifully written, too." —Entertainment Weekly, "Books to Read in April" "A beautiful evocation of the Bay Area in the years before tech bros and big money changed the city...Like Stefan Zweig's The World of Yesterday, this is a narrative about a time that is now gone: San Francisco as circus, where pot was both ubiquitous and as illegal as heroin. Under Volz's careful attention, all of it—the era, the place, and her own parents—is rendered clear, bright, and beautiful." —Paris Review, Staff Pick "An earnest yet comic memoir by the daughter of the owner of the Sticky Fingers bakery, purveyor of pot brownies and crusader for legalization." —New York Times, "New and Noteworthy Audiobooks" "A raunchy and rollicking account of a vanished era told by someone who paid very close attention to her larger-than-life parents. I gobbled it up like an edible." —Armistead Maupin "I devoured this book! Sex, drugs, rock-n-roll, a savvy business woman, a social and medicinal revolution: What's not to love? This is a story Alia Volz was born to tell." —Rebecca Skloot, bestselling author of The Immortal Life of Henrietta Lacks "[A] nostalgic, thoroughly entertaining new romp of a memoir...[An] intensely personal portrait of an unconventional childhood, as well as a rigorously reported account of a kaleidoscopic time in San Francisco history, an era of exuberant highs and pitch-black lows." —San Francisco Chronicle   "While a memoir, Home Baked is also an intensively researched book on San Francisco and the burgeoning cannabis culture surrounding Sticky Fingers Brownies, based on archival research and hundreds of hours of interviews with LGBT activists, cannabis advocates and, of course, Volz's parents. Home Baked also provides a timely contrast with both modern San Francisco and the blossoming cannabis industry, which can now offer safe and legal access to the drug, although significant reforms to the war on drugs have not materialized." —Newsweek "Ample, skillfully researched, and cleanly narrated, Volz's debut is really five books in one . . . Alia in tow, Mer and her peers travel among San Francisco, Humboldt County and Marin, connecting an essentiall