Mistakes Were Made (but Not By Me) Third Edition: Why We Justify Foolish Beliefs, Bad Decisions, and Hurtful Acts (Paperback)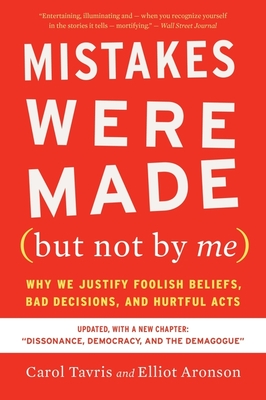 $16.99

NOT on our shelves now. Usually ships from warehouse in several days.
Description
---
Renowned social psychologists Carol Tavris and Elliot Aronson take a compelling look into how the brain is wired for self-justification. This updated edition concludes with an extended discussion of how we can live with dissonance, learn from it, and perhaps, eventually, forgive ourselves.

Why is it so hard to say "I made a mistake"—and really believe it?

When we make mistakes, cling to outdated attitudes, or mistreat other people, we must calm the cognitive dissonance that jars our feelings of self-worth. And so, unconsciously, we create fictions that absolve us of responsibility, restoring our belief that we are smart, moral, and right—a belief that often keeps us on a course that is dumb, immoral, and wrong. Backed by years of research, Mistakes Were Made (But Not by Me) offers a fascinating explanation of self-justification—how it works, the damage it can cause, and how we can overcome it.

"Entertaining, illuminating and—when you recognize yourself in the stories it tells—mortifying."—Wall Street Journal

"Every page sparkles with sharp insight and keen observation. Mistakes were made—but not in this book!"—Daniel Gilbert, author of Stumbling on Happiness
About the Author
---
CAROL TAVRIS is a social psychologist, lecturer, and writer whose books include Anger and The Mismeasure of Woman. She has written on psychological topics for the Los Angeles Times, the New York Times, Scientific American, and many other publications. She is a fellow of the American Psychological Association and the Association for Psychological Science, and a member of the editorial board of Psychological Science in the Public Interest. She lives in Los Angeles.

ELLIOT ARONSON is one of the most distinguished social psychologists in the world. His books include The Social Animal and The Jigsaw Classroom. Chosen by his peers as one of the hundred most influential psychologists of the twentieth century, he was elected to the American Academy of Arts and Sciences and is the only psychologist to have won all three of the American Psychological Association's top awards—for writing, teaching, and research. He lives in Santa Cruz, California.
Praise For…
---
PRAISE FOR CAROL TAVRIS'S ANGER

"Witty, provocative, and impressively documented, this work lights a candle in cursed darkness."—LOS ANGELES TIMES

PRAISE FOR ELLIOT ARONSON'S THE SOCIAL ANIMAL

"A rare gem of a book, easy to read but also scientifically sophisticated."—CONTEMPORARY SOCIOLOGY —