Home Baked: My Mom, Marijuana, and the Stoning of San Francisco (Hardcover)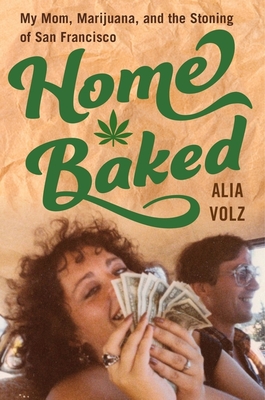 $27.00

ON HAND in at least ONE of our stores. Click through or call for up-to-the-minute availability.
Staff Reviews
---
"Alia Volz's parents are what you would call real hippies, not just the tie-dye and flowers-in-your-hair kind of hippies. Her father was a self-professed psychic, and her mother Meridy rarely made a decision large or small without consulting the I Ching. Meridy is the star of this show, an everywoman of the Summer of Love. A wide-eyed innocent from Wisconsin, she inherited a marijuana brownie business. Her charm, open heart, and natural business acumen turned a small time operation into a citywide force. Home Baked is a sweet and loving portrait both of Volz's parents and of San Francisco in the '70's. Her depiction of the pre-AIDS Castro captures a wondrous moment in time of love and freedom before it came crashing down." -KPR
Description
---
FINALIST FOR THE NATIONAL BOOK CRITICS CIRCLE AWARD FOR AUTOBIOGRAPHY

A blazingly funny, heartfelt memoir from the daughter of the larger-than-life woman who ran Sticky Fingers Brownies, an underground bakery that distributed thousands of marijuana brownies per month and helped provide medical marijuana to AIDS patients in San Francisco—for fans of Armistead Maupin and Patricia Lockwood

During the '70s in San Francisco, Alia's mother ran the underground Sticky Fingers Brownies, delivering upwards of 10,000 illegal marijuana edibles per month throughout the circus-like atmosphere of a city in the throes of major change. She exchanged psychic readings with Alia's future father, and thereafter had a partner in business and life.

Decades before cannabusiness went mainstream, when marijuana was as illicit as heroin, they ingeniously hid themselves in plain sight, parading through town—and through the scenes and upheavals of the day, from Gay Liberation to the tragedy of the Peoples Temple—in bright and elaborate outfits, the goods wrapped in hand-designed packaging and tucked into Alia's stroller. But the stars were not aligned forever and, after leaving the city and a shoulda-seen-it-coming divorce, Alia and her mom returned to San Francisco in the mid-80s, this time using Sticky Fingers' distribution channels to provide medical marijuana to friends and former customers now suffering the depredations of AIDS.

Exhilarating, laugh-out-loud funny, and heartbreaking, Home Baked celebrates an eccentric and remarkable extended family, taking us through love, loss, and finding home.
About the Author
---
ALIA VOLZ is the author of Home Baked: My Mom, Marijuana, and the Stoning of San Francisco, winner of the 2020 Golden Poppy Award for nonfiction from the California Independent Booksellers Alliance. Her work has appeared in The Best American Essays, The New York Times, Bon Appetit, Guernica, The Best Women's Travel Writing, and many other publications. She's received fellowships from MacDowell and Ucross. Her family story has been featured on Snap Judgment, Criminal and NPR's Fresh Air. She lives in San Francisco, CA.
Praise For…
---
Winner of the California Bookseller Association's Golden Poppy Award for Nonfiction
Finalist for the National Book Critics Circle Award for AutobiographyOne of Entertainment Weekly's "Books to Read in April"
One of Lambda Literary's "Most Anticipated LGBTQ Books of April 2020"
One of Reader's Digest's "Best Reads From the 2020 Quarantine Book Club"
One of She Reads' "Most Anticipated Memoirs of 2020"
One of Alma's "Favorite Books for Spring 2020"
Included on 7x7's "Spring Reading List: Books by Bay Area Authors"
"The subtitle, 'My Mom, Marijuana, and the Stoning of San Francisco' tells you much of what you need to know in terms of content. But as a portrait of a heroics, innovation, grit, and pot-baking in an epidemic (in this case, the AIDS crisis), it's also strikingly relevant. And beautifully written, too."
—Entertainment Weekly, "Books to Read in April"
"A beautiful evocation of the Bay Area in the years before tech bros and big money changed the city...Like Stefan Zweig's The World of Yesterday, this is a narrative about a time that is now gone: San Francisco as circus, where pot was both ubiquitous and as illegal as heroin. Under Volz's careful attention, all of it—the era, the place, and her own parents—is rendered clear, bright, and beautiful."
—Paris Review, Staff Pick

"An earnest yet comic memoir by the daughter of the owner of the Sticky Fingers bakery, purveyor of pot brownies and crusader for legalization."
—New York Times, "New and Noteworthy Audiobooks"

"A raunchy and rollicking account of a vanished era told by someone who paid very close attention to her larger-than-life parents. I gobbled it up like an edible."
—Armistead Maupin

"I devoured this book! Sex, drugs, rock-n-roll, a savvy business woman, a social and medicinal revolution: What's not to love? This is a story Alia Volz was born to tell."
—Rebecca Skloot, bestselling author of The Immortal Life of Henrietta Lacks
"[A] nostalgic, thoroughly entertaining new romp of a memoir...[An] intensely personal portrait of an unconventional childhood, as well as a rigorously reported account of a kaleidoscopic time in San Francisco history, an era of exuberant highs and pitch-black lows."
—San Francisco Chronicle
"While a memoir, Home Baked is also an intensively researched book on San Francisco and the burgeoning cannabis culture surrounding Sticky Fingers Brownies, based on archival research and hundreds of hours of interviews with LGBT activists, cannabis advocates and, of course, Volz's parents. Home Baked also provides a timely contrast with both modern San Francisco and the blossoming cannabis industry, which can now offer safe and legal access to the drug, although significant reforms to the war on drugs have not materialized."
—Newsweek

"Ample, skillfully researched, and cleanly narrated, Volz's debut is really five books in one . . . Alia in tow, Mer and her peers travel among San Francisco, Humboldt County and Marin, connecting an essentially agricultural project to an urban counterculture; they also weave together less and more responsible ways to raise a kid, almost as Volz herself weaves together her archives of the post-hippie-era Bay Area with her own vivid memories."
—Literary Hub

"A coming-of-age memoir like no other."
—Shelf Awareness, Starred Review
"Proves sometimes truth is stranger than fiction…[This] heartwarming, sharply witty book details the author's life as the daughter of an underground baker who mixed up thousands of brownies infused with medical marijuana for AIDS patients in mid-80s San Francisco. It's a touching story of eccentric families and the unusual bonds that bring people together."
—Reader's Digest, "The Best 14 Reads From the 2020 Quarantine Book Club"

"Weaving together oral history, archival research, and her own personal memories, Volz uncovers the connections Sticky Fingers had to a wide range of historical events from the assassination of Harvey Milk to the Jonestown Massacre and the AIDS crisis. Through her examination of Sticky Fingers and the circles it operated in, Volz masterfully documents the history of San Francisco's LGBTQ+ and artist community in the 1970s and '80s."
—Electric Literature
"Volz has written a refreshing kind of family memoir — one that presents the messier truths of her family's life without pushing to create martyrs and villains...
Home Baked
will envelope you in its warm, generous heart."
—Chapter 16
"A spirited, rollicking ride full of the vibrant characters, neighborhoods and rebel 'outsider' sensibilities that make [San Francisco] so special...[Volz is] wise enough to understand that the city will always be magic."
—San Francisco Chronicle
,
"San Francisco: the eternal book subject"
"In
Home Baked
, Alia Volz manages not only to write about her parents with clear-eyed compassion and empathy, she also gives us a rich history of San Francisco in the 1970s and 1980s. As I read, her family and the city came alive for me: every person and street were vivid, complicated, tragic, and beautiful. I loved this engrossing, informative, funny, and heartbreaking book. Volz is a true talent."
—Edan Lepucki, bestselling author of Woman No. 17, California, and others
"A hilarious, heartfelt, and unforgettable debut. I gobbled it up like a pan of fresh-baked brownies. Having come of age in the Bay Area when the Sticky Fingers operation was at its height, I devoured every last morsel of this evocative and occasionally heartbreaking tale, which is as much a deep dive into San Francisco's weird and fast-evolving weed scene as it is about Volz's unforgettable family. 'Eat it, baby!' was the bakery's motto: for Alia's wonderful book, I say 'Read it, baby!'"
—
Julia Flynn Siler, bestselling author of The White Devil's Daughters, The House of Mondavi and others
"
Home Baked
is a deeply touching, funny, wise, and magical book. By telling her eye-popping family story and transporting her readers back to the kaleidoscope days of Northern California in the last quarter of the 20th Century, Alia Volz gives us not only an indelible memoir but also an intimate social history of the mom and pop marijuana business and how it revolutionized the world. With
Home Baked
, Volz joins the colorful parade of writers who have brought 'San Francisco Values' fully to life, including Hunter S. Thompson, Armistead Maupin, Warren Hinckle, Diane di Prima, Richard Brautigan, Maxine Hong Kingston, Dave Eggers and Michelle Tea.
—David Talbot, bestselling author of Season of the Witch and The Devil's Chessboard
"
Home Baked
 hit me with the joy
 and
 sting of recognition. Here is a heroine I understand: a bad-ass mom doing legitimate yet illegal work that provided for her daughter, but also shaped a community. This wonderfully written memoir delivers a world of risk and drugs and secrecy alongside heavy batches of love and wit and courage. Alia Volz deftly blends in social context with her coming-of-age story, concocting a fantastic history lesson on everything from marijuana laws to the AIDS crisis to the transformation of San Francisco, where she herself was home-baked. I loved this book, got high off its intoxicating allure; long after I read the last page, I couldn't come down."
—Bridgett M. Davis, author of The World According To Fannie Davis
"Alia Volz vividly portrays [San Francisco] in her delightful, heartfelt nonfiction debut...
Home Baked
is part memoir, part ethnography, part lively history of a beloved city that Volz chronicles with tenderness and verve."
—Jenny Shank, High Country News
"The unheralded story of San Francisco's trailblazing 'Brownie Lady' plays out across more than 20 tumultuous years of the city's often tragic history...[Volz] combines a journalist's eye for detail with a storyteller's sense of humanity to chronicle all the incredible highs and lows, both public and private...The author's firsthand depiction of AIDS and its devastating initial impact on San Francisco's residents rings with epic tragedy. Thankfully, there are plenty of triumphs in the Sticky Fingers saga as well, and Volz herself embodies just one of them. A sometimes-sad yet stirring love letter to San Francisco filled with profundity and pride." 
—Kirkus Reviews
"Volz had been a part of her mother's special marijuana-brownie business for as long as she could remember...From the turbulent '70s through the ravages of the AIDS crisis (during which Mer and Alia distributed marijuana to AIDS patients), Volz recounts her mother's exploits with admiration, along the way tracing how attitudes about cannabis have shifted toward more acceptance."
—Booklist 
"Alia Volz was raised by parents who made their living selling weed. Her mother, Meridy, was the heart behind Sticky Fingers — an illegal Bay Area brownie operation that for decades brought joy and vital medicine to patients, especially those suffering from AIDS, at a time when all other shoulders were turned away. When we talk about medical marijuana, we're talking about the legacy of people like Meridy Volz, who[m] Alia beautifully captures in her memoir of a most strange upbringing."
—Bloom & Oil
"San Francisco native Alia Volz has a helluva story to tell...[
Home Baked
] tells the story of the author's family's rewarding sideline during the 1970s and '80s, delivering roughly 10,000 cannabis-powered brownies a month—Sticky Fingers Brownies, for those who might remember—to customers around the Bay Area, including those suffering through the early days of the AIDS crisis."
—Good Times, "New Titles from NorCal Authors for Your Reading List"
"The prologue of 
Home Baked 
starts with Alia Volz writing about her elementary school participating in 
D.A.R.E.
, an anti-drug program started by Nancy Reagan. But, Volz writes, 'We were the people the cop warned my class about.' So sets the stage for her memoir, which tells about how her mom operated Sticky Fingers Brownies — a marijuana edibles business — out of their San Francisco home...
Read if you're into
: Jewish moms! Weed! San Francisco! Memoirs! 
Home Baked 
has it all."
—
Alma, "Favorite Books for Spring 2020"
"
Home Baked
 is a version of a bootstrap story so unusual and crazy-cool it's hard to look away from, let alone put down...What a coming of age story—in the personal, but also in the larger sense of an era in San Francisco fueled by music, dancing, and being high that evolves into the City Hall murders and the devastation of AIDS. 
Home Baked
kept me up late reading from start to finish."
—
Sheryl Cotleur, Copperfield's Books
"
Home Baked
 is an exhilarating, kaleidoscopic book that—with exceptional writerly skill—captures an era of San Francisco history that impacted the entirety of the United States, both culturally and politically, in the latter decades of the 20th century…[It's] a beautiful read that narrates an important story and introduces Alia Volz as a writer of extraordinary talent." 
—Paul Yamazaki, City Lights Bookstore
Coverage from NPR