What Your Kindergartner Needs to Know (Revised and updated): Preparing Your Child for a Lifetime of Learning (The Core Knowledge Series) (Paperback)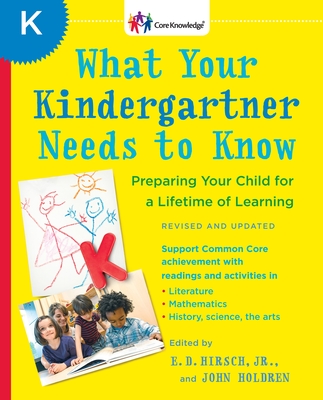 $24.00

NOT on our shelves now. Usually ships from warehouse in several days.
Description
---
Help your child exceed the Common Core standards with the revised and updated What Your Kindergartner Needs to Know
 
Designed for use by parents and teachers, this groundbreaking first volume in the Core Knowledge Series provides kindergartners with the fundamentals they need to prepare them for a lifetime of learning. It sets out the elements a parent or educator should look for in a good kindergarten program and introduces activities that help a child take the first steps in learning to read and write. Featuring a new Introduction and filled with age-appropriate questions and suggestions that stimulate thinking and build vocabulary, this revised and updated edition of What Your Kindergartner Needs to Know also includes
 
• Favorite poems—read and recite together from Mother Goose, A. A. Milne, Langston Hughes, and more, all beautifully illustrated
• Beloved stories and fables—read aloud from "The Three Little Pigs," "The Ugly Duckling," "Cinderella," Winnie-the-Pooh, "The Velveteen Rabbit," and many more, including multicultural folktales from African, Japanese, and Native American traditions
• Familiar sayings and phrases—impart traditional wisdom such as "Where there's a will, there's a way" and "Better safe than sorry"
• History and geography—a friendly introduction to our world, complete with simple questions and fun activities
• Visual arts—painting, drawing, cutting, and pasting go hand in hand with learning about color and helping a child look at and talk about great works of art
• Music—many musical experiences for parents and children to participate in, along with dozens of songs to sing and dance to
• Math—lively and interesting exposure to concepts and operations that provide a springboard to later mastery
• Science—activities that let children observe, experience, and get their hands dirty while exploring the wonders of nature
About the Author
---
E. D. Hirsch, Jr., is an emeritus professor at the University of Virginia and the author of The Knowledge Deficit, The Schools We Need, and the bestselling Cultural Literacy and the Dictionary of Cultural Literacy. He and his wife, Polly, live in Charlottesville, Virginia, where they raised their three children.