Managing Information for Research: Practical Help in Researching, Writing and Designing Dissertations (Open Up Study Skills) (Paperback)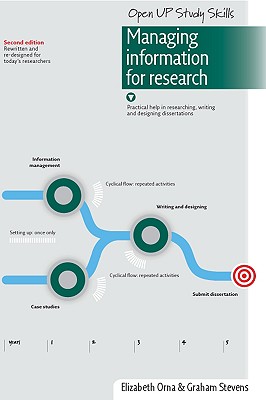 $40.49

NOT on our shelves now. Usually ships from warehouse in several days.
(This book cannot be returned nor exchanged.)
Description
---
""It's .... an excellent piece of work which will help anyone who is prepared to learn about the most effective manner of organising and presenting information."
Roy Johnson 2009 Mantex Information Design
..". this is one of the best handbooks on how to manage continuously the handling of information throughout the whole process of formulating initial hypothesis towards the end product - the dissertation..."
Simonas Daukantas Vilnius Information Research August 2009"
""This is a very engaging book on research that, unusually, covers the neglected but strategically important information and knowledge aspects of the research process, including writing, designing and dissemination. It is also unusual in that the authors talk personally to the reader (lots of practical advice offered), and for the 'real conversations' it furnishes from practising and recent researchers. It makes a very welcome change from those stereotypical research methods books that seem only ever to tell you what you already knew in a remote, formalistic and repetitive fashion. By contrast this book is fresh, interesting, fills a real gap in the research literature and the authors' passion for quality research is there for everyone to see."
Professor David Nicholas, Director, School of Library, Archive and Information Studies, and UCL Centre for Publishing, University College London."
""I was delighted when I discovered this treasury of useful advice and insight, and I recommend it to my research students. The book is based on interviews with real research students (who are quoted at length), so it offers the solidarity of a shared experience, not just a lecture. The authors understand the difficulties that students face as they try to organize their thoughts, their time, and the inevitable mountain of data and references. They demonstrate the power of diagramming and clear typography in their own writing and their graphic techniques are powerful ways to organize the processes of thinking and writing. The resulting clarity will also delight supervisors and examiners."
Rob Waller, Professor of Information Design, Department of Typography and Graphic Communication, University of Reading."
You can't do research of any kind without doing two things:
1 Finding and organizing relevant information
2 Transforming it into the end product on which your research will be judged and rewarded (or not )
Yet realistic and detailed guidance on these vital activities is in short supply. The authors' unique design approach shows how the two are related and how they can support each other throughout research.
New features in this completely rewritten and re-designed edition include: Stories from the experience of researchers Typographical page layout templates for each part of a dissertation 'Tips, time-savers and troubleshooting' for dissertation writers.
About the Author
---
Elizabeth Orna has been an information consultant and writer since 1979, after many years as an information manager. She has lectured to student researchers, in the UK and overseas, about organizing information and writing dissertations over the past 25 years. Graham Stevens is a practising typographer and information designer. He held senior lecturing posts in higher education institutions in the UK, and retired as Head of Graphic Design at Ravensbourne College of Design and Communication in London to concentrate on writing, research and part-time teaching.