Infectious Madness: The Surprising Science of How We "Catch" Mental Illness (Paperback)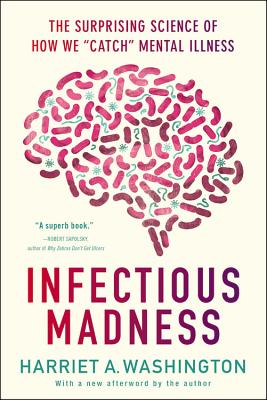 $16.99

NOT on our shelves now. Usually ships from warehouse in several days.
Description
---
A groundbreaking look at the connection between germs and mental illness, and how we can protect ourselves.

Is it possible to catch autism or OCD the same way we catch the flu? Can a child's contact with cat litter lead to schizophrenia? In her eye-opening new book, National Book Critics Circle Award-winning author Harriet Washington reveals that we can in fact "catch" mental illness. In Infectious Madness, Washington presents the new germ theory, which posits not only that many instances of Alzheimer's, OCD, and schizophrenia are caused by viruses, prions, and bacteria, but also that with antibiotics, vaccinations, and other strategies, these cases can be easily prevented or treated.

Packed with cutting-edge research and tantalizing mysteries, Infectious Madness is rich in science, characters, and practical advice on how to protect yourself and your children from exposure to infectious threats that could sabotage your mental and physical health.
About the Author
---
Harriet A. Washington has been the Shearing Fellow at the University of Nevada's Black Mountain Institute, a Research Fellow in Medical Ethics at Harvard Medical School, a senior research scholar at the National Center for Bioethics at Tuskegee University, and a visiting scholar at DePaul University College of Law.

She has held fellowships at the Harvard T.H. Chan School of Public Health and Stanford University. She is the author of A Terrible Thing to Waste, Deadly Monopolies, Infectious Madness, and Medical Apartheid, which won a National Book Critics Circle Award, the PEN/Oakland Award, and the American Library Association Black Caucus Nonfiction Award.
Praise For…
---
"Terrifying and comforting in equal measure. Infectious Madness will inspire healthy debate and...bold new strategies for prevention and treatment."—Priscilla Gilman, More Magazine

"A fascinating exploration of how common infections can affect mental illness."
—Shanda Deziel, Chatelaine

"Animpressive array of technical research is presented in a readable style in Infectious Madness."
—Library Journal

"It used to be obvious what caused mental illness--depravity, a rotten soul, being in cahoots with the Devil. Or maybe just terrible mothering. We've escaped this primordial muck of attribution, learning that mental illnesses are biological disorders, complete with chemical and structural abnormalities in the brain, and with risk factors ranging from genes, hormones and fetal life to socioeconomic status. This superb book reviews the novel realization that infectious pathogens, and the immune system's response to them, can be risk factors for mental illness as well. The book has a broad, exciting range, considering 'contagion' in both the reductive sense, as well as an in the expansive societal manner. This is fascinating material and Harriet Washington is a great writer -- clear and accessible, witty, probing, and able to dissect the controversies in this field with great objectivity."
—Robert Sapolsky, author of Why Zebras Don't Get Ulcers

"Your views on the causes of mental illness will be forever altered when you read this profoundly humane and transformative book."
—Carl Hart, PhD, Associate Professor of Psychology, Columbia University

"Infectious Madness is a fascinating book about the role of infectious diseases in mental illness. Washington challenges us to expand our view of the causes, prevention, and treatment of emotional disorders. I highly recommend it!"
—Alvin F. Poussaint, MD, Professor of Psychiatry, Harvard Medical School

"With Infectious Madness, Harriet Washington sounds a much-needed alarm -- although not a welcome one. Turning old-fashioned germ theory inside out, she explains that we humans are the slow-moving interlopers in a world of microbes. And it's not just our health but our instincts, desires, feelings, and even our grasp on reality that are at stake."
—--Philip Alcabes, Professor of Public Health, Adelphi University, author of Dread: How Fear and Fantasy Have Fueled Epidemics from the Black Death to Avian Flu

"In Infectious Madness, Harriet Washington confirms her position as one of our most thought-provoking medical writers. Led by Washington on a whirlwind tour of early modern medicine in the 18th century, germ theory, Western anorexia, African sleeping sickness, schizophrenia, and everywhere else, we will forever be unable to think of our microbial environment in the same way. The same, for that matter, might be said of our view of the social environment in which the collective enterprise of medicine transpires."—Samuel Roberts, PhD, Director, Columbia University Institute for Research in African-American Studies, and Associate Professor of Sociomedical Sciences, Columbia University Mailman School of Public Health