Make It Scream, Make It Burn: Essays (Hardcover)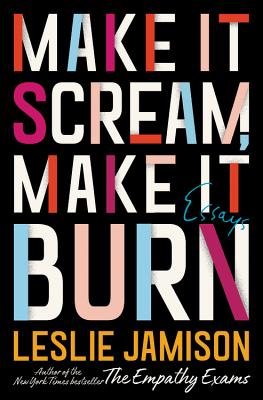 $28.00
On Our Shelves Now. Call store for up-to-the-minute availability.
Description
---
From the "astounding" (Entertainment Weekly), "spectacularly evocative" (The Atlantic), and "brilliant" (Los Angeles Times) author of the New York Times bestsellers The Recovering and The Empathy Exams comes a return to the essay form in this expansive new book.

ONE OF THE FALL'S MOST ANTICIPATED BOOKS: Time, Entertainment Weekly, O, Oprah Magazine, Boston Globe, Newsweek, Esquire, Seattle Times, Baltimore Sun, BuzzFeed, BookPage, The Millions, Marie Claire, Good Housekeeping, Minneapolis Star Tribune, Lit Hub, Women's Day, AV Club, Nylon, Bustle, Goop, Goodreads, Book Riot, Yahoo! Lifestyle, Pacific Standard, The Week, and Romper.

With the virtuosic synthesis of memoir, criticism, and journalism for which Leslie Jamison has been so widely acclaimed, the fourteen essays in Make It Scream, Make It Burn explore the oceanic depths of longing and the reverberations of obsession.
Among Jamison's subjects are 52 Blue, deemed "the loneliest whale in the world"; the eerie past-life memories of children; the devoted citizens of an online world called Second Life; the haunted landscape of the Sri Lankan Civil War; and an entire museum dedicated to the relics of broken relationships. Jamison follows these examinations to more personal reckonings -- with elusive men and ruptured romances, with marriage and maternity -- in essays about eloping in Las Vegas, becoming a stepmother, and giving birth.
Often compared to Joan Didion and Susan Sontag, and widely considered one of the defining voices of her generation, Jamison interrogates her own life with the same nuance and rigor she brings to her subjects. The result is a provocative reminder of the joy and sustenance that can be found in the unlikeliest of circumstances.

About the Author
---
Leslie Jamison is the author of the New York Times bestsellers The Recovering and The Empathy Exams, and the novel The Gin Closet. She is a contributing writer for the New York Times Magazine, and her work has appeared in publications including The Atlantic, Harper's, the New York Times Book Review, the Oxford American, and the Virginia Quarterly Review. She directs the graduate nonfiction program at Columbia University and lives in Brooklyn with her family.
Praise For…
---
"Jamison has emerged as a definitive chronicler of human connection and
the beauty of mundanity...She's been compared to Joan Didion and Susan
Sontag...
Make It Scream, Make It Burn
proves those comparisons were
no fluke. Here, Jamison reports on unusual obsessions before finding the
essential humanity within them...The reader is skeptical, enlightened, and
moved right along with her...With this brilliant new collection that
rigorously interrogates the human condition, Leslie Jamison
affirms why
she's the essayist of the moment."—
David Canfield, Entertainment Weekly
"
Make It Scream, Make It Burn
is a heady hybrid of journalism, memoir, and
criticism...Sharply analytic and deeply personal...These essays reverse
the arc of
The Empathy Exams
by moving from the external to the
internal, from others' longings and hauntings to her own...Jamison has come
a long way from the young woman who struggled to stave off loneliness with
starvation and inebriation. In these tributes to what she has described as 'the
deep realms of enchantment lodged inside ordinary life,' she shows that she's
not afraid to buck the trend toward ironic detachment, even at the risk of
sentimentality.
This is a writer who is incapable of being uninteresting
."—
Heller McAlpin, NPR
"Intelligent and vibrant...
Make It Scream, Make It
Burn
tackles the all-too-human topic of yearning and its oft-corollary,
obsession. Both gurgle beneath the writer's sonorous and captivating prose...In
fourteen essays, [Jamison] takes us through the valleys of Longing, Looking and
Dwelling to a place of ultimate connection."—
Janet Kinosian, Los Angeles Times
"Leslie Jamison has been hailed as the newborn
lovechild of Joan Didion and Susan Sontag. Even for a writer without
Jamison's generous helpings of talent and success, it can't be an easy thing to
live up to. And yet, she does, and then some. The fourteen essays in her new
collection,
Make It Scream, Make It Burn
, demonstrate the
razor-sharp intellect of Sontag and Didion and what can sometimes seem like a
sort of X-ray vision into the human condition. But there are distinctions
as well. For one thing, Jamison is funny. And generous. She is also
self-conscious and vulnerable in ways that soften the academic aloofness that
can sometimes distance a writer from her subjects and readers. Jamison employs
her keen eye and ready sense of humor to places and things both weird--the world
of reincarnation, a Croatian museum of broken relationships, people with Second
Life families--and universally human--love, death, worry. The essays are
reported, but also confessional, weaving the realities of disparate others onto
Jamison's own experiences to create something rich, human and, at moments, so
smart and revealing the reader finds herself gasping."—
Samantha Shoech, San Francisco Chronicle
"Leslie Jamison's astonishingly formidable, restless
intellect has gifted us two monumental works of nonfiction: 2014's
The Empathy
Exams,
and last year's
The Recovering.
Here, she turns her exacting
eye on subjects such as the loneliest whale in the world and a Croatian museum
filled with the effluvia of failed relationships."—
O, The Oprah Magazine
"The acclaimed essayist
returns to her signature cocktail of memoir, journalism, and cultural criticism
in this dazzling collection about the outer reaches of human connection...Acute in her
analysis and nourishing in her observations, Jamison is at the height of her
powers here as she investigates what we owe one another."—
Adrienne Westenfeld, Esquire
"If this book has a through-line, it's the idea of
wonder. In Jamison's world, astonishment is always just around the corner. It
hints at the way she moves through the world, aware that her knowledge is
limited, with a sense of openness and continuous discovery...When she falls for the man who will become her
husband, a novelist raised by two Las Vegas pawnbrokers, it's a pleasure to
read. We can see Jamison let go of her carefully wrought personal narrative and
open herself to the unknown."—
Sheila McClear, Washington Post
"Lovely and evocative...Most of these essays are heavyweight boxers."—
New York Times Book Review
"Illuminating and ruminative...Jamison is positively brilliant when penetrating a subject and unraveling its layers of meaning...Fans of the author's unique brand of perceptiveness will be delighted."—
Publishers Weekly
"Provocative...compassionate, curious and humble...Rather than pretending to have the "honesty" of a
mythical, objective observer, Jamison acknowledges that she has skin in the
game, and her wise, urgent writing is stronger for it...Jamison's
self-criticism welcomes us into her book...When she questions her
judgment or expresses skepticism about a source, it's not because she's unsure
if she should be telling these stories. It's because she's hellbent on getting
them right."—
Chris Hewitt, Minneapolis Star Tribune
"Richly diverse . . . The pieces in
Make It Scream, Make It Burn
are
all written with care and intricacy, drawing readers in and making us care . .
. Jamison's observational skills, genuine empathy, and lack of sentimentality
create an intelligent blending of journalism, scholarship, and memoir."—
Pam Kingsbury, Library Journal
"Insightful...The essays in
the collection (which can easily be torn through, though should really be
savored) contain observations on an eclectic array of subjects...Like the glass
in a kaleidoscope, Jamison's fine-tuned attention seems capable of refracting
whatever subject it touches. When I finally looked up from the page it was with
a renewed sense of wonder."—
Cornelia Channing, The Paris Review
"Leslie Jamison is a master of blending memoir, criticism and journalism...[her] characteristic fusion of the intellectual and emotional is in full force here, cementing comparisons of her work to that of Joan Didion and Susan Sontag."—
Christy Lynch, Bookpage
"Even as she documents the experiences of others--Sri Lankan soldiers, Second Life superusers, eminent writers and photographers--Jamison is keenly aware of how her personal experiences shape the way she reports their stories. It's this knowledge that propels the collection, along with her rejection of cynicism in favor of being open to new ideas and experiences, no matter how foreign they may seem."—
Maris Kreizman, Pacific Standard
"Jamison has emerged
as a giant in the world of creative nonfiction. She returns with a beautifully
compiled collection of essays reflecting on obsession and longing."—
Entertainment Weekly
"These perceptive essays demonstrate that the best-selling
author of
The Empathy Exams
continues
to explore the limits of human connections."—
Elle
"In a full-themed essay collection, Leslie Jamison breaks down doors on love, loss, birth, motherhood and more...The collection boasts joy among the rubble of life's biggest challenges."—
Newsweek
"This wide-ranging
essay collection is insightful and searching, exciting and staggering. Jamison
interweaves memoir, journalism, and cultural criticism into essays that explore
topics like motherhood, romance, and relationships... Jamison has been compared
to such greats as Joan Didion and Susan Sontag, so if you enjoy those, you'll
love this one."—
Good Housekeeping
"To
fortify and enlarge the world through eloquence--apt descriptions of Jamison's
new collection...Another wonderful book from this gifted writer."—
The Millions
"Jamison is one of my favorite working
essayists...[In]
Make It Scream, Make It Burn
[she] dances between the personal, the critical,
and the observational, showing her deftness when it comes to each form."—
Jeva Lange, The Week
"There [are] an abundance of surprises within
Leslie Jamison's latest, which blends memoir and journalism in her own
inimitable way. She writes probingly and movingly about everything...a roaming,
wide-ranging collection, grounded through Jamison's lucid, unflinching prose,
leading to a singularly empathetic, moving reading experience."—
Nylon
"As riveting as ever, Jamison's writing elicited
within me many of the same responses I felt while reading her previous essay
collection,
The Empathy Exams
: enlightenment, amusement, and of course, empathy
itself."—
Zakiya Harris, The Rumpus
"Lyrical...There is something distinctly empowering in...Jamison's
employment of the self--in [her] collapsing of the theoretical and the
experienced."—
Katherine Lucky, Commonweal Magazine
"Stunning...Essential...
Make It Scream, Make It Burn
expands on the efforts of
The Empathy Exams
...Here we see the
territory Jamison's writing inhabits: self-questioning while at the same time
empathetic, dubious and credible at once...What Jamison is after is a kind
of radical honesty: the ongoing inquiry of a mind at work. That this is not a
new issue, but infuses all her writing, is the whole idea...For Jamison,
interaction comes with all sorts of risk, not least that in getting close to
other people, we can't help but leave ourselves exposed. Still, what other
choice do we have? To be human is to be vulnerable."—
David L. Ulin, Four Columns
"Magnetizing
and thought-provoking...An edgy spirit of inquiry, a penchant for sharing
personal experiences, and incandescent writing skills make Jamison an exciting
premier essayist."—
Donna Seaman, Booklist
"Leslie Jamison is a writer of supreme eloquence and intelligence who deftly combines journalistic, critical and memoiristic approaches to produce essays that linger long in the memory."—
LitHub
"Jamison
interrogates a variety of fascinating subjects, including her own life, in her
praiseworthy second essay collection...
Make It Scream, Make It Burn
confirms
the praise heaped on 2014's
The Empathy Exams
for her uncanny ability to
blend perceptive reportage with intensely personal essays in consistently
fresh, dynamic prose."—
Harvey Freedenberg, Shelf Awareness
"In her new essay
collection, Jamison allows herself to roam beyond the boundaries of one issue,
and instead latches her powerful, precise observations to a number of
unconventional topics."—
Cristina Arreola, Bustle
"If you ever need to
be reminded of the potential of the essay and why essay collections matter or
if you just want to get excited about one, read Leslie Jamison...In
Make It Scream, Make it Burn,
three of
the most poignant and personal essays come in the final section: one on
Jamison's own marriage...A brilliant exploration of what it means to be a
stepmother...and the last, an essay on giving birth that flips back and forth
between Jamison's pregnancy and an eating disorder that marked her earlier
experiences of her body."—
Goop
"If you loved
The Empathy Exams
and
The
Recovering
, you'll devour Leslie Jamison's new collection of essays about
obsession and longing. From thoughts on Civil War photography to a museum
dedicated to breakups, her insightful, thought-provoking writing shines
brightly throughout."—
Yahoo! LifestylePraise for The Recovering -- Entertainment Weekly's #1 Nonfiction Book of 2018
"Energetic, colorful, fun, buzzy, affecting, and spot-on."—
New York Times Book Review
"Magnificent and genuinely moving. The rare addiction memoir that gets better after sobriety takes hold."—
New York Times
"An honest and important book...Vivid writing and required reading."—
Stephen King
"An astounding triumph...Rings achingly wise and burrows painfully deep...A recovery memoir like no other."—
Entertainment Weekly
"Masterful...Essential reading...Although the subject is dark, Jamison has managed to write an often very funny page-turner."—
Bookforum
"Spectacularly evocative and sensuous...A compelling, fiercely ambitious book...Its publication represents the most significant new addition to the canon in more than a decade."—
The Atlantic
"Lush, almost caressing...Illuminating...What a gift."—
NPR
"Profound...Bracingly smart...A remarkable feat."—
Time
"Perceptive and generous-hearted...Jamison is a writer of exacting grace."—
Washington Post
"Riveting...Beautifully told...Wisdom floods the scene and genius never flees."—
Boston Globe
"Bursts with insight...An extraordinary document of self-reckoning that will make you think and rethink the trajectory of your own life."—
New Republic
"Brilliant...Jamison is a writer intent on holding nothing back."—
Los Angeles Times
"Wonderful...Wholly original...It shines."—
USA Today