The Carnivore's Manifesto: Eating Well, Eating Responsibly, and Eating Meat (Hardcover)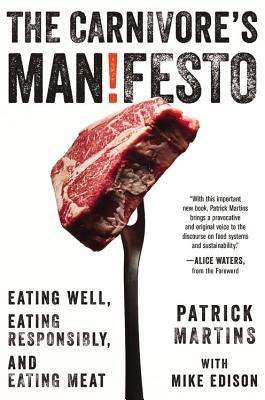 $27.00
NOT on our shelves now. Usually ships from warehouse in several days.
Description
---
One of The Atlantic's Best Food Books of 2014: fifty ways to be an enlightened carnivore, while taking better care of our planet and ourselves, from the founder of Slow Food USA.

We have evolved as meat eaters, proclaims Patrick Martins, and it's futile to deny it. But, given the destructive forces of the fast-food industry and factory farming, we need to make smart, informed choices about the food we eat and where it comes from.

In 50 short chapters, Martins cuts through organize zealotry and the misleading jargon of food labeling to outline realistic steps everyone can take to be part of the sustainable-food movement. With wit, and insight, and no small amount of provocation, The Carnivore's Manifesto is both a revolutionary call to arms and a rollicking good read that will inspire, engage, and challenge anyone interested in the way we eat today.
About the Author
---
Patrick Martins is a distributor of locally raised meat through his company Heritage Foods USA, which sends over 60,000 pounds of meat every week to New York's top restaurants. He is also a founder of Slow Food USA and a founder and on-air personality at Heritage Radio Network, which has over 1 million visitors a month. He lives in Brooklyn.
Praise For…
---
"One of the best and most succinct arguments for buying sustainable food."—Corby Kummer, The Atlantic

"Passionate, thoughtful and more than occasionally amusing."—Ralph Gardner Jr., The Wall Street Journal

"The Carnivore's Manifesto is about a lot more than eating meat. It's about living well and having fun while being conscious of what goes into your body."—Mario Batali

"Patrick Martins is the shepherd of domesticated animal rights. Tend to them mercifully, then 'eat 'em if you want to keep 'em,' he's always said. This manifesto offers a unique perspective in an edgy, guerrilla style. You'll find it impossible to put to pasture."—Mark Ladner, executive chef at Del Posto, New York

"Read this book!"—Carlo Petrini, founder of Slow Food International

"Martins, founder of Slow Foods USA and Heritage Foods USA . . . has created a blueprint for healthy eating, sustainable farming, biodiversity, as well as for protecting culinary traditions and cultural differences. [He] is passionate, preachy, and, above all, practical-he doesn't want you to make your own ketchup or give up pizza, just to buy the best meat and produce that is in season and to chose "quality" food over "commodity" food."—Publisher's Weekly