The Marshmallow Test: Mastering Self-Control (Hardcover)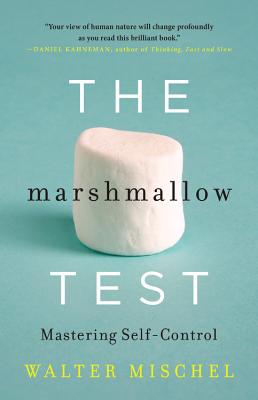 Not available to order
Hard to Find. Not available to order.
Description
---
Renowned psychologist Walter Mischel, designer of the famous Marshmallow Test, explains what self-control is and how to master it.

A child is presented with a marshmallow and given a choice: Eat this one now, or wait and enjoy two later. What will she do? And what are the implications for her behavior later in life?

The world's leading expert on self-control, Walter Mischel has proven that the ability to delay gratification is critical for a successful life, predicting higher SAT scores, better social and cognitive functioning, a healthier lifestyle and a greater sense of self-worth. But is willpower prewired, or can it be taught?

In The Marshmallow Test, Mischel explains how self-control can be mastered and applied to challenges in everyday life -- from weight control to quitting smoking, overcoming heartbreak, making major decisions, and planning for retirement. With profound implications for the choices we make in parenting, education, public policy and self-care, The Marshmallow Test will change the way you think about who we are and what we can be.
About the Author
---
Walter Mischel holds the Robert Johnston Niven chair as professor of humane letters in psychology at Columbia University. He is the author of more than two hundred scientific papers as well as the coauthor of Introduction to Personality, now in its eighth edition. He has been elected to the National Academy of Sciences and the American Academy of Arts and Sciences, and has won the Distinguished Scientific Contribution Award of APA and the Grawemeyer Award for Psychology. He lives in New York.
Praise For…
---
"The discoveries that grew out of the marshmallow studies add up to one of the most insightful research stories in the history of psychology. Whatever it is now, your view of human nature will change profoundly as you read this brilliant book."
—
Daniel Kahneman, author of Thinking Fast and Slow
"A fascinating book. It is such an addictive treat that I had no self-control in reading it, until I understood that I could actually improve my self-control, and from then on I was in marshmallow heaven. Stimulating, fun, clear, lively, and drawn from rigorous studies. It's not only accessible, but very convincing. Seriously, I love it."
—
Alan Alda, actor, writer, science communication advocate
"This is the book we've all been waiting for."
—
Angela Lee Duckworth, Associate Professor, Department of Psychology, University of Pennsylvania, and
"This is an amazing - eye-opening, transformative, riveting - book from one of the greatest psychologists of our time. Mischel delivers the powerful message that self-control can be enhanced, and shows us how!"
—
Carol S. Dweck, Professor of Psychology, Stanford University, author of Mindset
"
The Marshmallow Test,
a charmingly told scientific story, makes clear the test is not just about youngsters, but is helpful to us all in the marshmallow moments we face through life. Mischel has written a wonderful book, engaging, enlightening, and profound."—
Daniel Goleman, author of Emotional Intelligence and Focus
"This marvelous book is unique, and beautifully written from beginning to end. The range that Walter Mischel covers-from creative cognitive science to neuroscience to genetics-is breathtaking. This speaks for science at its best. Bravo!"
—
Eric R. Kandel, MD, Winner of the Nobel Prize in Physiology or Medicine, University Professor, Depar
"Walter Mischel is one of the most influential psychologists of the 20th century, and
The Marshmallow Test
will make him one of the most influential in this century, too."—
Steven Pinker, Johnstone Professor of Psychology, Harvard University, and the author of The Better A
"A fascinating story of a brilliant researcher at work and a recipe for how to change one's life."
—
Timothy Wilson, Sherrell J. Aston Professor of Psychology, University of Virginia, author of Redirec
"Expansive, eye-opening...All of the anecdotes here, not to mention the entire chapter on practical applications, provide insight into how we can maximize our willpower¿without overextending its potential....To be human is to grapple with the will: this stimulating books encourages us to make mindful decisions."
—
Publishers Weekly
"Mischel uses his impressive experience along with others' related research in the field to explore the nature-and nurture-of willpower. He explains simply and elegantly the complex neural and cognitive components that affect our ability to self-regulate."
—
Success
"This masterwork is a profound and inspiring exploration of the essential question of how we struggle to regulate our own behavior and how we can more frequently win the battle for self-control."
—
David Laibson, Department of Economics, Harvard University
"Fast-paced and engaging ... An encouraging reminder that, despite all the factors that urge us to indulge, 'at the end of that causal chain, it is the individual who is the agent of the action and decides when to ring the bell.' You are ultimately in control of yourself."
—
Wall Street Journal
"The happy revelation of Mischel's book is that destiny is not determined by a swallowed or unswallowed marshmallow. . . . a book that can show you how to change your behavior: whether it's finally setting up that pension, cutting your alcohol intake or shunning the marshmallows for good."
—
Evening Standard
"A tour de force . . . It is to be hoped that this book will make [Mischel] as much of a household name as his marshmallows are."
—
Times Higher Education
"A fascinating read... In crisp, clear English he explains the latest research and helps readers understand better the surprising results of one the most well-known psychological experiments of all time."
—
The Economist