The Fifth Season (The Broken Earth #1) (Paperback)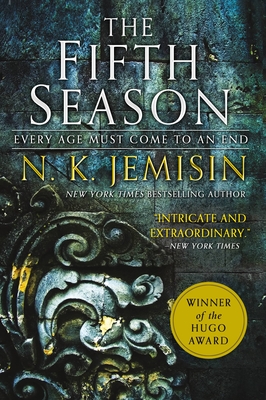 $16.99
ON HAND in at least ONE of our stores. Click through or call for up-to-the-minute availability.
Other Books in Series
This is book number 1 in the The Broken Earth series.
Staff Reviews
---
"N.K. Jemisin's Broken Earth Trilogy begins with the end of a wonderfully reimagined earth, where all but the one responsible for this world-ending fate have no knowledge of what's to come. The three protagonists, all of them orogenes, Essun, Syen, Damaya, each endure hardship as cultural stigma against them is common. Orogenes have the ability to feel, shape, and manipulate the earth itself; lave, fault-lines, weather and all! Jemisin captures readers in a beautifully elaborate and psychoanalytic world, engaging empathy as factions, alliances, and politics adapt to an approaching doomsday." - Amai
— From
Amai's Staff Picks
Description
---
At the end of the world, a woman must hide her secret power and find her kidnapped daughter in this "intricate and extraordinary" Hugo Award winning novel of power, oppression, and revolution. (The New York Times)

This is the way the world ends. . .for the last time.

It starts with the great red rift across the heart of the world's sole continent, spewing ash that blots out the sun. It starts with death, with a murdered son and a missing daughter. It starts with betrayal, and long dormant wounds rising up to fester.

This is the Stillness, a land long familiar with catastrophe, where the power of the earth is wielded as a weapon. And where there is no mercy.

Read the first book in the critically acclaimed, three-time Hugo award-winning trilogy by NYT bestselling author N. K. Jemisin.
About the Author
---
N. K. Jemisin is a Brooklyn author who won the Hugo Award for Best Novel for The Fifth Season, which was also a New York Times Notable Book of 2015. She previously won the Locus Award for her first novel, The Hundred Thousand Kingdoms, and her short fiction and novels have been nominated multiple times for Hugo, World Fantasy, Nebula, and RT Reviewers' Choice awards, and shortlisted for the Crawford and the James Tiptree, Jr. awards. She is a science fiction and fantasy reviewer for the New York Times, and you can find her online at nkjemisin.com.
Praise For…
---
"Jemisin is now a pillar of speculative fiction, breathtakingly imaginative and narratively bold."—Entertainment Weekly

"Intricate and extraordinary."—The New York Times

"[The Fifth Season is] an ambitious book, with a shifting point of view, and a protagonist whose full complexity doesn't become apparent till toward the end of the novel. ... Jemisin's work itself is part of a slow but definite change in sci-fi and fantasy."—Guardian

"Astounding... Jemisin maintains a gripping voice and an emotional core that not only carries the story through its complicated setting, but sets things up for even more staggering revelations to come."—NPR Books

"Jemisin's graceful prose and gritty setting provide the perfect backdrop for this fascinating tale of determined characters fighting to save a doomed world."—Publishers Weekly (Starred Review)

"A must-buy...breaks uncharted ground."—Library Journal (starred review)

"Jemisin might just be the best world builder out there right now.... [She] is a master at what she does."
—RT Book Reviews (Top Pick!)

"The Fifth Season is a powerful, epic novel of discovery, pain, and heartbreak.... It is a novel that demands much of its readers; it rewards them aplenty and is one of those novels that becomes more powerful after deep consideration and subsequent readings."—SFF World

"This is an intense, exciting novel, where survival is always on the line, set in a fascinating, original and dangerous world with an intriguing mystery at the heart of it. I can't wait to see what happens in the next book!"—Martha Wells

"Brilliant...gorgeous writing and unexpected plot twists."—Washington Post

"[A]ngrily, beautifully apocalyptic."—B&N.com

"Heartbreaking, wholly unexpected, and technically virtuosic, The Fifth Season is a tour-de-force. I felt every shock--and the book is packed with them--in my marrow. It's no exaggeration to say that Jemisin expands the range of what great fantasy can be."—Brian Staveley, author of The Emperor's Blades

"With every new work, Jemisin's ability to build worlds and break hearts only grows."—Kirkus (starred review)