City of Veils: A Novel (A Katya Hijazi and Nayir Sharqi Novel) (Paperback)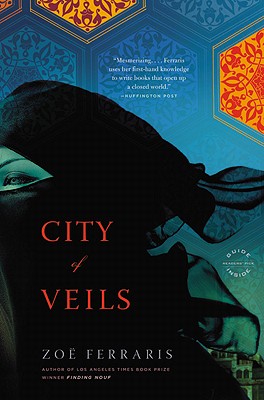 $14.99
On Our Shelves Now. Call store for up-to-the-minute availability.
August 2010 Indie Next List
---
"This is a book that overwhelms you. While it can be regarded as a mystery, it is also a commentary on the various cultures in Saudi Arabia today, and how everyone there -- male and female, conservative or not -- is adjusting to the contemporary world with all of it's contradictions. Zoe Ferraris does an incredible job of showing the lives of her characters with honesty and compassion."
— Martin Sorensen, Green Apple Books, San Francisco, CA
Description
---
Finding Nouf's Katya Hijazi and Nayir Sharqi return for another thrilling, fast-paced mystery that provides a rare and intimate look into women's lives in the Middle East.
Women in Saudi Arabia are expected to lead quiet lives circumscribed by Islamic law and tradition. But Katya, one of the few women in the medical examiner's office, is determined to make her work mean something.
When the body of a brutally beaten woman is found on the beach in Jeddah, the city's detectives are ready to dismiss the case as another unsolvable murder-chillingly common in a city where the veils of conservative Islam keep women as anonymous in life as this victim is in death. If this is another housemaid killed by her employer, finding the culprit will be all but impossible.
Only Katya is convinced that the victim can be identified and her killer found. She calls upon her friend Nayir for help, and soon discovers that the dead girl was a young filmmaker named Leila, whose controversial documentaries earned her many enemies.
With only the woman's clandestine footage as a guide, Katya and Nayir must confront the dark side of Jeddah that Leila struggled to expose: an underworld of prostitution, violence, exploitation, and jealously guarded secrets. Along the way, they form an unlikely alliance with an American woman whose husband has disappeared. Their growing search takes them from the city's car-clogged streets to the deadly vastness of the desert beyond.
About the Author
---
Zoë Ferraris moved to Saudi Arabia in the aftermath of the first Gulf War to live with her then husband and his extended family of Saudi-Palestinian Bedouins. She has an MFA from Columbia University and is the author of one previous novel, Finding Nouf. She lives in San Francisco and Lexington, KY.
Praise For…
---
"A gripping, many times disturbing, story of murder and the search for justice in an ancient society at odds with a woman's fight for independence."—Kathleen Kent, Author of The Heretic's Daughter

"Zoë Ferraris delivers the Muslim The Da Vinci Code. It kept me up at night. I loved it!"—Ranya Idliby, Co-author of The Faith Club

"An intense and thoughtful thriller."—Kate Furnivall, Author of The Girl from Junchow

"Superb....Ferraris is one of the most important new voices in crime fiction."—Michael Koryta, Author of So Cold the River

"A fascinating, insightful, and remarkably balanced look inside a society unfamiliar to most readers."—Jenny White, Author of The Winter Thief

"Exhilarating. Ferraris masterfully captures the nuances of the Saudi culture and its women, while brilliantly exposing the conflict between tradition and desire."—Mahbod Seraji, Author of Rooftops of Tehran

"A marvelous book. Ferraris demonstrates the instinctive authority of both an elegant stylist and a born storyteller."—David Corbett, Author of Do They Know I'm Running?

"Taut and intelligent, set against a troubling backdrop of brutality, oppression and searing desert heat."—Anne Zouroudi, Author of The Messenger of Athens