Choice of Law for American Courts: A Multilateralist Method (Discographies #100) (Hardcover)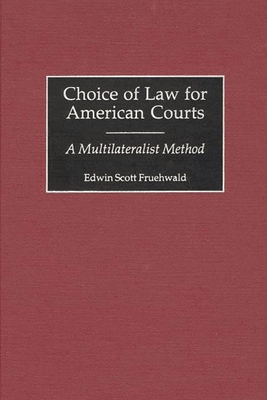 Description
---
This study proposes a multilateralist method of choice of law in order to alleviate the great disarray that currently exists in American choice law. In the early 20th century, there was a fairly-uniform multilateralist method of choice law. In the 1920s and 30s, however, scholars adn courts began to reject this method. Viewed as too mechanical the method sometimes resulted in the choice of law of a state with only a tenuous connection to the controversy. Currently, state courts use four different approached to choice law with numerous material variations. This study rejects these approaches on normative, constitutional, and practical grounds. Instead, it advocates that courts adopt a multilateralist approach to choice of law that is forum- and content-neutral and that respects the rights of both individuals and states. The study also argues that such an approach should satisfy a constitutional standard that requires a court not choose one state's law when another state has a significantly closer connection to controversy.
The proposed method consists of two parts. The first part determines the states that have created legal relations applying to the dispute. When more than one state has created a legal realtions applying to the dispute. When more than one state has created a legal relation that applies to the controversy, the second part adopts the law of the state that had the closest connection. The study then applies the suggested method to numerous choice of law problems.
About the Author
---
EDWIN SCOTT FRUEHWALD is a Legal Writing Instructor at Hofstra University School of Law./e He has taught legal writing, appellate advocacy, legislation, advanced civil procedure, jurisprudence, and legal ethics at Hofstra, University of Alabama, and Roger Williams University. He has published several articles in law reviews on choice of law, constitutional law, bankruptcy, statutory analysis, and copyright.