Voices from Chernobyl: The Oral History of a Nuclear Disaster (Paperback)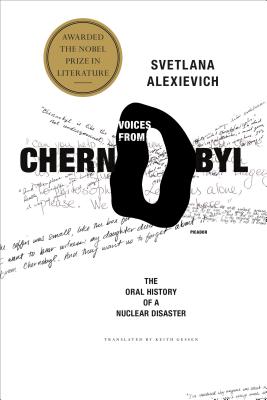 $16.00
Email or call for price.
Description
---
Winner of the Nobel Prize in Literature
Winner of the National Book Critics Circle Award
On April 26, 1986, the worst nuclear reactor accident in history occurred in Chernobyl and contaminated as much as three quarters of Europe. Voices from Chernobyl is the first book to present personal accounts of the tragedy. Journalist Svetlana Alexievich interviewed hundreds of people affected by the meltdown---from innocent citizens to firefighters to those called in to clean up the disaster---and their stories reveal the fear, anger, and uncertainty with which they still live. Comprised of interviews in monologue form, Voices from Chernobyl is a crucially important work, unforgettable in its emotional power and honesty.
About the Author
---
Svetlana Alexievich was born in the Ukraine and studied journalism at the University of Minsk. She has received numerous awards for her writing, including a prize from the Swedish PEN Institute for "courage and dignity as a writer." Her books include Zinky Boys, Secondhand Time, and Voices from Chernobyl, which won the National Book Critics Circle Award. She is the winner of the 2015 Nobel Prize in Literature.
Praise For…
---
"This collection of narratives about the world's worst industrial accident reads like an apocalyptic fairy tale. . . . The monologues . . . are exquisite in their plainspoken anguish. And as such, they are beautifully unbearable to read."--Time Out Chicago

"A chorus of fatalism, stoic bravery, and black, black humor is sounded in this haunting oral history. . . . The result is an indelible X-ray of the Russian soul."--Publishers Weekly

"Shocking accounts of life in a poisoned world. And what quintessentially human stories these are, as each distinct voice expresses anger, fear, ignorance, stoicism, valor, compassion, and love. Alexievich put her own health at risk to gather these invaluable frontline testimonies, which she has transmuted into a haunting and essential work of literature that one can only hope documents a never-to-be-repeated catastrophe."--Booklist (starred review)

"Devastating . . . Essential, powerful, and brave."--John Freeman, The Star-Ledger (Newark)