Complications: A Surgeon's Notes on an Imperfect Science (Paperback)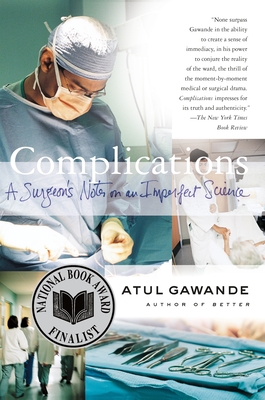 Staff Reviews
---
"Essential reading for anyone trying to understand the American health care system." - Vivian
— From
Vivian's Staff Picks
Description
---
In gripping accounts of true cases, surgeon Atul Gawande explores the power and the limits of medicine, offering an unflinching view from the scalpel's edge. Complications lays bare a science not in its idealized form but as it actually is—uncertain, perplexing, and profoundly human.
Complications is a 2002 National Book Award Finalist for Nonfiction.
About the Author
---

Atul Gawande is author of three bestselling books: Complications, a finalist for the National Book Award; Better, selected by Amazon.com as one of the ten best books of 2007; and The Checklist Manifesto. His latest book is Being Mortal: Medicine and What Matters in the End. He is also a surgeon at Brigham and Women's Hospital in Boston, a staff writer for The New Yorker, and a professor at Harvard Medical School and the Harvard School of Public Health. He has won the Lewis Thomas Prize for Writing about Science, a MacArthur Fellowship, and two National Magazine Awards. In his work in public health, he is Executive Director of Ariadne Labs, a joint center for health systems innovation, and chairman of Lifebox, a nonprofit organization making surgery safer globally. He and his wife have three children and live in Newton, Massachusetts.
Praise For…
---
"None surpass Gawande in the ability to create a sense of immediacy, in his power to conjure the reality of the ward, the thrill of the moment-by-moment medical or surgical drama. Complications impresses for its truth and authenticity, virtues that it owes to its author being as much forceful writer as uncompromising chronicler." —The New York Times Book Review
"No one writes about medicine as a human subject as well as Atul Gawande. His stories about becoming a surgeon are scary, funny, absorbing....Complications is a uniquely soulful book about the science of mending bodies." —Adam Gopnik, author of Paris to the Moon
"Gawande is arguably the best nonfiction doctor-writer around....He's prescient and thoughtful...the heir to Lewis Thomas' humble, insightful and brilliantly crafted oeuvre." —Salon.com
"Complications is a book about medicine that reads like a thriller. Every subject Atul Gawande touches is probed and dissected and turned inside out with such deftness and feeling and counterintuitive insight that the reader is left breathless." —Malcolm Gladwell, author of The Tipping Point
"Gawande is a writer with a scalpel pen and an X-ray eye.... He turns every case--from gunshot wounds to morbid obesity to flesh-eating bacteria--into a thriller in miniature. Diagnosis: riveting." —Time
"Gawande's prose, much like the scalpel he wields, is precise, daring, but never reckless....Much like reading George Orwell, the reader emerges entertained, enlightened, transformed and immensely satisfied." —Abraham Verghese, author of My Own Country
"Wrenching human tales...Gawande has pushed the medical yarn in a new direction." —The Boston Globe
"Atul Gawande is a rare and wonderful storyteller who portrays his profession with bravery and humanity." —Ellen Goodman, Pulitzer Prize-winning columnist
"The stories in Complications are gripping medical mysteries that always have something extra. Gawande draws you in with the story but leaves you wiser about science, about health care issues, and even about the human condition." —Michael Kinsley