Witness for the Defense: The Accused, the Eyewitness, and the Expert Who Puts Memory on Trial (Paperback)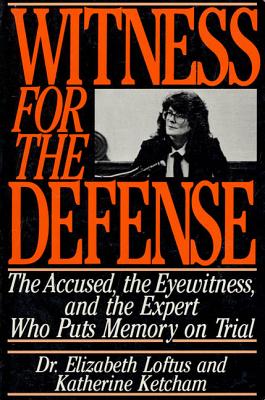 $22.99
NOT on our shelves now. Usually ships from warehouse in several days.
Description
---
"The study of memory had become my specialty, my passion. In the next few years I wrote dozens of papers about how memory works and how it fails, but unlike most researchers studying memory, my work kept reaching out into the real world. To what extent, I wondered, could a person's memory be shaped by suggestion? When people witness a serious automobile accident, how accurate is their recollection of the facts? If a witness is questioned by a police officer, will the manner of questioning alter the representation of the memory? Can memories be supplemented with additional, false information?"
The "passion" Loftus describes in the lines above led her to a teaching career at the University of Washington and, perhaps more importantly, into hundreds of courtrooms as an expert witness on the fallibility of eyewitness accounts. As she has explained in numerous trials, and as she convincingly argues in this absorbing book, eyewitness accounts can be and often are so distorted that they no longer resemble the truth.
About the Author
---
Dr. Elizabeth Loftus, a professor of psychology at the University of Washington, is also the author of Witness for the Defense and Eyewitness Testimony.
Katherine Ketcham
is also the co-author of
Under the Influence
,
The Spirituality of Imperfection
,
Beyond the Influence
,
The Power of Empathy
, and other books.
Praise For…
---
"Witness for the Defense is an important book." —The New York Times
"An intriguing and disturbing work in which forensic psychologist Loftus, a specialist on memory, examines the fallibility of eyewitness testimony in criminal cases . . . A fascinating examination of human memory, with troubling implications for the American criminal-justice system." —Kirkus Reviews
"Highly recommended for the general public and scholars interested in whether justice is served in the criminal justice system." —Library Journal