The Dead Do Not Improve: A Novel (Paperback)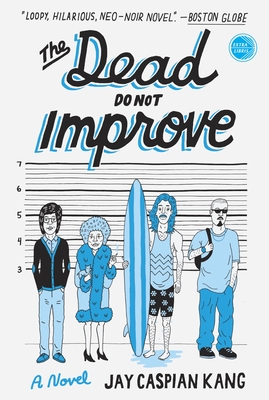 $15.00
ON HAND in at least ONE of our stores. Click through or call for up-to-the-minute availability.
Description
---
FROM EMMY-NOMINATED AUTHOR FOR VICE NEWS PIECE "NATIONAL ANTHEM PROTESTS ARE SPREADING TO HIGH SCHOOL FOOTBALL TEAMS"

"Loopy, hilarious, neo-noir novel… an extremely smart, funny debut, with moments of haunting beauty." —Boston Globe

Exceedingly unique, pulsing with vigor and heart, and loaded with fierce, fresh language, The Dead Do Not Improve confirms Jay Caspian Kang as a true American original. When struggling writer Philip Kim is dragged into a complex mystery after his neighbor is murdered, Sid Finch, a homicide detective bitter about everything except his gorgeous wife, and his phlegmatic, pockmarked partner, Jim Kim, land the case. Philip becomes the baffled focus of an elaborate, violent scheme that seems tied to his neighbor's murder, and the cops think he might be involved. With an intelligent narrative voice that that moves effortlessly between hilarity, satire, poignancy, and madcap digressions, Kang has written a trippy, self-aware novel obsessed with the Virginia Tech massacre, surfing, and identity.  

Now with Extra Libris material, including an essay from Jay Caspian Kang
About the Author
---
JAY CASPIAN KANG was born in Seoul and grew up in North Carolina. He is a contributing writer at the New York Times Magazine and works as an editor at Grantland. He lives in Los Angeles.
Praise For…
---
"Loopy, hilarious, neo-noir novel… an extremely smart, funny debut, with moments of haunting beauty."
—Boston Globe

"Jay Caspian Kang's debut novel demands to be accepted on its own terms…Richly observed…it uses (and sometimes abuses) the genre's conventions to present a metafictional mash-up of hip-hop, hipsters, hippies and more that marks Philip Kim as an antihero for our time and flags Jay Caspian Kang as an author worth watching." 
—Los Angeles Times

"The anticipated debut of Grantland editor Jay Caspian Kang, The Dead Do Not Improve, is a modern, satirical detective story… Kang's writing is funny, stylish and definitely of the moment."
—Time Out New York, #1 Critics Pick

"The fusion of a whodunit plot and a starving artist protagonist piqued our interest. Plus, Jay Caspian Kang's voice is refreshing. He presents grad-school insights in a sharp, accessible, and often humorous way."
—Huffington Post
 
"The writing in Dead has more in common with books like Jonathan Lethem's Motherless Brooklyn and Haruki Murakami's A Wild Sheep Chase than it does with Maxine Hong Kingston's The Woman Warrior. Mr. Kang finds it frustrating that some readers expect a novel by an Asian-American writer to focus on tiger moms, poverty or the aftermath of war. 'I just hope the people who want that sort of thing hate this book,' he says."
—Wall Street Journal Asia
 
"A Pynchon-esque menagerie of California surfers, cops, thugs and dot-com workers converge in a comic anti-noir…Kang sends up the Bay Area's moralizing atmosphere along with its inherent weirdness, but he also parlays the setup into some surprisingly affecting observations: Philip's budding relationship with a gorgeous neighbor sparks incisive passages on San Francisco's tense mix of races and cultures, and he has plenty of insights on hip-hop, social media and Cho Seung-Hui, the Virginia Tech mass murderer… Smart, funny and eager to fly its freak flag."
—Kirkus
 
"MFA grad Phillip Kim unwittingly becomes embroiled in a violent scheme that leads him to a bizarre San Francisco subculture."
—Entertainment Weekly

"The portrait of a city and its denizens so otherworldly strange is vivid, searing, and sometimes hilarious."
—Booklist

"The Dead Do Not Improve is basically the best thing I've read in a very, very long time. It's seriously hilarious, heartbreakingly sentimental, and distressingly perceptive. If Joseph Heller and Raymond Chandler had once battled over who could write more like Tolstoy, then maybe there'd be something with which to compare this magnificent book."
—RIVKA GALCHEN, author of Atmospheric Disturbances

"Self-hating-hipsters' bible, hilarious decoding of our inanities and poses, joyful and romantic misanthropy, Proustian mining of emotion and thought in prose as fast and jumpy as thinking out loud, and these amazing insights on every page, and really funny, twisted, and unforgettable characters, infrarealist criminals and cops and overall weirdness, great surfing scenes, and Jay Caspian Kang's own San Francisco, gifted to us, all of it, in this jaw-droppingly brilliant, original, and 'totally mental' novel. If I were young, I'd want to be this voice—even if it got me beat up a lot, which it would; it would bring me love and glory, too. The Dead Do Not Improve is the most thrilling novel I've read in ages."
—FRANCISCO GOLDMAN, author of Say Her Name

"Jay Caspian Kang writes like he has a gun to his head and his middle finger on the pulse of our target-marketed age. The Dead Do Not Improve treats us to his antisocial networking sensibility and a hilariously urgent voice with one hell of a story to tell. This is some killer shit."
—RYAN BOUDINOT, author of Blueprints of the Afterlife

"The Dead Do Not Improve is the most authentic novel of 2k12. Jay Caspian Kang has told a story that captures the lives of twenty-somethings as they wallow in the spaces between real life and the Internet, and, along the way, created an accurate, hilarious portrait of boredom and self-pity in 'the zeitgeist.'"
—Carles, HIPSTER RUNOFF

"That Kang has found a way to invigorate a subject matter as overburdened as the Internet's impact on identity and relationships would be enough to recommend The Dead Do Not Improve. But in the complex, well-drawn, and empathetic Philip, he has also crafted a protagonist that elevates this uneven book from the level of a "novel of ideas" to a rewarding and promising debut."
—The Oxford American

"Tragically hilarious and darkly uplifting…The sum total of all these contradictions is a book that is so light-heartedly hilarious and crushingly dark that you will be unable to put it down…Kang is undoubtedly the author to watch in the years following this masterful debut."
—CrimeSpree Magazine