Dirt Candy: A Cookbook: Flavor-Forward Food from the Upstart New York City Vegetarian Restaurant (Paperback)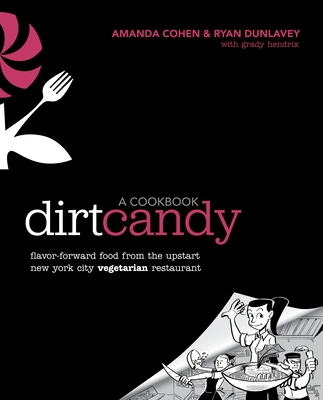 Not available to order
Backordered--delivery time uncertain
Description
---
From chef-owner of the popular all-vegetable New York City restaurant, Dirt Candy, a cookbook of nearly 100 vegetable recipes for home cooks everywhere.

Amanda Cohen does not play by the rules. Her vegetable recipes are sophisticated and daring, beloved by omnivore, vegetarian, and vegan diners alike. Dirt Candy: A Cookbook shares the secrets to making her flavorful dishes—from indulgent Stone-Ground Grits with Pickled Shiitakes and Tempura Poached Egg, to hearty Smoked Cauliflower and Waffles with Horseradish Cream Sauce, to playfully addictive Popcorn Pudding with Caramel Popcorn. It also details Amanda's crazy story of building a restaurant from the ground up to its success, becoming one of the most popular restaurants in New York City—all illustrated as a brilliant graphic novel. Both a great read and a source of kitchen inspiration, Dirt Candy: A Cookbook is a must-have for any home cook looking to push the boundaries of vegetable cooking.
About the Author
---
AMANDA COHEN is the chef-owner of Dirt Candy, an all-vegetable restaurant located in New York City's East Village that is recommended by the Michelin guide. Cohen, who has written about food for Saveur, Eater, Salon, and Esquire, was the first vegetarian chef invited to compete on Food Network's Iron Chef America. She and her restaurant have been featured in the New York Times, Food & Wine, and The New Yorker.
 
RYAN DUNLAVEY is a New York City–based artist whose work includes The Comic Book History of Comics, MODOK: Reign Delay, Tommy Atomic, and the Xeric and ALA award-winning Action Philosophers.
 
GRADY HENDRIX has written for Variety, Slate, Playboy and is coauthor of The Magnolia League, a young adult series from Little, Brown. He is married to Amanda Cohen.
Praise For…
---
"The book . . . is chock-full of recipes and is an entertaining read. You'll feel as if you know Cohen personally by the end of it, you'll probably want to eat more vegetables, and you'll certainly have a lot more respect for any professional chef in the kitchen, and vegetarian food, for that matter."
TheDailyMeal.com
 
"Rarely do I find a cookbook that not only is instructional and precise in its teaching, but funny, emotional, smart, and graphically thrilling. That cookbook is Dirt Candy. . . . Why has no one written a cookbook like this before? It's BRILLIANT! . . . This is a book I could not put down once I opened it."
TheStrongBuzz.com
 
"The writing is breezy and Dunlavey's art is amusing and animated. This would make a terrific gift for the cooks in your life, even if they aren't comics readers. Not only will they enjoy it, but it's a way of leading them through our comics door."
Comics Buyer's Guide
 
"Now Cohen is sharing her secrets for taking vegetables to whole new heights, in her recently released Dirt Candy cookbook. The book is unique in that it's also a graphic novel that tells the story behind the restaurant and conveys the frenzy of opening an eatery in New York City."
Today.com