Vampires in the Lemon Grove: And Other Stories (Vintage Contemporaries) (Paperback)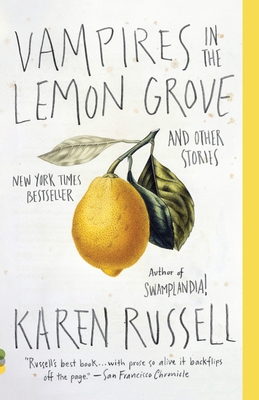 $16.00
ON HAND in at least ONE of our stores. Click through or call for up-to-the-minute availability.
Staff Reviews
---
Russell has a way of dipping her pen into the world beneath our world, and the stories she writes feel truer than the truth. Reading her stories is like walking through the woods at night, when the lull of crickets makes you wonder what unseen magic nips at your heels.
— From
Mikayla's Staff Picks
February 2013 Indie Next List
---
"Karen Russell has the audacity to venture into realms few writers will explore and the talent to make the landscape her own. She returns to the short story form and creates worlds surreal, magical, and horrific, all the while displaying the ability to comment on our own life through her fictional devices. Few modern writers can match her skill, courage, and genius. This collection is testament to her right to be considered in the elite of current authors."
— Bill Cusumano, Nicola's Books, Ann Arbor, MI
Description
---
From the author of the novel Swamplandia!—a finalist for the Pulitzer Prize—comes a magical and uniquely daring collection of stories that showcases the author's gifts at their inimitable best.

Within these pages, a community of girls held captive in a Japanese silk factory slowly transmute into human silkworms and plot revolution; a group of boys stumble upon a mutilated scarecrow that bears an uncanny resemblance to a missing classmate that they used to torment; a family's disastrous quest for land in the American West has grave consequences; and in the marvelous title story, two vampires in a sun-drenched lemon grove try to slake their thirst for blood and come to terms with their immortal relationship.


Named a Best Book of the Year by:
The Boston Globe
O, The Oprah Magazine
Huffington Post
The A.V. Club

A Washington Post Notable Book
An NPR Great Read of 2013
About the Author
---
Karen Russell, a native of Miami, won the 2012 National Magazine Award for fiction, and her first novel, Swamplandia! (2011), was a finalist for the Pulitzer Prize. She is a graduate of the Columbia MFA program, a 2011 Guggenheim Fellow, and a 2012 Fellow at the American Academy in Berlin. She lives in Philadelphia.
Praise For…
---
"Astonishing. . . . Vampires in the Lemon Grove stands out as Russell's best book . . . with prose so alive it practically backflips off the page." —San Francisco Chronicle 
  
"From apparent influences as disparate as George Saunders, Saki, Stephen King, Carson McCullers and Joy Williams, [Russell] has fashioned a quirky, textured voice that is thoroughly her own: lyrical and funny, fantastical and meditative." —Michiko Kakutani, The New York Times 
 
"One of the most innovative, inspired short-story collections in the past decade. . . . There's absolutely no living author quite like Karen Russell." —Michael Schaub, NPR
 
"Karen Russell's imagination is once again on full, Technicolor, mind-bending display. . . . Russell's stories will be seizing our imaginations—and nibbling at the edges of our nightmares—for years to come."  —The Miami Herald 
 
"Hilarious, exquisite, first-rate." —Joy Williams, The New York Times Book Review
 
"One of the great American writers of our young century." —Maureen Corrigan, NPR
 
"Darkly inventive, demonically driven." —Elle
 
"No one combines the fantastical with the mundane quite like Karen Russell. . . . The stories in Vampires portray ordinary life with an otherworldly twist in a fascinating and unexpected way. And yet these haunting tales are written with such clarity and recognizable perspectives that they manage the greatest feat of all: in the surreal, we see ourselves. —Jessica Gentile, Paste Magazine, #1 Best Book of the Year

"Sea deep, scary smart, richly inventive." —More
 
"Delightfully weird." —Esquire
 
"A writer to track and to treasure."  —Chicago Tribune

"In another ten years Russell will be her generation's George Saunders: the writer whose books are stolen and studied, flashed like badges, and worn to death with rereading. . . . Breathtaking." —The Boston Globe

"One of the most remarkable fantasists writing today." —Elizabeth Hand, The Washington Post

"Witty, and wise, and brimming with vitality. . . . In Russell's stories, malice strolls with morality, horror tangos with humor, and the spirits of Franz Kafka and Flannery O'Connor meet with unexpected comity. . . . With a voice that could spring from an unleashed demon—or an angel on amphetamines—Russell fills this exuberant collection with life's radiance and shadows." —Richmond Times-Dispatch

"Consistently arresting . . . startling . . . profound. . . . Even more impressive than Russell's critically acclaimed novel." —Kirkus Reviews (starred review)

"Dazzlingly strange. . . . Vacillating between horror and humor, Russell's writing recalls both George Saunders and vintage Stephen King, sometimes simultaneously."—Time Out Chicago

"A darkly surreal treat." —Wired.com

"Eight new cages of horror and heart and winding metamorphoses that would take a normal writer a lifetime to dream into being." —Interview magazine

"Bone-chilling … fantasy and horror underlined with social commentary." —People

"As Russell's imagination soars, so does our joy in reading this collection." —Oprah.com

"Wildly inventive. . . . Wondrously strange and moving." —Reader's Digest
"In these stories, familiar human emotions leap into relief against backdrops of almost Tim Burton-like weirdness. . . . [Russell's] stories are as robust as can be." —New York magazine

"Karen Russell's stories defy definition. They are at once warm and sinister, a bubble bath with a shark fin lurking underneath the suds."  —The Millions

"Clever as hell." —BookRiot

"Wildly imaginative. . . . Gorgeous. . . . Russell has once again mapped the dark country between our everyday and more primal selves." —Milwaukee Journal Sentinel

"A master of magical realism." —New York Observer

"Powerful. . . . Russell pulls the rug out on our imagination, creating perplexing, surreal scenarios that bump into the common reality that most of us take for granted." —Minneapolis Star Tribune
 
"Wondrously strange and moving." —Reader's Digest

"Nearly flawless . . . . Russell's best work manages to both create a fascinating, surreal world and coax meaning out of it." —The Onion's A.V. Club