The Tiger: A True Story of Vengeance and Survival (Vintage Departures) (Paperback)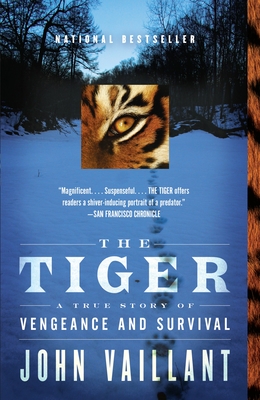 September 2010 Indie Next List
---
"What happens when the order of hunter and prey is reversed? Yuri Trush, a tracker living near a tiny Siberian village, must find a tiger that has recently killed a poacher. Trush and his team must learn what drives the tiger to behave in this terrifying new way before they can stop the carnage. By turns absolutely fascinating and monstrously chilling, The Tiger explores the world of the Siberian tiger from its mythic history and extreme habitat to modern economics and black market poaching."
— Marilyn Smith, Kepler's Books & Magazine, Menlo Park, CA
Description
---
NATIONAL BESTSELLER • A gripping story of man pitted against nature's most fearsome and efficient predator. This "travelogue about tiger poaching in Russia's far east opens up a new genre ... [the] conservation thriller" (Nature).

Outside a remote village in Russia's Far East a man-eating tiger is on the prowl. The tiger isn't just killing people, it's murdering them, almost as if it has a vendetta. A team of trackers is dispatched to hunt down the tiger before it strikes again. They know the creature is cunning, injured, and starving, making it even more dangerous. As John Vaillant re-creates these extraordinary events, he gives us an unforgettable and masterful work of narrative nonfiction that combines a riveting portrait of a stark and mysterious region of the world and its people, with the natural history of nature's most deadly predator.
About the Author
---
JOHN VAILLANT's acclaimed, award-winning non-fiction books, The Golden Spruce and The Tiger, were #1 national bestsellers. His debut novel, The Jaguar's Children, was a finalist for the Rogers Writers' Trust Fiction Prize and the International Dublin Literary Award. He has written for, among others, The New Yorker, The Atlantic, National Geographic, and The Walrus. He lives in Vancouver.
Praise For…
---
"Magnificent.... Suspenseful.... The Tiger offers readers a shiver-inducing portrait of a predator."—San Francisco Chronicle

"Mesmerizing ... a blistering good tale, stocked with fascinating characters, none more compelling than the tiger itself ... the adventure book of the year."—Cleveland Plain Dealer

"A masterpiece.... What elevates The Tiger from adventure yarn to nonfiction classic is Vaillant's mastery of language." —Outside
 
"A riveting story." —The Washington Post

"Brilliant ... A tale of astonishing power and vigor ... Read this fine, true book in the warmth, beside the flicker of the firelight. Read it and be afraid. Be very afraid." —Simon Winchester, The Globe and Mail (Toronto)
 
"[A] riveting story ... Vaillant's book teaches a lesson that humankind desperately needs to remember: When you murder a tiger, you not only kill a strong and beautiful beast, you extinguish a passionate soul."—Washington Post
 
"[An] epic story.... A travelogue about tiger poaching in Russia's far east opens up a new genre ... [the] conservation thriller."—Nature
 
"If ever a nonfiction author has used the techniques of fiction any better to recount a real-life narrative, it is difficult to imagine who that author would be.... Think of Vaillant as a younger version of John McPhee, but on steroids." —The Seattle Times
 
"Riveting, often chilling.... A remarkable, thoroughly researched, informative chronicle that will appeal to readers interested in the conservation of wildlife."—Providence Journal
 
"Nonfiction as riveting as any detective story.... Vaillant sets the stage for an epic encounter that unfolds dramatically and inexorably, climaxing in a stunning encounter."—Christian Science Monitor
 
"An extraordinary book, bringing vividly to life this rare and terrifying creature and the men who are setting their lives at stake every day in a barely civilized part of the world. This is a real-life adventure story that is rarely encountered."—The Washington Times
 
"A remarkable and thoughtful account of a distant place where man and animal meet with fatal consequences."—Richmond Times Dispatch
 
"Told with passion and deep knowledge of the history cultures, folk tales, flora and fuana of this part of the world ... The Tiger has the pace and precision of a spy thriller."—Waterbury Republican-American