Pictures at an Exhibition (Paperback)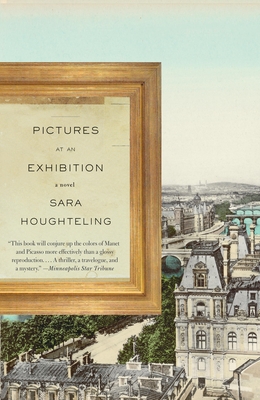 $16.95
Temporarily Unavailable
Description
---
A sweeping and sensuous novel of a son's quest to recover his family's lost masterpieces, looted by the Nazis during the occupation.
 
Max Berenzon's father is the most successful art dealer in Paris, owner of the Berenzon Gallery, home to both Picasso and Matisse. To Max's great surprise, his father forbids him from entering the family business, choosing instead to hire a beautiful and brilliant gallery assistant named Rose Clément. When Paris falls to the Nazis, the Berenzons survive in hiding, but when they return in 1944 their gallery is empty, their priceless collection vanished. In a city darkened by corruption and black martketers, Max chases his twin obsessions: the lost paintings and Rose Clément.
About the Author
---
Sara Houghteling is a graduate of Harvard College and received her master's in fine arts from the University of Michigan. She is the recipient of a Fulbright scholarship to Paris, first place in the Avery and Jules Hopwood Awards, and a John Steinbeck Fellowship. She lives in California, where she teaches high school English.
Praise For…
---
"[A] captivating first novel…. At once crisp and poetic, detailed and spare." --The New York Times Book Review

 "Graceful, persuasive…. The details—whether the contents of Matisse's studio, or the packing and transporting of 'Winged Victory' from the Louvre in 1940—ring true…. Houghteling is a writer to watch." —Milwaukee Journal-Sentinel

"[A] lean, atmospheric novel…. Paris, even under the Germans, is storybook wonderful, and an unending display of great art marches through these pages." —Dallas Morning News

"Evok[es] the atmosphere of Paris in the 1930s and '40s, using that mixture of the historical and the fictional that Alan Furst has made his metier. . . . Pictures at an Exhibition is an entertaining read and a window into a period in the history of the art market that was quickly denied." —San Francisco Chronicle
 
"Intelligent. . . . [Houghteling] does an excellent job of portraying the varying degrees of complicity of Paris's remaining art dealers and leads a reader with a sure hand through a closed and rarified world." —The Christian Science Monitor
 
"More than most writers, Houghteling succeeds in making us feel and understand the full, perverse impact of the German pillage of art in World War II, its sickening human cost." —The Washington Post Book World
 
"A timely and touching first novel set in the World War II Paris art world that will appeal to all art lovers and especially to those addicted to following the vagaries of Nazi loot." —Lynn H. Nicholas, author of The Rape of Europa
 
"Pictures at an Exhibition . . . offers a free trip to Paris. . . . This is the Paris of Impressionist paintings and 18th-century apartments, the Paris of classical music floating out of bay windows at 4 a.m. while young swains buy pretty girls daffodils from pushcarts on Les Halles. This is the Paris of balusters and brocade, marbled light and Maurice Chevalier, the Paris of cobblestone alleys and bustling boulevards, opinionated greengrocers and passionate lovers." —Minneapolis Star-Tribune
 
"This powerful first novel sets the historical tragedy [of Nazi looting] against a sad yet compelling tale of love and loss. The characters, all in their own ways emotionally wounded, seem as real as our neighbors. Marvelous little asides about art are scattered throughout the story, but what most struck me was the power of the prose. . . . Masterful." —Stephen L. Carter, The Daily Beast
 
"Haunting. . . . With amazing authenticity, the author tells [her characters'] stories with all the twists and turns of the very best fiction." —The Free Lance-Star
 
"[Pictures at an Exhibition] is more than just a love story and a description of Nazi greed. It is a metaphysical narrative that delves into themes of friendships and family relationships." —San Antonio Express-News
 
"What a beautiful book! Sara Houghteling's theme here is attachment: to the beauty of art, to childhood, to a world before loss and tragedy. The Paris she conjures for us is vivid and sad, the paintings she describes are glorious." —Sophie Gee, author of The Scandal of the Season

"Houghteling's knowledge of the inner workings of the early to mid-century art market—clearly the product of prodigious research—serves her well. . . . An engaging tale of familial love and redemption told through a search for artworks that are ultimately surrogates: The thousands of missing paintings stand in for the millions of people who perished in the camps." —The New Leader
 
"Pictures at an Exhibition has the fine-grained feeling of photographs by Kertesz or Atget. . . . Sparkling. . . . Houghteling writes with a spare grace, every scene supple and brisk, on this dark odyssey through a spiritually dimmed city." —The Weekly Standard
 
"Pictures at an Exhibition is remarkably self-assured, astute, worldly, and well-informed; in fact, it does not look like a first novel at all. Its subject-matter–stolen paintings, and Nazis, and the insatiable hunger for beauty–requires both erudition and brilliance, and Sara Houghteling has plenty of both, along with a sense of humor and a warm heart." —Charles Baxter, author of The Soul Thief
 
"Moves with fluid grace between the real and the un, between bureaucratic and poetic. . . . Houghteling's love of her subject is unmistakable. "—Time Out Chicago
 
"Shows the socioeconomic and cultural diversity of mid-century Paris quite well. . . . A skillful work." —Chattanooga Free Press
 
"Engrossing reading. Miss Houghteling has done her research well, and her descriptions of real paintings and places have depth and beauty." —The Washington Times
 
"An impressive debut . . . Pictures at an Exhibition is both well-prepared and well-written, it grabs you and drags you along as it creeps through shady backalleys looking for black-market art dealers, and it stuns you just as it stuns Max Berenzon when some disturbing revelations are made." —Sacramento Book Review
 
"Compelling and important." —The Jerusalem Post
 
"Remarkable. . . . A refreshingly understated work that offers a subtle but powerful exploration of loss, and of the pain and havoc left in its wake." —Haaretz
 
"In times like this, one turns to books like Pictures at an Exhibition for their exhilarating sense of wonder and ambition. No other book I have read in a long time has such depth of history and intelligence, setting art as antidote for suffering, and love as both a cause and remedy for pain." —Andrew Sean Greer, author of The Story of a Marriage and The Confessions of Max Tivoli

"In Pictures at an Exhibition, Sara Houghteling breathes new life into one of history's great, unfinished stories. As exquisitely detailed and lavishly sensuous as the paintings that populate its pages, this is a riveting debut." —Dustin Thomason, co-author of The Rule of Four