The Mozza Cookbook: Recipes from Los Angeles's Favorite Italian Restaurant and Pizzeria (Hardcover)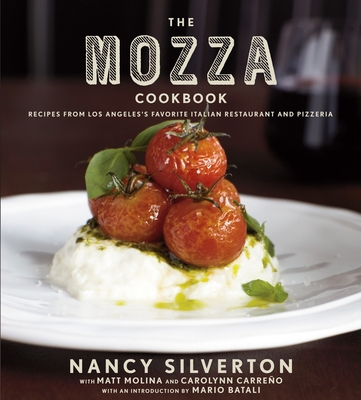 $37.50

NOT on our shelves now. Usually ships from warehouse in several days.
Description
---
Winner of the  2014 James Beard Award for Outstanding Chef: the top chef in the country

A traditional Italian meal is one of the most comforting—and delicious—things that anyone can enjoy. Award-winning chef Nancy Silverton has elevated that experience to a whole new level at her Los Angeles restaurants Osteria Mozza and Pizzeria Mozza, co-owned with restaurateurs Mario Batali and Joe Bastianich. A reservation at Mozza has been the hottest ticket in town since the restaurants opened and diners have been lining up for their wildly popular dishes. Finally, in The Mozza Cookbook, Silverton is sharing these recipes with the rest of the world.

The original idea for Mozza came to Nancy at her summer home in Panicale, Italy. And that authentic Italian feel is carried throughout the book as we explore recipes from aperitivo to dolci that she would serve at her tavola at home. But do not confuse authentic with conventional! Under Silverton's guidance, each bite is more exciting and delectable than the last, with recipes such as:
Fried Squash Blossoms with Ricotta
Buricotta with Braised Artichokes, Pine Nuts, Currants, and Mint Pesto
Mussels al Forno with Salsa Calabrese
Fennel Sausage, Panna, and Scallion Pizza
Fresh Ricotta and Egg Ravioli with Brown Butter
Grilled Quail Wrapped in Pancetta with Sage and Honey
Sautéed Cavolo Nero
Fritelle di Riso with Nocello-soaked Raisins and Banana Gelato
Olive Oil Gelato

In the book, Nancy guides you through all the varieties of cheese that she serves at the Mozzarella Bar in the Osteria. And you'll find all the tricks you need to make homemade pastas, gelato, and pizzas that taste as if they were flown in directly from Italy. Silverton's lively and encouraging voice and her comprehensive knowledge of the traditions behind this mouthwateringly decadent cuisine make her recipes—both familiar and intricate—easy to follow and hard to resist. It's no wonder it is so difficult to get a table at Mozza—when you're cooking these dishes there will be a line out your door as well.
About the Author
---
Nancy Silverton is the co-owner of Osteria Mozza, Pizzeria Mozza, and Mozza2Go in Los Angeles, where she makes her home. She is the founder of the La Brea Bakery and formerly owned and operated Campanile (recipient of the 2001 James Beard Award for Best Restaurant). She is the author of A Twist of the Wrist, Nancy Silverton's Sandwich Book, Nancy Silverton's Pastries from the La Brea Bakery (recipient of a 2000 Food & Wine Best Cookbook Award), Nancy Silverton's Breads from the La Brea Bakery, and Desserts. She has three children.

Matt Molina, a graduate of the Los Angeles Culinary Institute, began his career with Nancy Silverton at Campanile in Los Angeles. After six years, he went on to train at Del Posto in New York City in preparation for his role as executive chef of Pizzeria Mozza and Osteria Mozza. At both restaurants, Matt has received three stars from the Los Angeles Times and in 2008 he garnered Osteria Mozza a Michelin star. Matt has been nominated for Rising Star Chef, Best Chef Pacific, and Best New Restaurant at Osteria Mozza by the James Beard Foundation.

Carolynn Carreño is a James Beard Award–winning journalist and the coauthor of several cookbooks, including Eat Me (with Kenny Shopsin), A Twist of the Wrist (with Nancy Silverton), Fresh Every Day and Sara Foster's Casual Cooking (with Sara Foster), 100 Ways to Be Pasta (with Wanda and Giovanna Tornabene), and Once Upon a Tart (with Frank Mentesana and Jerome Audureau). She lives in Los Angeles and New York.
Praise For…
---
"This cookbook is freaking awesome. Silverton truly wants to share what she knows with her pupils. Usually, that knowledge is passed on to her restaurant chefs and cooks. But with The Mozza Cookbook, for a brief moment, it gets to be us." —Jenn Garbee, LA Weekly
 
" . . . filled with beautiful rustic food photography and all the staple recipes." —Kat Odell, Eater Los Angeles

"I was struck by how fully and faithfully a chef's personality can translate from restaurant to page. [The book's] lavish presentation of unusually lovely photographs seemed just right. Silverton takes full advantage of California's vivid produce. Her book, like her menus, casts the universe as a luxurious garden. . . . lyrical and nurturing." —Frank Bruni, Food and Wine