In the Shadow of St. Paul's Cathedral: The Churchyard that Shaped London (Paperback)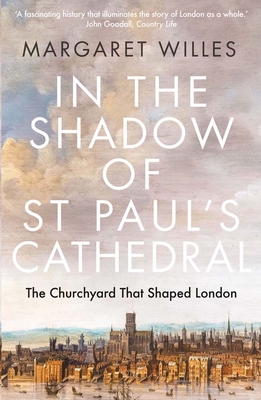 Description
---
The extraordinary story of St. Paul's Churchyard—the area of London that was a center of social and intellectual life for more than a millennium
 
St. Paul's Cathedral stands at the heart of London, an enduring symbol of the city. Less well known is the neighborhood at its base that hummed with life for over a thousand years, becoming a theater for debate and protest, knowledge and gossip.
 
For the first time Margaret Willes tells the full story of the area. She explores the dramatic religious debates at Paul's Cross, the bookshops where Shakespeare came in search of inspiration, and the theater where boy actors performed plays by leading dramatists. After the Great Fire of 1666, the Churchyard became the center of the English literary world, its bookshops nestling among establishments offering luxury goods.
 
This remarkable community came to an abrupt end with the Blitz. First the soaring spire of Old St. Paul's and then Wren's splendid Baroque dome had dominated the area, but now the vibrant secular society that had lived in their shadow was no more.
About the Author
---
Margaret Willes, formerly publisher at the National Trust, is author of several books, including The Curious World of Samuel Pepys and John Evelyn, Reading Matters, and The Gardens of the British Working Class. She lives in London.
Praise For…
---
"It was the book trade for which St. Paul's Churchyard became famous. . . . Willes, a liveryman of the Stationers' Company, relishes this hive of industry; it is when she writes of the book trade that her own book comes alive."—Paul Lay, Sunday Telegraph

"Wonderfully engaging. . . . Willes gives a diverting account of searing political pamphlets . . . and the first printing of literary sensations such as Lyrical Ballads, with walk-on appearances from Charlotte Brontë and Mary Wollstonecraft. . . . Londoners have taken this territory for granted for too many decades, and Willes is here to put that right."—Sinclair McKay, Spectator

"This book is an exceptional compendium and encyclopedic survey of historic events and actions. . . . Willes writes in a pleasing, clear, and lively style."—Seventeeth-Century News

"Margaret Willes offers a unique exploration of a lost world, centring on the publishing community which once clustered around St Paul's Cathedral. Her fascinating book spans centuries, introduces an array of memorable characters, and offers important insights into an enthralling aspect of London's history."—Margarette Lincoln, author of London and the 17th Century

"When St Paul's Churchyard was destroyed by the Luftwaffe in December 1940, the "Second Great Fire of London" obliterated centuries of London publishing history overnight. Now Margaret Willes offers us a thrilling and evocative resurrection of the stories buried beneath the ashes."—Jerry White, author of The Battle of London, 1939–45

"A revelatory new insight into a part of London that I thought I knew well. I couldn't put it down."—Adrian Tinniswood, author of His Invention so Fertile: A Life of Christopher Wren

"This wonderfully evocative book recreates the business and bustle of an area that was the vibrant heart of London for over a millennium and the historic centre of the nation's literary life. Once again, Margaret Willes demonstrates her gift for blending scholarly research and entertaining anecdote."—George Goodwin, author of Benjamin Franklin in London