The Eastern Orthodox Church: A New History (Hardcover)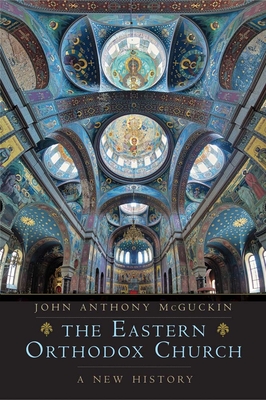 List Price: $35.00
Our Price: $32.50
(Save: $2.50 7%)
Description
---
"An engaging, sophisticated yet accessible, account of the Orthodox Church—its self-understanding, theology, sacramental life, and history. . . . One of the best introductions available."—John Behr, author of The Mystery of Christ

An insider's account of the Eastern Orthodox Church, from its beginning in the era of Jesus and the Apostles to the modern age

"Lucid. . . . Engrossing . . . [A] thorough history."—Publishers Weekly

In this lively and intimate account of the Eastern Orthodox Church, John McGuckin tackles the question "What is the Church?" His answer is a clear, historically and theologically rooted portrait of what the Church is for Orthodox Christianity and how it differs from Western Christians' expectations.
 
McGuckin explores the lived faith of generations, including sketches of some of the most important theological themes and individual personalities of the ancient and modern Church. He interweaves a personal approach throughout, offering to readers the experience of what it is like to enter an Orthodox church and witness its liturgy. In this astute and insightful book, he grapples with the reasons why many Western historians and societies have overlooked Orthodox Christianity and provides an important introduction to the Orthodox Church and the Eastern Christian World.
About the Author
---
John Anthony McGuckin is the Nielsen Emeritus Professor of Byzantine Christian Studies at Union Theological Seminary and Columbia University and professor of early Christianity in the Theological Faculty of Oxford University. An archpriest of the Romanian Orthodox Church and Fellow of the Royal Historical Society, he has written more than thirty scholarly books.
Praise For…
---
"[A] worthwhile book. . . . [McGuckin] knows how to address a non-Orthodox audience, presenting in a relatively short book most of what needs to be known about two millennia of Christian history."—Diarmaid MacCulloch, New York Review of Books

"McGuckin is consistently energetic and constructively provoking in his narrative . . . [and] offers some first-rate treatments of theology and the ethos of Orthodox worship."—Rowan Williams, Times Literary Supplement

"A triumph. . . . A book that will be read and pondered for decades to come."—Andrew Louth, Los Angeles Review of Books

"Lucid . . . engrossing . . . [a] thorough history."—Publishers Weekly

"A succinct history . . . approachable and interesting."—Mark Lardas, Ricochet

"An approachable, readable account that illuminates not only the history of Orthodoxy but also its practices. . . . A welcome contribution."—David Barshinger, Exploring Church History (blog)

"An engaging, sophisticated yet accessible, account of the Orthodox Church—its self-understanding, theology, sacramental life, and history—from the time of the New Testament through its long pilgrimage in the East and more recently into the West. One of the best introductions available."—John Behr, author of The Mystery of Christ

"This is a rich, fascinating history, from the beginning of Christianity to Patristics and contemporary Orthodoxy, by an outstanding scholar. It includes inspiring intellectual and mystical figures, importantly not only men, but also women, like Elisabeth Behr-Sigel."—Ilaria L. E. Ramelli, Durham University

"This clear, lively and erudite book, comprehensive in its brevity, is an honest and ultimately hopeful account of the living tradition of faith from the apostolic times to our day—a true salvation history."—The Rev'd Canon John McLuckie

"This book has the potential to become one of the most important introductions to the Eastern Christian world."—George E. Demacopoulos, author of Colonizing Christianity: Greek and Latin Religious Identity in the Era of the Fourth Crusade
"John McGuckin, one of today's most astute and prolific exponents of Eastern Orthodoxy, leads us into the deepest historical and theological roots of the Orthodox tradition. With fresh insight, McGuckin orients non-Orthodox readers to the internal life and practices of Orthodox churches and imaginatively projects the unique vocation of Orthodoxy in a postmodern world."—Paul M. Blowers, Milligan University