Inventing the Christmas Tree (Hardcover)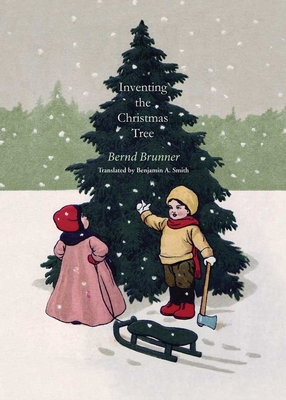 $14.29
Temporarily Unavailable
Description
---
A colorfully decorated Christmas tree, lit with twinkling lights, provokes awe and delight. We understand the lighted tree as a central symbol of the Christmas season, but what are the roots of the tradition? Who first thought to bedeck a tree, to bring it inside? How and where did the local activity grow into a widespread tradition, and how has the Christmas tree traveled across time and continents? Bernd Brunner's brief history—enriched by a selection of delightful and unusual historical illustrations—spans many centuries and cultures to illuminate the mysteries of the Christmas tree and its enduring hold on the human imagination.
Tracing various European traditions from the Middle Ages forward, Brunner finds that only in the nineteenth century did Christmas trees become common in European family homes. In North America, the imported custom soon fascinated, though some found the tree not quite compatible with a Puritan mindset. Brunner explores how the Christmas tree entered mainstream American culture and how in recent times it has become globally popular. He introduces Jacqueline Kennedy's Nutcracker Tree in the White House, trees used to celebrate the New Year in Turkey, and the world's most expensive Christmas tree, erected in Abu Dhabi. The author also considers the place of the artificial tree and the ecological dimensions of the Christmas tree trade. A book rich with anecdote and insight, Inventing the Christmas Tree will enchant a wide audience.
About the Author
---
Bernd Brunner is a freelance writer who often explores the intersection of cultural history and the history of science in his writings. He divides his time between Istanbul, Turkey, and Berlin, Germany.
Praise For…
---
"An ideal stocking stuffer." —
Newsday
— Newsday
"Superb non-fiction books. ... They are archives unto themselves. A repository for dreams, visions, and fears."—Die Zeit
— Die Zeit

"Mr. Brunner meanders pleasantly through the many manifestations of the tradition over the centuries: trees hung with baked goods and fruits; trees hung with toys and ornaments; grand trees standing in the stately homes of the bourgeoisie; scrubby little pines dangling from the rafters of peasant huts; the Rockefeller Center tree; the Charlie Brown tree." —Eric Felten, The Wall Street Journal
— Eric Felten

"A short and entertaining new history." —Michael Tortorello, The New York Times' "Home" section
— Michael Tortorello

House Beautiful included the book in its "Best Books of 2012" piece, under the "If You're Feeling Nostalgic" category
— House Beautiful