John Singer Sargent's "Triumph of Religion" at the Boston Public Library: Creation and Restoration (Hardcover)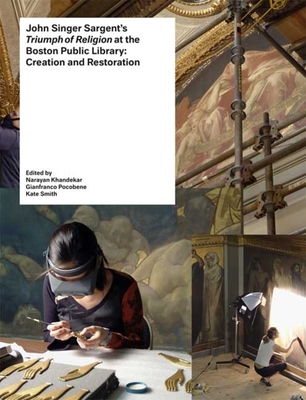 Not available to order
Out of Print. Not available to order.
Description
---
John Singer Sargent's Triumph of Religion at the Boston Public Library, considered to be the artist's masterpiece, is one of the most ambitious mural cycles in the history of American art. This book, comprehensively illustrated, examines and documents Sargent Hall as an art installation (constructed between 1890 and 1919) and describes its restoration history, culminating in the authors' 2003–4 restoration.
Sargent (1856–1925) painted the murals on canvas and enhanced their surfaces with relief materials such as plaster, papier mâché, metalwork, stencils and patterned cut-outs, "jewels" made of glass, and Lincrusta-Walton, a corrugated commercial wall covering. During the latest restoration, the three-dimensional elements were removed for the first time, leading to a deeper understanding of Sargent's experimental approach to making the murals and controlling their environment.
About the Author
---
Narayan Khandekar is Senior Conservation Scientist at the Harvard Art Museum/Straus Center for Conservation and Technical Studies. Gianfranco Pocobene is Head of Conservation at the Isabella Stewart Gardner Museum. Kate Smith, formerly Paintings Conservator at the Straus Center, works privately.