Don't Suck, Don't Die: Giving Up Vic Chesnutt (American Music) (Hardcover)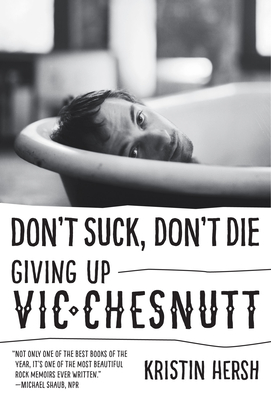 Not available to order
Out of Print. Not available to order.
Staff Reviews
---
As a reader, I want to be surprised. Kristin Hersh's memoir of her friendship with the immensely talented and troubled Vic Chestnutt surprised me. Chestnutt, a man "who started with a broken heart and blamed everyone [he] met for breaking it," is given to us in these pages as a complex and ultimately tragic figure who seemed in retrospect fated for an early death. I admire Hersh for writing the book, both because the rawness in these pages is very apparent and because she's a helluva writer. This is no self-indulgent music memoir; it's a searing portrait of a complicated, beautiful, and ornery friendship.
— Sparks
Description
---
"Friend, asshole, angel, mutant," singer-songwriter Vic Chesnutt "came along and made us gross and broken people seem . . . I dunno, cooler, I guess." A quadriplegic who could play only simple chords on his guitar, Chesnutt recorded seventeen critically acclaimed albums before his death in 2009, including About to Choke, North Star Deserter, and At the Cut. In 2006, NPR placed him in the top five of the ten best living songwriters, along with Bob Dylan, Tom Waits, Paul McCartney, and Bruce Springsteen. Chesnutt's songs have also been covered by many prominent artists, including Madonna, the Smashing Pumpkins, R.E.M., Sparklehorse, Fugazi, and Neutral Milk Hotel.
Kristin Hersh toured with Chesnutt for nearly a decade and they became close friends, bonding over a love of songwriting and mutual struggles with mental health. In Don't Suck, Don't Die, she describes many seemingly small moments they shared, their free-ranging conversations, and his tragic death. More memoir than biography, Hersh's book plumbs the sources of Chesnutt's pain and creativity more deeply than any conventional account of his life and recordings ever could. Chesnutt was difficult to understand and frequently difficult to be with, but, as Hersh reveals him, he was also wickedly funny and painfully perceptive. This intimate memoir is essential reading for anyone interested in the music or the artist.