The Distance Cure: A History of Teletherapy (Hardcover)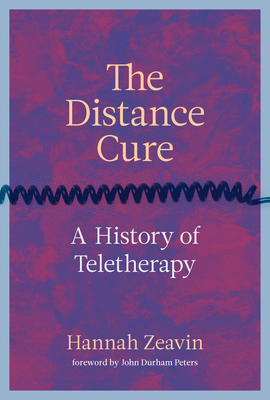 Description
---
Psychotherapy across distance and time, from Freud's treatments by mail to crisis hotlines, radio call-ins, chatbots, and Zoom sessions.

Therapy has long understood itself as taking place in a room, with two (or more) people engaged in person-to-person conversation. And yet, starting with Freud's treatments by mail, psychotherapy has operated through multiple communication technologies and media. These have included advice columns, radio broadcasts, crisis hotlines, video, personal computers, and mobile phones; the therapists (broadly defined) can be professional or untrained, strangers or chatbots. In The Distance Cure, Hannah Zeavin proposes a reconfiguration of the traditional therapeutic dyad of therapist and patient as a triad: therapist, patient, and communication technology.

Zeavin tracks the history of teletherapy (understood as a therapeutic interaction over distance) and its metamorphosis from a model of cure to one of contingent help. She describes its initial use in ongoing care, its role in crisis intervention and symptom management, and our pandemic-mandated reliance on regular Zoom sessions. Her account of the "distanced intimacy" of the therapeutic relationship offers a powerful rejoinder to the notion that contact across distance (or screens) is always less useful, or useless, to the person seeking therapeutic treatment or connection. At the same time, these modes of care can quickly become a backdoor for surveillance and disrupt ethical standards important to the therapeutic relationship. The history of the conventional therapeutic scenario cannot be told in isolation from its shadow form, teletherapy. Therapy, Zeavin tells us, was never just a "talking cure"; it has always been a communication cure.
About the Author
---
Hannah Zeavin is a Lecturer in the Departments of English and History at the University of California, Berkeley, and is affiliated with the University of California, Berkeley, Center for Science, Technology, Medicine, and Society. She is a Visiting Fellow at Columbia University's Center for Social Difference and Editorial Associate at The Journal of the American Psychoanalytic Association. Her work has appeared or is forthcoming in American Imago, differences: A Journal of Feminist Cultural Studies, the Los Angeles Review of Books, Real Life Magazine, Slate, and elsewhere.

Praise For…
---
One of New Statesman's Books of the Year.

Winner of the 2022 Courage to Dream Book Prize from the Academy of the American Psychoanalytic Association.



"Hannah Zeavin's remarkable The Distance Cure: A History of Teletherapy (MIT Press) disinters the history of long-distance psychoanalysis. From Freud's "self-analysis" in correspondence with physician Wilhelm Fliess, to the mass communication of psychoanalysis through radio, to suicide hotlines and the use of video-calling to treat patients during the pandemic. Psychoanalysis has rarely reflected on this history because from its foundations, when Freud was fascinated with telepathy, it was gripped by a fantasy of medium-less communication. But, Zeavin shows, the analytic relationship always needs mediation: ritual, appointments, money, all create the "distanced intimacy" across which the undercurrents of fantasy and transference flow. And what is true of the analytic relationship is also true, differently, of all relationships."—New Statesman


"An enticingly written and thoroughly researched monograph by Hannah Zeavin—a lecturer in the Departments of English and History at the University of California, Berkeley—is the first ever academic foray into the history of modern teletherapy."—E&T Magazine


"In the last year and a half, plenty of people have experienced the world of virtual therapy. But teletherapy has a long history that predates Zoom being ubiquitous, and Hannah Zeavin's new book The Distance Cure offers a comprehensive look at that history. Technology and mental health have a long shared history, and this helps put that into perspective."—Inside Hook

"Well-researched and enormously confident with the materials at hand"—The Point


"Hannah Zeavin's remarkable The Distance Cure: A History of Teletherapy disinters the history of long-distance psychoanalysis."—Richard Seymour


"Zeavin's book begins with Freud and then moves on to survey different forms of therapy conducted from a distance: letter-writing, radio call-in shows, advice columns, therapist-simulating computer programs, and "concierge" smartphone apps that connect people with therapists, for a price." — Bookforum