Keith's Radio Station: Broadcast, Internet, and Satellite (Paperback)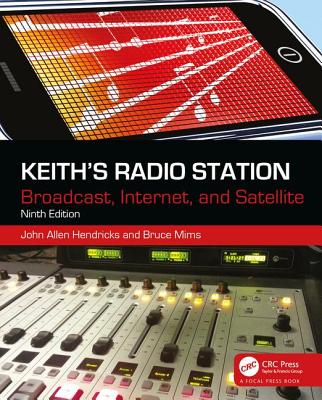 Description
---
Keith's Radio Station offers a concise and insightful guide to all aspects of radio operations, explaining the functions performed within every professionally managed station. Now in its ninth edition, this book continues its long tradition of guiding readers to a solid understanding of who does what, when, and why.
This new edition explains what "radio" in America has been, where it is today, and where it is going. Covering the basics of how programming is produced, financed and delivered across a spectrum of technologies, including the newest technological trends such as streaming and podcasting, satellite, and HD Radio, John Allen Hendricks and Bruce Mims argue that the future of radio remains bright and strong as it continues to evolve with emerging technologies.
New to this edition:
New and updated essays from industry leaders discussing how radio is evolving in an era of rapidly changing technology A thorough examination of Internet radio, online music services, and mobile listening devices An analysis of how new technologies have fragmented the advertising dollar A discussion of station website content and promotional usage of social media A revised examination of technologically advanced strategies used in traffic and billing departments Updated, full-color photos and illustrations.
The new companion website features content for both students and instructors, including an instructors' manual, lecture slides, test questions, audio examples of key concepts, quizzes for students, and links to further resources: www.focalpress.com/cw/hendricks (coming August 7)
About the Author
---
John Allen Hendricks (Ph.D., University of Southern Mississippi) has nearly twenty years of experience as an electronic media educator. He currently serves as Chair of the Department of Mass Communication and holds the rank of Professor at Stephen F. Austin State University, in Nacogdoches, Texas. He is the author/editor of eight books including The Palgrave Handbook of Global Radio. Dr. Hendricks has experience in both commercial and noncommercial radio. Bruce Mims (Ph.D., University of Southern Mississippi) began his career as an electronic media educator in 1977.  He currently holds the rank of Professor at Southeast Missouri State University in Cape Girardeau, Missouri. Dr. Mims began his commercial radio broadcasting career in 1971 and transitioned to public radio broadcasting seven years later. Since 1989 he has served as Faculty Advisor to the student radio station licensed to Southeast.