Temptation Transformed: The Story of How the Forbidden Fruit Became an Apple (Hardcover)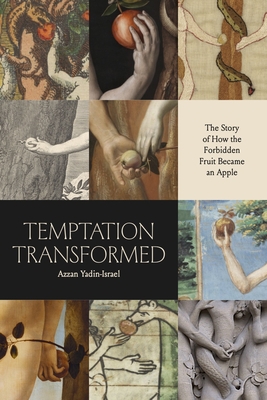 $37.13

NOT on our shelves now. Usually ships from warehouse in several days.
Description
---
A "brisk and entertaining" (Wall Street Journal) journey into the mystery behind why the forbidden fruit became an apple, upending an explanation that stood for centuries.
 
How did the apple, unmentioned by the Bible, become the dominant symbol of temptation, sin, and the Fall? Temptation Transformed pursues this mystery across art and religious history, uncovering where, when, and why the forbidden fruit became an apple.
 
Azzan Yadin-Israel reveals that Eden's fruit, once thought to be a fig or a grape, first appears as an apple in twelfth-century French art. He then traces this image back to its source in medieval storytelling. Though scholars often blame theologians for the apple, accounts of the Fall written in commonly spoken languages—French, German, and English—influenced a broader audience than cloistered Latin commentators. Azzan Yadin-Israel shows that, over time, the words for "fruit" in these languages narrowed until an apple in the Garden became self-evident. A wide-ranging study of early Christian thought, Renaissance art, and medieval languages, Temptation Transformed offers an eye-opening revisionist history of a central religious icon.
About the Author
---
Azzan Yadin-Israel is professor of Jewish studies and classics at Rutgers University. He is the author of several books, including The Grace of God and the Grace of Man: The Theologies of Bruce Springsteen.
Praise For…
---
"A brisk and entertaining investigation into the cultural history of Adam and Eve's comestible catastrophe . . . [with a] sly sense of humor that peeks through refreshingly cant-free prose. Temptation Transformed is easy to follow for any curious amateur who enjoys getting to the bottom of a puzzle. By the end, Mr. Yadin-Israel at least has exonerated the apple; the serpent might present a more difficult task."
— Wall Street Journal

"[A] scrumptiously scholarly morsel of a book . . . In addition to being a philological detective story, Temptation Transformed is a kind of miniature coffee-table book, employing forty-two images of Fall of Man art to chart the transformation from grape and fig (and a few other fruits) to apple . . .  Yadin-Israel is a master of philological and iconographic detective work, and the joy of this beautiful little book is in following his reasoning as he thinks through words (in a daunting number of languages) and images."
— Jewish Review of Books

"[A] delightfully readable study . . . tracing the apple iconography from its roots in 12th-century France. In fewer than 100 pages, with ample illustrations, Yadin-Israel builds a compelling argument around the convergence of textual evidence, semantic shifts, and the visual arts in medieval Europe."
— The Christian Century

"Temptation Transformed is a serious study of a biblical topic, which should appeal primarily to biblical scholars."
— Washington Jewish Week

"So what at first seemed like a simple question — where did that apple come from? — becomes a complicated story of changes across time and space as Jewish families adjust to the Christian world around them, and Jews and Christians alike adjust to changes in language, theology, and geography."
— Jewish Standard

"An accessible, well-argued, well-researched book and a testament to the power of interdisciplinary work to clarify age-old conundrums . . . A must-read for those interested in the mechanisms by which religious ideas and iconography develop . . . [and] for those interested in the history of Jewish and Christian biblical interpretation, especially of Genesis 3. . . [and] a gift to art lovers everywhere."
— Reading Religion

"Meticulously researched and engagingly written, this study yields more fascinating discoveries per page than anything I have read in years."
— Religious Studies Review

"If Genesis speaks only of the forbidden 'fruit,' how and when did that fruit become an apple? To answer, Yadin-Israel leads us from Genesis to the Song of Songs, through an iconographic survey worthy of Erwin Panofsky, into medieval languages, and even a brief history of apples in ancient and modern horticulture. This visual and literary masterpiece will serve as a methodological guide for future research, but its ultimate subject is nothing less than the pictorial representation of human sinfulness and the hope for redemption."
— James Kugel, author of 'The Bible as It Was'

"A fascinating cornucopia of insights from language, literature, and art history, Temptation Transformed offers the tantalizing fruit of rigorous textual and iconographic research into the identification of the forbidden fruit. Yadin-Israel provides compelling evidence for a new understanding of the development of the apple tradition in medieval France. I will use his historical insights every time I teach Genesis."
— John H. Walton, author of 'The Lost World of Adam and Eve'

"Temptation Transformed traces the rise of the forbidden fruit across centuries—from ancient Hebrew manuscripts to wall paintings and more. This is an engaging and beautiful book."
— Miri Rubin, author of 'Mother of God: A History of the Virgin Mary'