Platypus Matters: The Extraordinary Story of Australian Mammals (Hardcover)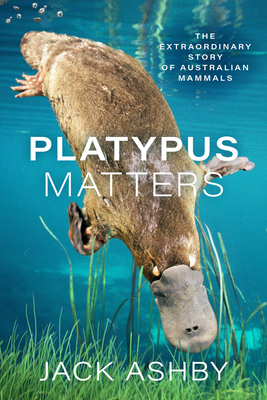 Description
---
Scientifically informed and funny, a firsthand account of Australia's wonderfully unique mammals—and how our perceptions impact their future.

Think of a platypus: They lay eggs (that hatch into so-called platypups), produce milk without nipples and venom without fangs, and can detect electricity. Or a wombat: Their teeth never stop growing, they poop cubes, and they defend themselves with reinforced rears. And what about antechinuses—tiny marsupial carnivores whose males don't see their first birthday, as their frenzied sex lives take so much energy that their immune systems fail? Platypuses, possums, wombats, echidnas, devils, kangaroos, quolls, dibblers, dunnarts, kowaris: Australia has some truly astonishing mammals, with incredible, unfamiliar features. But how does the world regard these creatures? And what does that mean for their conservation?

In Platypus Matters, naturalist Jack Ashby shares his love for these often-misunderstood animals. Informed by his own experiences meeting living marsupials and egg-laying mammals during fieldwork in Tasmania and mainland Australia, as well as his work with thousands of zoological specimens collected for museums over the last two-hundred-plus years, Ashby's tale not only explains historical mysteries and debunks myths (especially about the platypus), but also reveals the toll these myths can take. Ashby makes clear that calling these animals "weird" or "primitive"—or incorrectly implying that Australia is an "evolutionary backwater," a perception that can be traced back to the country's colonial history—has undermined conservation: Australia now has the worst mammal extinction rate of any place on Earth. Important, timely, and written with humor and wisdom by a scientist and self-described platypus nerd, this celebration of Australian wildlife will open eyes and change minds about how we contemplate and interact with the natural world—everywhere.
About the Author
---
Jack Ashby is the assistant director of the University Museum of Zoology, Cambridge, and an honorary research fellow in the Department of Science and Technology Studies at University College London. He is the author of Animal Kingdom: A Natural History in 100 Objects and lives in Hertfordshire.
Praise For…
---
"Charming, informative. . . . Ashby's intoxication with Australia's mammals makes for a marvelous read. . . . Platypus Matters is full of astonishing facts that are certain to have you thinking differently about Australia's unique mammalian fauna and on occasion questioning the wisdom of the evolutionary process."
— Tim Flannery

"Ashby's spirited tour of the Australian bestiary is not only a convincing defense of his thesis, but a revelation to readers unfamiliar with the intricacies of platypus biology, and unacquainted with nabarleks, dunnarts, and other indigenous Australian fauna. . . . Ashby is not being pedantic in his insistence that Australian fauna do not get enough respect. 'The current narrative,' he maintains, 'hinders environmental conservation.' Thirty-seven percent of all recent mammal extinctions on Earth, he notes, happened in Australia, and the effects of bushfires, aggravated by climate change, augur a perilous future. Hopefully, Ashby's book of wonders will not only delight, but will also inspire increased efforts to preserve Australia's wildlife through the perilous decades to come."
— Natural History

"Building on his considerable scientific knowledge and decades of field experience, Ashby immerses readers in all things platypus. . . . I'll be the first to admit that I'm guilty of describing platypus as 'weird,' as well as wonderful. To me, their weirdness is what makes them wonderful. But after reading this book, I have to agree with Ashby that it's all too easy for the platypus-besotted among us to forget that terms like 'weird' and 'primitive' have long been weaponized to undermine the value of the creatures they describe. Ashby argues that how we talk about Australia's animals influences how we value them, and therefore how much we're willing to protect them. And, in a country with the worst mammal extinction rate in the world, that matters. Platypus Matters is a must-read for any mammal nerd or Aussie wildlife enthusiast."
— Justine E. Hausheer

"An engaging natural (and enraging colonial) history. . . Given our seemingly unwavering commitment to destruction via global warming and environmental predation, Ashby has his work cut out for him in making us care about the natural world's most unusual inhabitants. Still, his efforts, like those of everyone pushing back against what feels like an unstoppable tide, are crucial to building a coalition that understands the platypus—like the planet sustaining it and us—matters."
— Washington Independent Review of Books

"From platypuses and possums, through wombats, echidnas, devils, and kangaroos, to quolls, dibblers, dunnarts, and kowaris, Ashby knows them all; and in his recently published Platypus Matters, he guides his readers on a tour of their lives, their evolutionary stories, and the challenges they face in the modern world."
— Well-read Naturalist

"Fascinating. . . . This is wonderfully dorky stuff. . . . But there's much more going on here than Ornithorhynchus anatinus. Ashby energetically recounts the stories of a dozen species of Australian animals, their natural histories, and the universally-tragic record of their discovery by, interaction with, and decimation or extermination at the hands of humans. These are largely depressing stories, a long Australian list of ecological travesties that only look more dire when read against the backdrop of the environmental catastrophes stalking the country in the twenty-first century. And although Platypus Matters is a persistently, defiantly upbeat book, downright infused with Ashby's scientific exuberance, it can't avoid a touch of the funereal. In Australia as everywhere else, the ecological outlook for all forms of life humans don't enslave, exploit, or eat is bleak. . . . But considering the wonders at stake, any start is a good start."
— Open Letters Review

"Keen to overturn the warped, colonial perception that monotremes (e.g. platypuses and echidnas) and marsupials are more primitive than other mammal species, the zoologist author who runs Cambridge's Natural History Museum takes us on a tour of the fauna of Australia in all their glory. In an engaging and entertaining narrative reminiscent of Gerald Durrell, we learn that wombats produce cubic poo, that the platypus played a disruptive role in the narrative of evolution, and much more besides."
— Bookseller

"Ashby reveals marvelous creatures, and the mysteries and myths surrounding them." 
— BBC Wildlife

"This is a compelling, funny, firsthand account of our wonderfully unique mammals and how our perceptions of them impact their future."
— Australian Geographic

"Ashby has an infectious enthusiasm for Aussie marsupials and monotremes in particular—which, he says, have often been unfairly derided as 'lesser' or 'primitive' in scientific and broader circles. He makes the case that such biases matter: 'The way I see it, the fates of both the people and animals that live in Australia have in large part been determined by the way its wildlife has been presented in the West.'"
— West Australian

"Ashby is particularly indignant that monotremes such as his beloved platypus have been unfairly regarded as 'lesser' or 'primitive' mammals. Challenging this dated, hierarchical view, he points out that they embody how evolution works, combining features found in ancient reptiles with characteristics—such as the detection of electrical signals in prey—almost unheard of in other mammals. He is equally fervent about marsupials. The apparently lumbering wombat is, in fact, a canny killer. If pursued into their burrows they can 'crush would-be attackers with their bums.' Written in a lively, conversational style and drawing on decades of fieldwork, this is a beguiling portrait of our unique fauna."
— Sydney Morning Herald

"Platypus Matters contains a wealth of information on the natural history and biology of Australian mammals. . . . [Ashby] contends that Australia's mammals—especially his favorite species, the platypus—have suffered injustices of portrayal in comparison to placental mammals more familiar to Europeans, mainly attributable to colonialist attitudes entailing disregard for the knowledge and experience of Indigenous Australian inhabitants. The author weaves together a personal story about his experiences in Australia and his fascination with its fauna with a wealth of biological facts and strategic historical anecdotes."
— Choice

"Ashby makes the case that Australia's wildlife is not a collection of oddities and species that can kill you, as it is most often, even well-meaningly, portrayed. He explores how this traditional narrative about Australia's native animals arose, how it is incorrect, and why it matters. Some of the species met along the way, including echidnas, wombats, Tasmanian devils, and scaly-tailed possums, leave lovely impressions that will be lasting portrayals. Both serious and fun, Platypus Matters is compelling reading."
— Kristofer M. Helgen, chief scientist and director, Australian Museum Research Institute

"Platypus Matters is an original, charming book with a contemporary message. Ashby seeks to convince us of the importance of Australia's mammals, using the platypus as a worthy ambassador. Most importantly, with a combination of beguiling stories and impassioned arguments, he explains the very real consequences of devaluing Australian wildlife for the survival of this unique fauna. Ashby's raw enthusiasm as a naturalist and love of sharing a good anecdote make for entertaining reading, but the final chapters take a sobering turn, and rightly so. His book is a clear call to action to address the urgency of the current extinction crisis. It's also a bloody good read."
— Katherine Tuft, general manager, Arid Recovery (Australia)

"Timely, important, and multifaceted, Platypus Matters is a lesson in the evolution of mammals, a historical journey, and an adventure book packed with exciting stories of Ashby's global travels. Most profound is the book's intellectual exploration of colonial perspectives and how they shaped the world's understanding of, and subsequent relationship with, Australia's unique fauna—to this day. Fascinating and enlightening. Only Ashby could have written this book, and I absolutely loved it!"
— Georgia Ward-Fear, Macquarie University, cofounder, Cane Toad Coalition