The Huxleys: An Intimate History of Evolution (Hardcover)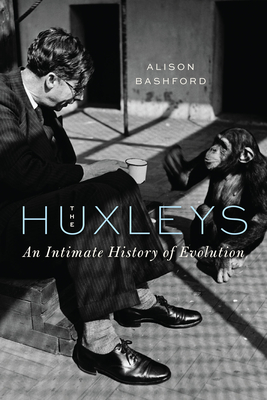 Description
---
Two hundred years of modern science and culture told through one family history.
 
This momentous biography tells the story of the Huxleys: the Victorian natural historian T. H. Huxley ("Darwin's Bulldog") and his grandson, the scientist, conservationist, and zoologist Julian Huxley. Between them, they communicated to the world the great modern story of the theory of evolution by natural selection. In The Huxleys, celebrated historian Alison Bashford writes seamlessly about these omnivorous intellects together, almost as if they were a single man whose long, vital life bookended the colossal shifts in world history from the age of sail to the Space Age, and from colonial wars to world wars to the cold war.

The Huxleys' specialty was evolution in all its forms—at the grandest level of species, deep time, the Earth, and at the most personal and intimate. They illuminated the problems and wonders of the modern world and they fundamentally shaped how we see ourselves, as individuals and as a species.

But perhaps their greatest subject was themselves. Bashford's engaging, brilliantly ambitious book interweaves the Huxleys' momentous public achievements with their private triumphs and tragedies. The result is the history of a family, but also a history of humanity grappling with its place in nature. This book shows how much we owe—for better or worse—to the unceasing curiosity, self-absorption, and enthusiasms of a small, strange group of men and women.
About the Author
---
Alison Bashford is Laureate Professor in History and director of the Laureate Centre for History and Population at the University of New South Wales in Australia. 
Praise For…
---
"It was fitting for a man known as 'Darwin's bulldog' that his descendants inherited many of his traits—not just his talents but also his affinity for certain sweeping questions: Who are we? What is our place in nature? How can we design morality and religion in a world informed by science? In The Huxleys: An Intimate History of Evolution, the historian Bashford moves across the Huxley generations, tracing how Thomas Henry and his gifted brood struggled to answer these questions, in the process shaping outlooks we hold today. . . . Evolution is a messy, nuanced, protean picture of our origins. It offers many stories, yet those which we choose to tell have their own momentum. It can serve as a banner of our common humanity or as a narrative of our staggering differences. It can be wielded to fight racism or weaponized to support oppression. It can inspire new forms of piety or be called on to destroy dogma. The social meanings of evolution, like so much else, are part of a grander inheritance."
— Manvir Singh

"Bashford's book is an intriguing hybrid. A deeply researched biography of Thomas Henry, Julian, and the wider Huxley family, the result of close examination of their writings and correspondence, it also serves as an intellectual history of Britain through the radical shifts in science and society that gave birth to modernity. . . . The whole of British intellectual life seems accessible through some branch of this sprawling family tree."
— Stephen Buranyi

"Generates some illuminating parallels. . . . Bashford includes some excellent stories about both men. . . . Both Huxleys would have appreciated the breadth of Bashford's research and her skill at explaining heavyweight scientific ideas with a light touch"
— Robert Douglas-Fairhurst

"A masterpiece of biography. . . . A vivid account of a family at the heart of some of the great cultural shifts of the modern era."
— John Gray

"The Huxleys wrote about evolution as a romance, an epic of progress and transformation. In their own lives and observations they also saw the cruelty of science and the bleaker aspects of inheritance. . . . Both sides, and both men, are painstakingly illuminated by Bashford. Balancing scholarly rigor with an eye for the absurd, her book reveals the human drama behind scientific fact."
— Economist

"Ambitious. . . . Spans a century and a half, combining the stories of two English pioneers of rational scientific inquiry who helped transform public understanding of the origins of life. Together, they comprised 'a modern-day scientific Janus, the Roman god who could look backwards and forwards, as well as inside and outside, simultaneously.' A large claim, particularly in the case of two men who had little time for gods. . . . Marked out by the twin poles of the Huxleys' curricula vitae, it is also a biography of ideas, using one family's history to explore the development of theories about generations, genealogy and genes, chronicling shifting attitudes to religion, race, women, and animal experimentation—from morphology to ethology."
— Annalena McAfee

"A scholarly study of T. H. Huxley and his grandson. . . . [And a] guide to the history of evolutionary thinking. . . . It's impressive that Bashford can command both these types of writing with equal authority."
— Stefan Collini

"The Victorian biologist and anthropologist T. H. Huxley and his UNESCO director grandson, Julian, are compelling twin poles in this wonderfully ambitious saga of a scientific dynasty."
— Stuart Jeffries

"[A] patient, sympathetic portrait of a family riven with flaws."
— A. N. Wilson

"Scrupulously researched and broad in scope, taking in three generations of the talented Huxley dynasty. A formidable undertaking, yes, but also lucid, lively and addictive—a book for that creature beloved of publishers, the avid general reader. Its weighty scholarly apparatus does not interfere with the narrative flow; the generous visual component of the book is not merely illustrative but rather an integrated and striking adjunct to which Bashford often has recourse."
— Inside Story

"The quasibiographical approach, grounded in a wealth of personal correspondence, makes this history of evolution more accessible and relatable than a history of the idea itself would be. Bashford traces a cultural phenomenon that has profoundly shaped society and revolutionized our understanding of what it means to be human."
— Nature

"It would be difficult to overstate the debt of gratitude owed to the Huxley dynasty for our knowledge of evolution in all its forms. Bashford narrates the fascinating story of two-hundred years of modern science and culture through one family history, focusing primarily on the patriarch."
— Geographical

"What a family, what a story, and so cleverly told. Bashford constructs a narrative that intertwines the lives of four generations of Huxleys, boldly forgoing traditional chronology for illuminating synthesis. Absolutely fascinating."
— Andrea Wulf, author of "The Invention of Nature: Alexander von Humboldt's New World"

"Packed with insights into the brilliance of three generations of the Huxley family, Bashford's book tells a magnificent story about the huge personalities and shortcomings that propelled evolutionary science and much else besides. Male and female, from Victorian patriarch to zoo director, authors, lovers, and poets: the pages dance with accounts of contemporary literature, psychology, politics, anthropology, religion, and art."
— Janet Browne, author of "Charles Darwin: A Biography" and "The Quotable Darwin"

"Full of surprises on every page, this book makes you wonder why all history can't have the engaging intimacy of a novel. Bashford brilliantly marries intellectual history with the story of four generations of a great family in a literary tour de force."
— Jim Secord, author of "Visions of Science"

"Bashford has crafted a masterful biography of Thomas Henry Huxley, patriarch of an evolutionary dynasty, his inheritor and grandson Julian, and the families that sustained them. Interweaving their public contributions to science and private poems, she deftly charts a generational quest to understand and articulate the human condition."
— Erika Lorraine Milam, author of "Creatures of Cain"

"This beautifully crafted double biography of Thomas Huxley and his grandson Julian is full of wonderful surprises and profound generational insights, revealing what it means to put a public face to scientific controversy at two very different points in history."
— Cathy Gere, University of California, San Diego

"Over three generations, the extraordinary Huxley family have changed and reshaped the way we see ourselves. Now Bashford has written a fascinating book that links T. H. Huxley, the great Victorian scientist with a Caribbean-born wife, to their remarkable grandchildren, Aldous and Julian, in a way that shows how the family struggled with depression and even lunacy while emphasizing the crucial role played by the wives, sisters and daughters of these strange and brilliant men. It's a wonderful and important story, one that held me enthralled from start to end."
— Miranda Seymour

"I was captivated from beginning to end by the richness of the detail, the flaws and all personal biographies, and most of all blown away by the intimate narrative of how the biggest science stories of the age had a Huxley as ringmaster or provocateur at their heart."
— Tim Smit

"Bashford's intimate story of the Huxley clan reveals the ambiguities that arise if we apply modern values to past heroes. Here science, society, and personalities interact to bring the past alive."
— Peter J. Bowler, author of "Progress Unchained: Ideas of Evolution, Human History and the Future"