Time in Maps: From the Age of Discovery to Our Digital Era (Hardcover)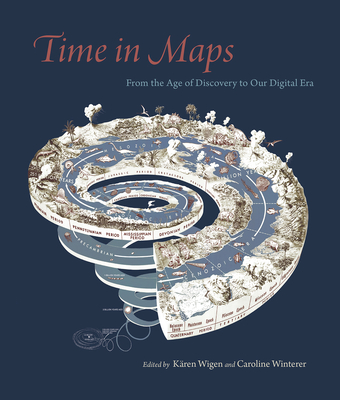 $45.00

ON HAND in at least ONE of our stores. Click through or call for up-to-the-minute availability.
Description
---
Maps organize us in space, but they also organize us in time. Looking around the world for the last five hundred years, Time in Maps shows that today's digital maps are only the latest effort to insert a sense of time into the spatial medium of maps. Historians Kären Wigen and Caroline Winterer have assembled leading scholars to consider how maps from all over the world have depicted time in ingenious and provocative ways.

Focusing on maps created in Spanish America, Europe, the United States, and Asia, these essays take us from the Aztecs documenting the founding of Tenochtitlan, to early modern Japanese reconstructing nostalgic landscapes before Western encroachments, to nineteenth-century Americans grappling with the new concept of deep time. The book also features a defense of traditional paper maps by digital mapmaker William Rankin. With more than one hundred color maps and illustrations, Time in Maps will draw the attention of anyone interested in cartographic history.
About the Author
---
Kären Wigen is the Frances and Charles Field Professor of History at Stanford University.

Caroline Winterer is the William Robertson Coe Professor of History and American Studies at Stanford University.
Praise For…
---
"Thought-provoking. . . . This scholarly work provides an intriguing, unique way to consider maps. Recommended for those who like cartography and history."
— Library Journal

"Maps not only help us to organize ourselves in space and time, but also to deal with the past, present, and future, both human and cosmic. Geographic information systems (GIS) provided a new approach to mapping when they emerged in the mid-20th century. Today, digital technologies that began with GIS now provide online access to source material via high-resolution images, accompanied by ever-increasing numbers of tools facilitating a larger cartographic presence. This collection from Wigen and Winterer explores how the practice of mapping has developed over time and the many innovative ways maps have depicted spaces and political imaginaries. . . . Recommended."
— Choice

"Leading scholars consider the sophisticated ways in which the movement of time was depicted in maps, examining centuries of cartography from around the world, and providing more than 100 colour maps and illustrations."
— The Bookseller

"Time in Maps is a first-rate collection. . . . It provides an important work for cartographic scholars, and, more generally, offers those interested in historiography much to consider. The volume is a pleasure to read, with many well-selected maps and a high standard of reproduction."
— The Critic

"Time in Maps delves into some little-explored areas of the history of cartography and expands the purview of map history. The essays are engaging and draw the reader into often unfamiliar subject matter. The volume is well edited and produced, with many excellent, full-color re-productions of maps and illustrations. The collection as a whole supports the editors' propositions regarding time in maps, particularly the proposals that historical maps developed globally in the early modern age and that static maps are surprisingly diverse in their strategies for representing time. Time in Maps will be of particular interest to scholars of historical mapping, and to readers in general who want to learn about how history is portrayed in maps."
— The Portolan

"This sumptuously-illustrated large-sized book serves, effectively, as a celebration of the development of GIS. . . . The eight contributors are all of equal scholarly standing, and their individual contributions both reflect this and, by interacting with each other, playing off each other, create a greater whole. Histories of cartography have an in-built advantage: their historical illustrations are works-of-art; their contemporary examples are technological marvels. But the analytical scholarship on display in this collection raises it all to a different and altogether satisfying level."
— Geography Realm

"Time in Maps is a fascinating look at some of the many ways in which humans have tried to depict the passage of time in cartographic form. The handsome hardback is illustrated throughout with color images of historical maps... for those fascinated by the history and modern implications of map-making, it's rewarding reading."
— Fortean Times

"As wide-ranging, imaginative, and revealing as the maps they discuss, these essays follow the trace laid down by the editors and William Rankin's magisterial opening essay.  They track how maps—interpreted broadly—convey time as well as space. GIS, they contend, has not rendered old paper maps obsolete as much as revealed their wonders—their dynamism, their depth, their metaphors, their techniques, and their connections to not only a physical world but to other intellectual endeavors. They convey the magic not only of maps but of scholarship."
— Richard White, Stanford University

"What a relief to move beyond the worn dichotomy between maps and timelines, geography and history! Time in Maps shows definitively that maps brim with temporal references, both overt and subtle. They represent moments that range from one protest march to centuries of slavery, or a year's erosion along Cape Cod to the deep time of geological eons. Cartographers' visual strategies include encodings of time as much as symbolic representations of objects in space. Contrary to popular opinion, printed maps are anything but 'static' once one learns to recognize how they in fact hold time in the embrace of space. Time in Maps is a wonderful book, and one that is long overdue."
— Anne Kelly Knowles, University of Maine