TCP/IP Illustrated: The Protocols (Hardcover)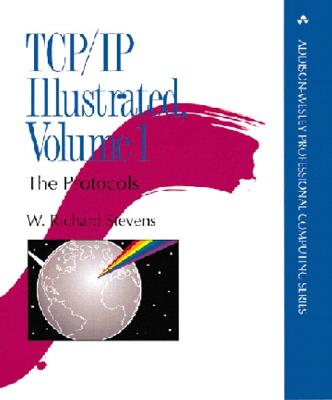 $79.99
Temporarily Unavailable
Description
---
TCP/IP Illustrated is a complete and detailed guide to the entire TCP/IP protocol suite-with an important difference from other books on the subject. Rather than just describing what the RFCs say the protocol suite should do, this unique book uses a popular diagnostic tool so you may actually watch the protocols in action.By forcing various conditions to occur-such as connection establishment, timeout and retransmission, and fragmentation-and then displaying the results, TCP/IP Illustrated gives you a much greater understanding of these concepts than words alone could provide. Whether you are new to TCP/IP or you have read other books on the subject, you will come away with an increased understanding of how and why TCP/IP works the way it does, as well as enhanced skill at developing applications that run over TCP/IP.
With this unique approach, TCP/IP Illustrated presents the structure and function of TCP/IP from the link layer up through the network, transport, and application layers. You will learn about the protocols that belong to each of these layers and how they operate under numerous implementations, including Sun OS 4.1.3, Solaris 2.2, System V Release 4, BSD/386TM, AIX 3.2.2, and 4.4BSD.In TCP/IP Illustrated you will find the most thorough coverage of TCP available - 8 entire chapters. You will also find coverage of the newest TCP/IP features, including multicasting, path MTU discovery, and long fat pipes.
"While all of Stevens' books are excellent, this new opus (TCP/IP Illustrated, Volume 1) is awesome. Although many books describe the TCP/IP protocols, the author provides a level of depth and real-world detail lacking from the competition."
- "Unix Review"
"This book (TCP/IP Illustrated, Volume 1) is a stone jewel...Written by W. Richard Stevens, this book probably provides the most comprehensive view of TCP/IP available today in print."
- "Boardwatch"
"The diagrams he uses are excellent and his writing style is clear and readable. Please read it (TCP/IP Illustrated, Volume 1) and keep it on your bookshelf."
- "Sys Admin"
"The word 'illustrated' distinguishes this book (TCP/IP Illustrated, Volume 1) from its many rivals. Stevens uses the Lawrence Berkeley Laboratories tcdump program to capture packets in promiscuous mode under a variety of OS and TCP/IP implementations. Studying tcdump output helps you understand how the various protocols work."
- "Unix Review"


About the Author
---
We are deeply saddened to learn of the death of noted author W. Richard Stevens. His passing is obviously a tremendous loss for the technical community, but it is a personal one for us as well. Rich was both a gifted colleague and a valued friend who will be greatly missed. We extend our sympathies to his family. Obituary from the Arizona Daily Star STEVENS, W. Richard, noted author of computer books died on September 1. He is best known for his "UNIX Network Programming" series (1990, 1998, 1999), "Advanced Programming in the UNIX Environment" (1992), and "TCP/IP Illustrated" series (1994, 1995, 1996). Richard was born in 1951 in Luanshya, Northern Rhodesia (now Zambia), where his father worked for the copper industry. The family moved to Salt Lake City, Hurley, New Mexico, Washington, DC and Phalaborwa, South Africa. Richard attended Fishburne Military School in Waynesboro, Virginia. He received a B.SC. in Aerospace Engineering from the University of Michigan in 1973, and an M.S. (1978) and Ph.D. (1982) in Systems Engineering from the University of Arizona. He moved to Tucson in 1975 and from then until 1982 he was employed at Kitt Peak National Observatory as a computer programmer. From 1982 until 1990 he was Vice President of Computing Services at Health Systems International in New Haven, CT, moving back to Tucson in 1990. Here he pursued his career as an author and consultant. He was also an avid pilot and a part-time flight instructor during the 1970's. He is survived by his loving wife of 20 years, Sally Hodges Stevens; three wonderful children, Bill, Ellen and David; sister, Claire Stevens of Las Vegas, NV; brother, Bob and wife Linda Stevens of Dallas, TX; nieces, Laura, Sarah, Collette, Christy; and nephew, Brad. He is predeceased by his parents, Royale J. Stevens (1915-1984); and Helen Patterson Stevens (1916-1997). Helen lived in Tucson from 1991-1997, and Royale lived here in the early 1930's attending Tucson High School while his father was treated for TB at the Desert Sanitorium (now TMC). The family asks that in lieu of flowers, donations be made in Richard's name to Habitat for Humanity, 2950 E. 22nd Street, Tucson, AZ 85713. A memorial service for Richard will be held at St. Phillip's in the Hills Episcopal Church on Tuesday, September 7th at 12:00 noon. Following the service there will be a reception in the Murphy Gallery of the Church. Please wear colorful clothing to the service; Richard loved colors. W. Richard Stevens was an acknowledged UNIX and networking expert and the highly-respected author of several books. He was also a sought-after instructor and consultant.