Outrageous Fortune: Gloomy Reflections on Luck and Life (Hardcover)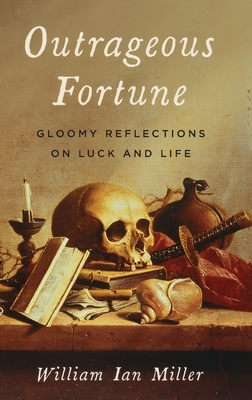 $29.95

ON HAND in at least ONE of our stores. Click through or call for up-to-the-minute availability.
Description
---
In this book, William Ian Miller offers his reflections on the perverse consequences, indeed often the opposite of intended effects, of so-called 'good things'. Noted for his remarkable erudition, wit, and playful pessimism, Miller here ranges over topics from personal disasters to literary
and national ones. Drawing on a truly immense store of knowledge encompassing literature, philosophy, theology, and history, he excavates the evidence of human anxieties around scarcity in all its forms (from scarcity of food to luck to where we stand in the eyes of others caught in a game of
musical chairs we often do not even know we are playing). With wit and sensitivity, along with a large measure of fearless self-scrutiny, he points to and invites us to recognize the gloomy, neurotic, despondent tendencies of reasonably sentient human life. The book is a careful examination of
negative beliefs, inviting an experience of bleak fellow-feeling among the author, the reader and many a hapless soul across the centuries. Just what makes you more nervous, he asks, a run of good luck, or a run of bad?

About the Author
---
William Ian Miller is the Thomas G. Long Professor of Law at University of Michigan. He also has been a visiting professor at Yale, the University of Chicago, the University of Bergen, the University of Tel Aviv, and Harvard, and in 2008, was the Carnegie Centenary Trust Professor at the Universityof St. Andrews, where he is now also an honorary professor of history. He is the author of multiple books, including Humiliation (1993), The Anatomy of Disgust (1997), The Mystery of Courage (2000), Faking It (2003), and Losing It (2011).