Baseball's Great Experiment: Jackie Robinson and His Legacy (Paperback)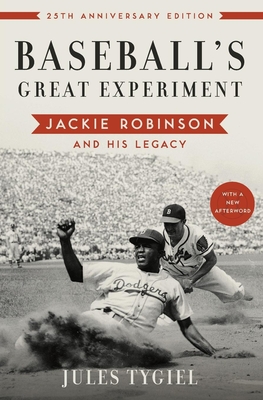 $19.95
ON HAND in at least ONE of our stores. Click through or call for up-to-the-minute availability.
Description
---
In this gripping account of one of the most important steps in the history of American desegregation, Jules Tygiel tells the story of Jackie Robinson's crossing of baseball's color line. Examining the social and historical context of Robinson's introduction into white organized baseball, both on and off the field, Tygiel also tells the often neglected stories of other African-American players--such as Satchel Paige, Roy Campanella, Willie Mays, and Hank Aaron--who helped transform our national pastime into an integrated game. Drawing on dozens of interviews with players and front office executives, contemporary newspaper accounts, and personal papers, Tygiel provides the most telling and insightful account of Jackie Robinson's influence on American baseball and society. The anniversary issue features a new foreword by the author.

About the Author
---
Jules Tygiel, a native of Brooklyn, is Professor of History at San Francisco State University and founder of the Pacific Ghost League. He is the author of The Great Los Angeles Swindle: Oil, Stocks, and Scandal During the Roaring Twenties.