Riddled With Life: Friendly Worms, Ladybug Sex, and the Parasites That Make Us Who We Are (Paperback)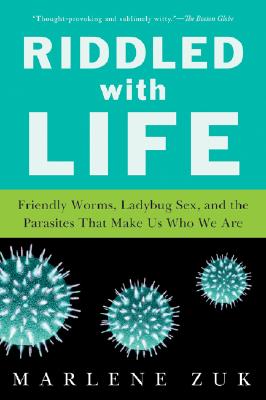 $18.95

NOT on our shelves now. Usually ships from warehouse in several days.
Description
---
We treat disease as our enemy. Germs and infections are things we battle. But what if we've been giving them a bum rap?

From the earliest days of life on earth, disease has evolved alongside us. And its presence isn't just natural but is also essential to our health. Drawing on the latest research, Zuk answers a fascinating range of questions about disease: Why do men die younger than women? Why are we attracted to our mates? Why does the average male bird not have a penis? Why do we--as well as insects, birds, pigs, cows, goats, and even plants--get STDs? Why do we have sex at all, rather than simply splitting off copies of ourselves like certain geckos? And how is our obsession with cleanliness making us sicker?

In this witty, engaging book, evolutionary biologist Zuk makes us rethink our instincts as she argues that disease is our partner, not our foe. Reconsider the fearsome parasite!
About the Author
---
MARLENE ZUK is a professor of biology at the University of California, Riverside, where she studies behavior in a variety of animals. She has written articles for numerous publications including the Los Angeles Times and the New York Times.
Praise For…
---
PRAISE FOR SEXUAL SELECTIONS

"Fascinating and persuasive. Zuk is not an idealogue, just an unusually clear-eyed scholar."—THE NEW YORK TIMES BOOK REVIEW

"Zuk is a truly intelligent writer who is out to make a serious point: Humans often try to legitimize their own behavior by citing similar behavior in the animal kingdom . . . Not only rare but relevant."—THE WALL STREET JOURNAL —