You Blew It!: An Awkward Look at the Many Ways in Which You've Already Ruined Your Life (Paperback)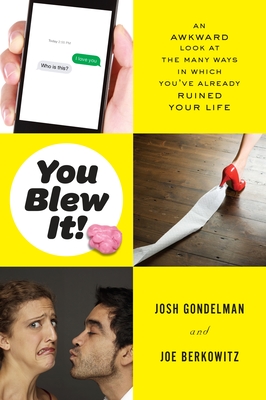 $15.40
Temporarily Unavailable
Description
---
A hilarious examination of faux pas for readers of Allie Brosh's Hyperbole and a Half and Jenny Lawson's Let's Pretend This Never Happened

Humankind is doomed. Especially you.
 
It's already too late. From overstaying your welcome at a party, to leaving passive-aggressive post-its on your roommate's belongings, to letting your date know the extent of the internet reconnaissance you did on them—you're destined to embarrass yourself again and again. In You Blew It!, Josh Gondelman, comedian and co-creator of the "Modern Seinfeld" twitter account, teams up with Joe Berkowitz, an equally wry and ruthless social-observer, to dissect a range of painfully hilarious faux pas. Breaking down the code violations of modern culture—particularly our fervent, ridiculous addiction to technology—Gondelman and Berkowitz will keep you laughing as they explore how social blunders are simply part of the mystery that is you.
About the Author
---
Josh Gondelman is a comedian and writer who incubated in Boston before moving to New York. He is an Emmy-nominated writer for Last Week Tonight with John Oliver, which is a television show. He has also written for Women's Health, The New Yorker, and The Cut, which are magazines. He has toured internationally performing standup, which is just heavily-rehearsed talking, really.
 
Joe Berkowitz is a writer living in Brooklyn. His work has been featured in The Awl, Salon, The Village Voice, Cosmopolitan, Vulture, RollingStone.com, GQ.com, and McSweeney's Internet Tendency, among others. He is currently a staff writer at Fast Company. He apologizes in advance and often.