Champion: A Legend Novel (Paperback)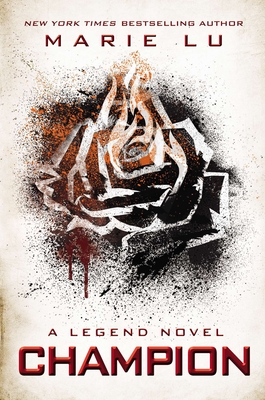 $11.99

ON HAND in at least ONE of our stores. Click through or call for up-to-the-minute availability.
Description
---
The explosive finale to Marie Lu's New York Times bestselling LEGEND trilogy—perfect for fans of THE HUNGER GAMES and DIVERGENT!

He is a Legend.
She is a Prodigy.
Who will be Champion?  
 
June and Day have sacrificed so much for the people of the Republic—and each other—and now their country is on the brink of a new existence. June is back in the good graces of the Republic, working within the government's elite circles as Princeps Elect while Day has been assigned a high level military position. But neither could have predicted the circumstances that will reunite them once again. Just when a peace treaty is imminent, a plague outbreak causes panic in the Colonies, and war threatens the Republic's border cities. This new strain of plague is deadlier than ever, and June is the only one who knows the key to her country's defense. But saving the lives of thousands will mean asking the one she loves to give up everything he has. With heart-pounding action and suspense, Marie Lu's bestselling trilogy draws to a stunning conclusion.

New York Times bestseller
YALSA BFYA
ALA Top 10 nominee
Chicago Public Library Best Book
VOYA YA Perfect Ten List
Bank Street Best Book
Featured on Entertainment Weekly's Must-List
 
From ENTERTAINMENT WEEKLY:
"Fine writing and excellent execution. Sequel, please!"

From THE NEW YORK TIMES:
"Legend doesn't merely survive the hype, it deserves it."
 
From USA TODAY:
"Marie Lu's dystopian novel is a 'Legend' in the making."
About the Author
---
Marie Lu (www.marielu.org) is the author of the New York Times bestselling novels Legend and Prodigy. She graduated from the University of Southern California and jumped into the video game industry, working for Disney Interactive Studios as a Flash artist. Now a full-time writer, she spends her spare time reading, drawing, playing Assassin's Creed, and getting stuck in traffic. She lives in Los Angeles, California (see above: traffic), with one boyfriend, one Chihuahua mix, and two Pembroke Welsh corgis.
Praise For…
---
Praise and Accolades for Marie Lu's New York Times bestselling LEGEND series: 

New York Times bestseller
2012 YALSA BFYA
ALA Top 10 nominee
Chicago Public Library Best Book
VOYA YA Perfect Ten List
Bank Street Best Book
Featured on Entertainment Weekly's Must-List
 
From ENTERTAINMENT WEEKLY:
"Fine writing and excellent execution. Sequel, please!"

From THE NEW YORK TIMES:
"Legend doesn't merely survive the hype, it deserves it."
 
From USA TODAY:
"Marie Lu's dystopian novel is a 'Legend' in the making."
  
From THE LOS ANGELES TIMES:
"an action-packed love story full of inventive details."
 
STARRED REVIEW from PUBLISHERS WEEKLY:
"Lu's debut is a stunner. . . raises hopes high for the sequels to come. "
 
STARRED REVIEW from KIRKUS REVIEWS:
 "A gripping thriller in dystopic future Los Angeles. This is no didactic near-future warning of present evils, but a cinematic adventure featuring endearing, compelling heroes."
 
STARRED REVIEW from BOOKLIST:
 "[D]elicious details keep pages turning . . . you've got the makings for a potent sequel."
 
STARRED REVIEW from VOYA:
 "A fast-paced blend of action and science fiction (with only a hint of potential romance) means that this one will likely appeal to male and female readers alike.  Debut author Lu has managed a great feat—emulating a highly successful young adult series while staying true to her own voice. Legend will give Hunger Games fans something worthwhile to read."
 
STARRED REVIEW from LIBRARY MEDIA CONNECTION:
 "This book stands out . . ."

From THE LOS ANGELES TIMES:
"Marie Lu has beaten the curse with Prodigy. . . it has all the chivalry of Robin Hood and all the shine and grime of Blade Runner . . . The well-drawn worlds, political undercurrents and the believability of the characters make it all feel fresh . . . Lu proves that a Book 2 needn't play second fiddle, providing intrigue and deep pleasure all its own."
 
From THE NEW YORK JOURNAL OF BOOKS: 
". . . clear your calendar to allow yourself the luxury of reading this book in one or two sittings. You will be shaken . . ."
 
STARRED REVIEW from PUBLISHERS WEEKLY:
 "Lu opts for a high simmer of intrigue in her sequel to Legend…taut and insightful."
 
STARRED REVIEW from SHELF AWARENESS:
"Stunning follow-up to Legend . . . The thrilling action and futuristic settings are sure to please fans of Divergent."